LASIK, IMPLANTABLE CONTACT LENS, AND CATARACT SURGERY: Which one is for you
Come join us for an interactive ZOOM session and learn about the different types of refractive surgery options!
About this event
LASIK, IMPLANTABLE CONTACT LENS, AND CATARACT SURGERY:
Which one is for you?
The Options for Cataract surgery, LASIK, LASEK, PRK, Epi-LASIK, ReLEX SMILE and ICL can be confusing. Join us, as we outline and shed light on these popular procedures that help you restore your vision and treat refractive errors such as near-sightedness, long-sightedness, astigmatism, cataracts, and presbyopia (Lau Hua).
Register now and reserve your slot!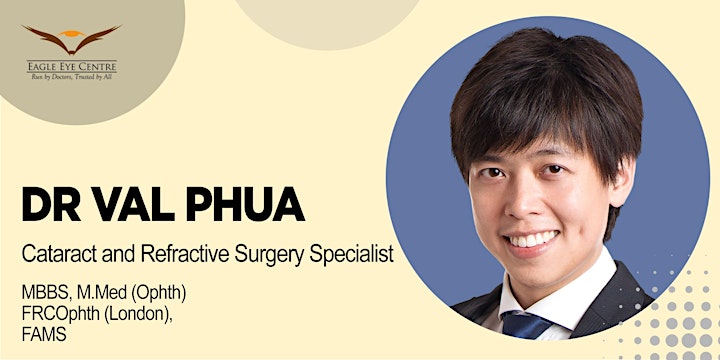 Dr Val Phua completed his medical studies at National University of Singapore (NUS) and continued with his specialist training in Ophthalmology at Singapore National Eye Centre (SNEC). He completed his post-graduate studies with a Master's degree from NUS (MMED) and a specialist qualification in Ophthalmology from UK (FRCOphth London).
Dr Val Phua has presented at multiple local and international ophthalmology conferences including Malaysia-Singapore Joint Ophthalmic Congree (MS-JOC), Asia Pacific Academy of Ophthalmology (APAO) Congress and the Association for Research in Vision and Ophthalmology (ARVO) annual meeting. He has published in several peer reviewed journals including Investigative Ophthalmology and Visual Sciences (IOVS), American Journal of Ophthalmoogy (AJO), British Medical Journal (BMJ) Open Quality and British Medical Journal (BMJ) Simulation and Technology Enhanced Learning. Dr Phua is passionate about teaching and education and was a contributing author to the Ophthalmology textbook "Practical Guide to VIVA and OSCE in Ophthalmology Examinations" and was the first author of another specialist textbook "Fundamental OSCE Guide in Ophthalmology".
Despite the demands of a busy schedule, Dr Phua is a devoted Christian, a loving husband and father to his family. He is actively involved in teaching Sunday school and believes in a well-balanced lifestyle. He was a competitive swimmer and water polo player and captained the water polo team at Anglo-Chinese-School (Independent) and Anglo-Chinese-Junior-College at the "C", "B" and "A" divisions. He went on to represent Singapore at the FINA Junior Water Polo World Championships. Today he continues to maintain a healthy lifestyle with a regular exercise schedule.
Organiser of LASIK, IMPLANTABLE CONTACT LENS, AND CATARACT SURGERY: Which one is for you
Eagle Eye Centre (EEC) was established on the 28th of November 2006, and was Singapore's first one-stop LASIK and Presbyopia (Lao Hua Yan) treatment centre founded by Dr Julian Theng, a cornea specialist and co-founder Dr Lim Wee Kiak, an ocular inflammation and uveitis specialist.
Since its infancy, EEC has held true to its core values of "Patient-centredness, Trust, Quality, Responsibility and Innovation". With these in hand, EEC has built over the years a patient base made up largely from "word-of-mouth" referrals.
Fuelled by its initial successes and humble beginnings at its main general ophthalmology branch situated at Mount Alvernia Medical Centre, Eagle Eye Centre has expanded to six branches and built a stellar team of ophthalmologists with different sub-specialties in order to provide a wider spectrum of eye care services including LASIK surgeries, refractive surgeries, and Implantable Collamer Lens (ICL) surgeries, standard cataract surgery and femto-laser assisted cataract surgeries, corneal transplantation and management, glaucoma treatment services and diabetic eye management, age-related macular degeneration treatments, presbyopia management and treatment, management of ocular inflammations and uveitis, surgical and medical retina services, oculofacial plastic surgery and orbital fracture services, myopia control programme for children, paediatric ophthalmology, squint and double vision treatments, and neuro-ophthalmology. 
Eagle Eye Centre prides itself on being a world-class eye centre that not only offers eye care services of the best quality, but also at affordable rates. EEC leads with a 'patient first' philosophy that exemplifies through the patient journey from before appointments are made till after treatment care.
Aside from providing a wider range or eye care treatments, Eagle Eye Centre also brings in the latest in technologies in terms of machines and pioneering medical and surgical techniques. Eagle Eye Centre has been actively sought after to launch and spearhead new technologies and innovations as pioneer users thanks to Eagle Eye Centre's performance and repute.
Eagle Eye Centre not only promises its patients "World-class quality care at affordable rates", the brand vision and mission is also constantly reiterated to the staff for alignment. A top down approach has been adopted to emphasize the mission dynamics through direct and indirect means. From the bottom up, Eagle Eye Centre's staff are hand-picked applying a best-fit philosophy and are constantly reviewed for mentoring and alignment. With this, Eagle Eye Centre is able to confidently employ compassionate and people-centred service to every patient. Eagle Eye Centre now commands over 60 medical, service and administrative staff overall.