Description
Are you a fan or new to French wines? Or are you clueless about wines and would like to learn more? Well, you have come to right place. If are really interested to learn more about French wines, do sign up for this short course on French wines.
This introductory class is that is packed with practical information that will turn you into a confident wine consumer–in more ways than one! Improve your wine knowledge and discover your wine palate!
Learn a lifelong skill that can help you in your quest to find your dream wine!
Lesson Overview
1) Introduction of Bordeaux, Burgundy, Rhone Valley and its classifications
2) Understanding Wine Labels
3) The components of wine and wine lingo such as body, acidity, tannins, finishing
Wine Tasting Overview (3 Premium + 1 Entry Level Wines)
4) Learn and taste the 4 most important international red grape varietals -
Cabernet Sauvignon, Merlot, Pinot Noir, Syrah
5) Put Your Wine Palate To The Test - Premium Wines vs Entry Level Wines
6) What to look out for when buying wines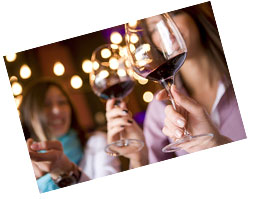 Wines are served in Riedel fine crystal glasses to make every drop of wine taste its best.
Make new wine friends in a calm, relaxing, and comfortable atmosphere! Share and compare tasting notes.

Come try out our 54 Wine Aroma Kit and develop your sense of smell to empowered you with a common vocabulary to describe, understand and better enjoy your wines. Each aroma vial comes with an illustrated explanatory card that includes an abbreviated description of the aroma.

- Venue will be located at Fine Wines SG Tasting Room:
114 Lavender St #02-60 CT Hub 2
- Minimum 8 persons to commence
- Duration: 2 hrs

Early Bird Discount: $59.90 + Free $20 voucher (only $39.90 for this course)
Bring a friend and save additional 5%
Ladies Night Special: Buy 3 seats and get 1 free! Save additional 33%

For multi ticket purchases, please email sales@finewines.com.sg or call us at 6385 2435


Such professional wine lessons in the market usually costs $400+ but here at Fine Wines SG, we believe that all wine lovers should be equipped with this basic wine knowledge to enjoy wines better and to upgrade one's social identity thus we are offering this low price.
Whether you are a novice or expert wine lover, it would be a fun and educational experience for all.

Terms & Conditions
- No refunds will be made for no show.
- Refunds will be made if event is cancelled.
- Voucher is personal and non transferable.
- Voucher is limited to purchase of wines.

For more wine lessons, visit
http://www.finewines.com.sg/wine-lessons

For enquires please call 63852438, email us at sales@finewines.com.sg or whatsapp PK at 97303036
For corporate events please contact pk@finewines.com.sg or visit