Discuss key fundamentals of converting companies that start with Specialists, Technicians & Subject Matter Expects into People Managers!
About this event
Leadership Livewire with The Spark Group Asia Leadership Intelligence Coaches
Transition from Specialists to People Managers
Live Interview & Q&A Session
This week's Leadership Livewire addresses a critical setback why some companies cannot scale.
Hence this Livewire talks about key fundamentals of converting companies that start with Specialists, Technicians & Subject Matter Expects into >>> People Managers!
What does it take to be a People Manager?
Did you know...
- 20% of first-time managers are doing a poor job according to their subordinates- 26% of first-time managers feel they weren't ready to lead others to begin with- 60% say they never received any training when they transitioned into their first leadership role
Join us, the team of Leadership Intelligence Coaches, Maresa Ng, Jeanne Ooi, and Tan Ee Lin, as we uncover and unpuzzle this for you.
Here's what the session will cover:
How the system is rigged for first-time managers to fail, and what you can do about it
Know the KEY difference between a Specialist Manager and a People Manager
Discover how the science of motivating your employees
These Leadership Livewire sessions are about audience questions.
So, come with questions for our coaches as we support leaders like you to ensure a better state of mind for the demanding landscape ahead of us.
===================================
We will send you reminders and the link to access the show via email, do check your inbox (SPAM/Junk folder too).
For inquiry, please contact us at hello@thesparkgroup.asia or PM us at WhatsApp.
Facebook Page:
www.facebook.com/thesparkgroupasia/
Website:
Not sure what's the time of this event happening in your area?
Click on this to find out, https://www.timeanddate.com/worldclock/converter.html
Terms & Conditions:
1. The Spark Group Asia has the right to reject your participation for any reason.
2. The Spark Group Asia reserves the right to change the program details with written notification in advance.
3. We will collect your data for future marketing purposes.
4. By disclosing your data, you agree for The Spark Group Asia to contact you in the future.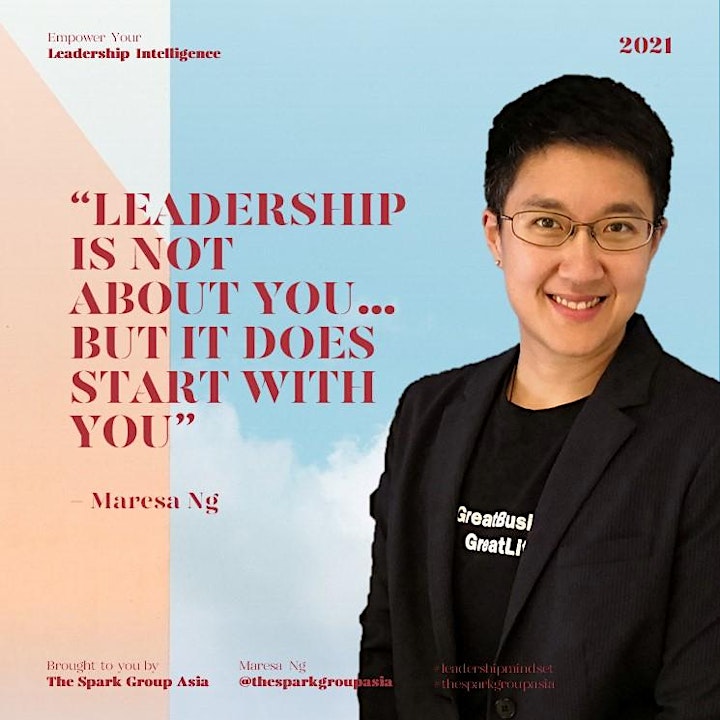 Organizer of Leadership Livewire: Transition from Specialists to People Managers
We the Coaching Authority that has worked with thousands of businesses and business owners in Asia. We intensifty the growth of business through Measurable 1-1 and Group Coaching Programs by using both Technology and Facilitation.
We develop Self, Leadership, and Business Intelligence to Enable Better Quality Lives and Business.
At The Spark Group (Asia), we believe in helping business owners to find the balance they need for a sustainable life in business while working with a business community that has the same DRIVE, intensity in DREAMS, and CLARITY in their visions which allows entrepreneurs to quickly assimilate into GROWTH "gear".
We are dedicated to help leaders, business owners, and entrepreneurs bring more meaning into their company culture, strengthening their brand and customer experience, and helping them to reduce the hats they wear in their business for greater freedom and profitability. We accelerate businesses to greater heights and deliver results through business and leadership coaching.
We always believe "EDUCATION is the key to success", therefore, we urge leaders, business owners, and entrepreneurs to LEARN, UNLEARN, and RE-LEARN which enables them to rethink their strategies and past experiences so they can move forward with less costly pit-stops along the way.
If you have further inquiry, please
write to hello@thesparkgroup.asia or
call us at 03-2280 0812