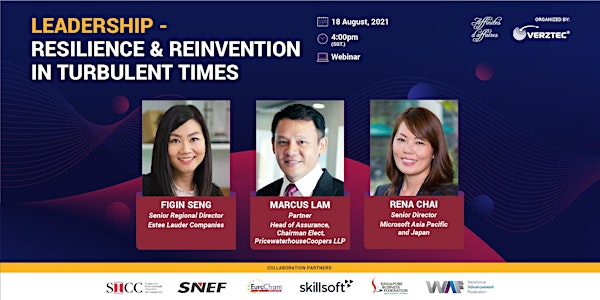 Leadership - Resilience and Reinvention in Turbulent Times
Join this free webinar to learn more about Resilience and Reinvention in Turbulent Times
About this event
Know more about our prestigious speakers for this webinar below:
Ms. Figin Seng, Senior Regional Director, Estee Lauder Companies
Ms. Figin Seng, Senior Regional Director, Organisation, Learning & Talent Development, and Dean of the Asia Pacific Leadership Institute of a global MNC, is a gold award recipient for the prestigious Global Chief Learning Officer. Her passion is in helping people fulfil their aspirations to build sustainable purpose-driven careers and growing their leadership potential.
During the Covid-19 pandemic, Figin spearheaded a grounds-up "Bless The Migrant Workers" initiative, working closely with a local NGO, to help engage & build physical, mental and emotional resilience among workers.
Mr. Marcus Lam, Partner – Head of Assurance, Chairman Elect, PricewaterhouseCoopers LLP
Marcus is the incoming Chairman of PwC Singapore from 1 July 2021 and led the assurance practice, he is with the firm for more than 25 year. He is also part of the Singapore Leadership Team. Marcus has over 20 years of professional experience providing audit and advisory services to listed companies, multinational corporations and government agencies across different industries and sectors in Singapore.
Ms. Rena Chai, Senior Director, Microsoft Asia Pacific and Japan
Rena is the Senior Director with Microsoft Asia, leading the Microsoft intelligent edge and devices Go to market team in Asia Pacific and Japan region. She leads a diverse team in more than 20 countries and device eco system partners in the region.
She is passionate about growing and developing local talents. She is a sponsor for several Microsoft talent programs and contribute time outside of work in INSEAD Women in Business committee and co-chair of SICC digitization interest group. She thrives at learning new skills and knowledge, and meeting new people from around the world.