About this Event
This is an online networking event.
Covid-19 is indeed a "black swan event" - completely unexpected and impacting every corner of the globe. All the business KPIs, goals and workplans that we crafted back in early January have become totally irrelevant and obsolete. Some of us may still be stuck in limbo about what we need to do next. However, status quo is not an option and leaders are forced to respond - to bring structure to chaos, provide certainty in times of uncertainty and offer calm in a climate of fear.
Leaders around the world have indeed responded in different ways - some more effective than others. As the saying goes, it takes a crisis to separate the good leaders from the great leaders. Our intent for this event is to create an informal forum for networking and to discuss about what each of us has learned about great leadership during the Covid-19 crisis.
Agenda
Participant Networking & Group Discussion
Sharing of learning about lessons learned
All Business Leaders, Human Resource, Organizational Development practitioners and anyone with an interest and point of view about great leadership are welcome to join us in this free online event. The session will be facilitated by a seasoned HR practitioner and two highly experienced leadership consultants (see below).
Technical Requirements
This networking session will be conducted using Zoom and you will need a laptop or PC with a webcam and microphone. Alternatively, you can conveniently participate using your smartphone by downloading the Zoom app onto your Android or iOS device.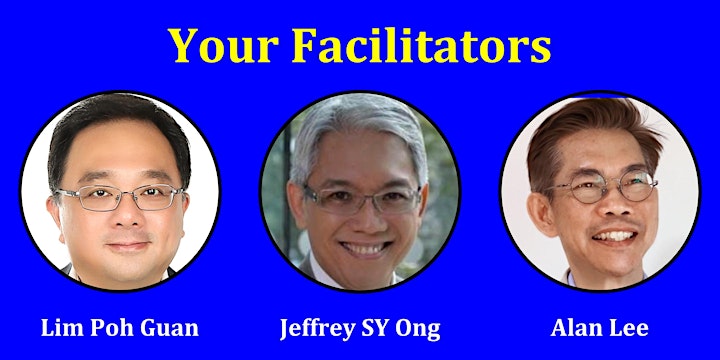 About the Facilitators
Lim Poh Guan is a Leadership Facilitator and Executive Coach with LPG Leadership Sdn. Bhd. His LinkedIn profile can be found here.
Jeffrey SY Ong is a Master Facilitator and Executive Coach with Surplus Network Asia. His LinkedIn profile can be found here.
Our guest facilitator Alan Lee is Executive Director Human Resource at a major regional bank. Alan has led the Rewards, Talent Management and Learning & Development functions as a HR practitioner in various organizations and he is well-placed to offer a "practitioners perspective" on what great leadership means. His LinkedIn profile can be found here.