Learn about traumatic injuries and management online- World Trauma Day 2021
Learn what you can do to help someone with physical and mental injuries after a traumatic accident.
About this event
To commemorate World Trauma Day which falls on 17 October, the Central Region Trauma Services (CRTS) together with partner institutions will be launching a series of online talks happening on the 11 – 15 October 2021, 1200 – 1300h.
This year's theme is "Timely Response Saves Lives". Guest speakers will be sharing on trauma in Singapore, the management of common recreational injuries and the psychological impact of trauma. Members of public can gain first-hand knowledge and fruitful tips on trauma prevention and management from subject experts. In addition, participants stand a chance to win attractive prizes!
*Note: Talks are conducted in English language on Zoom.
PROGRAMME SCHEDULE
11 October, 1200 - 1300h | Trauma in Singapore: Why It Matters
The Covid-19 pandemic has resulted in changes in our lives, a new normal that we all have to cope with. Trauma will continue to affect our lives even in the new normal.
By understanding the magnitude of the resources and impact that trauma has on Singaporeans, we can now make attempts to decrease the incidence of traumatic events and even prevent them from happening.
13 October, 1200 - 1300h | Managing Common Recreational Injuries
Increasing sports participation necessitates that we gain an appreciation of the types of injuries, especially those of potentially serious consequence, e.g. head, spine, chest, and abdomen.
I will cover common recreational injuries and the ways to prevent, treat and manage them in an expedient manner.
15 October, 1200 - 1300h | Psychological Impact of Trauma: The Invisible Injury
Trauma affects everyone differently. Most responses are normal reactions to an abnormal event and are short-lived. Some people experience the psychological impact for a longer period of time or have delayed reaction. The psychological injury, which is invisible, can be as debilitating as the physical injuries, if not more.
Find out what are the steps you can take to aid in the psychological recovery after a traumatic event, and what are the red flags to watch out for to seek professional help.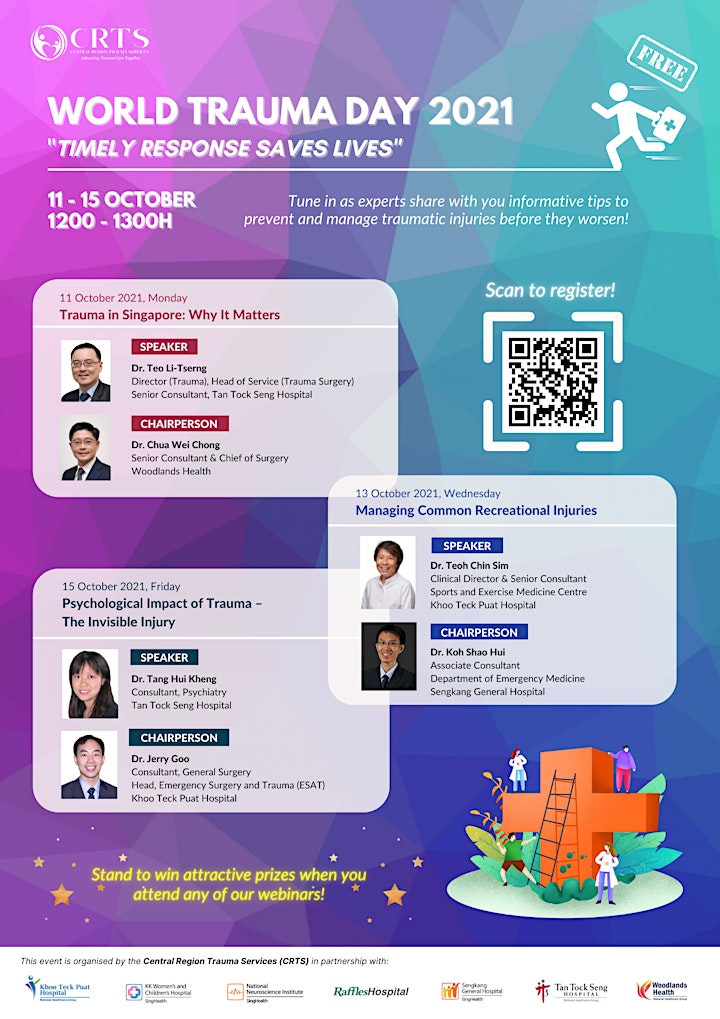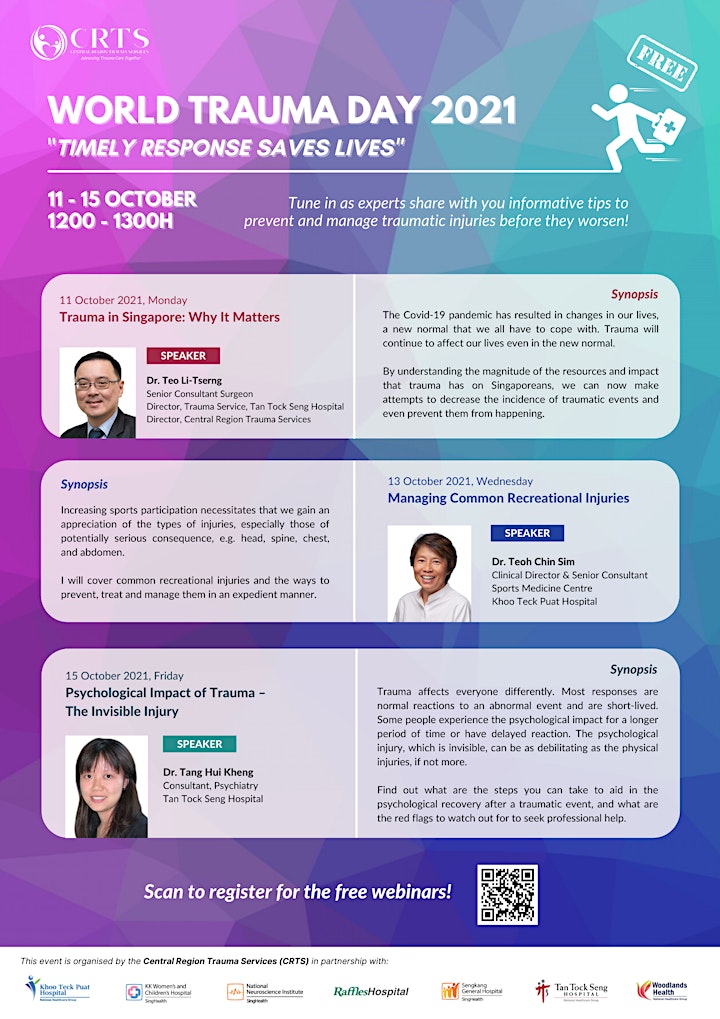 Organiser of Learn about traumatic injuries and management online- World Trauma Day 2021