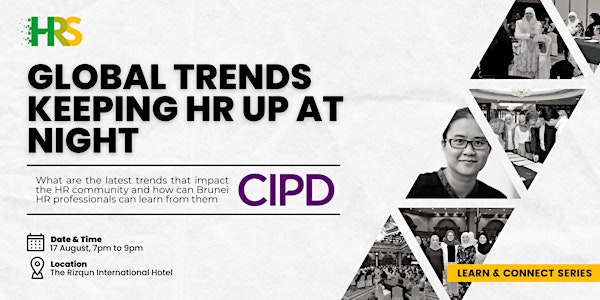 Learn and Connect (with CIPD!): Global Trends Keeping HR Up at Night
A learn and connect session with HR Society Brunei and the Chartered Institute of Personnel and Development (CIPD)
When and where
Location
The Rizqun International Hotel Gadong Bandar Seri Begawan, Daerah Brunei-Muara BE3519 Brunei Darussalam
About this event
Important Update as of 16 Aug 2022: Please note change of venue to Rizqun International Hotel
This event is dedicated to HRS members only at no charge. Public are welcomed to attend if you register as a HRS member.
What are the latest trends that impact the HR community and how can Brunei HR professionals can learn from them?
This session is designed as a learn and connect session between HR professionals in Brunei with this edition focused on looking at macro level trends and external drivers that impacts business and therefore HR, amongst others.
This is also a special opportunity to tap on insights from the Chartered Institute of Personnel and Development (CIPD) and have a dialogue between members of Human Resource Society (HRS) Brunei to support the vision of developing Brunei's HR competitiveness even further.
This learn and connect edition is brought to you by Human Resource Society (HRS) Brunei and the Chartered Institute of Personnel and Development (CIPD). This event is also supported by Brunei Shell Petroleum Co Sdn Bhd as premium sponsor of HRS.
For queries on this or any HRS-related events, do nudge us on Instagram @hrsociety.bn or check in with us via email (and check your spam box) from hrsocietybn@gmail.com. Official HRS website and other social media pages coming to your screens soon.
Further information speakers and programme is available upon registration.
About Human Resource Society (HRS) Brunei
Human Resource Society (HRS) is the first society established in Brunei Darussalam, to provide a platform for all experienced HR professionals in growing new talents in HR skill pool, and to share the best practices and knowledge of strategic human resources.
We are affiliated with International Society for Performance Improvement (ISPI).
Vision: Develop Brunei's HR competitiveness and eventually Pioneer HR practices in the region
Our Mission: Build Human Performance capability in Brunei Darussalam, making it a center of excellence and capability center in the region
Contact Us: For more information, contact us via our social media handle @hrsociety.bn or email us at hrsocietybn@gmail.com
About Chartered Institute of Personnel and Development (CIPD)
The Professional Body for HR and People Development
Experts on the world of work and career partner to almost 160,000 members around the world
The CIPD is the professional body for experts in people at work. For more than 100 years, the CIPD had been championing better work and working lives by setting professional standards for HR and people development, as well as driving positive change in the world of work. With hubs in the UK, Ireland, Middle East and Asia, the CIPD is the career partner of choice for more than 160,000 members around the world. We are the only body in the world that can award Royal Chartered status to individual HR and L&D professionals, and our independent research and insights make us trusted advisers to governments and employers. The CIPD Asia office in Singapore provides a central hub for a growing community of people professionals across Asia. We work with individuals and organisations across the region, using our internationally recognised standards to build the capability of the profession as experts in people at work.