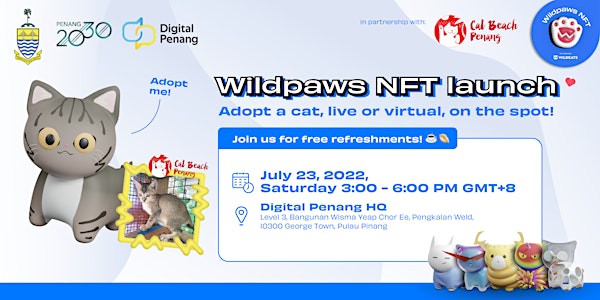 Learn the ins and outs of NFTs and adopt a digital cat!
Adopt cats while learning how to get your first NFT!
When and where
Location
Level 3, Digital Penang, Bangunan Wisma Yeap Chor Ee Pengkalan Weld George Town, Pulau Pinang 10300 Malaysia
About this event
Organised by Wildpaws NFT, you are invited to join the team or the launch of their NFT project, Wildpaws! Dive into the Meowtaverse with us as we witness their Digital Twin project goes live, a one-of-its-kind supporting real life animal shelters across Southeast Asia. You will have the opportunity to also meet the cats from Cat Beach Penang in real life, alongside their digital twins that are up for "digital adoption"!
The Wildpaws team aims to also educate and create awareness to communities on NFTs. So take this opportunity to meet the team and learn how you can create your first digital wallet!
PROGRAMME
3pm: Registration, showcasing videos from shelter partners
3:30pm: Welcome by Digital Penang
3:40pm: Opening and introduction by Wildpaws
4pm: What is NFT? Who is Wildpaws?
4:30pm: Q&A session
5:00pm: Activity #1 - Opening your first wallet on the blockchain
5:30pm: Activity #2 - Kahoot game & Wildpaws NFT giveaway
5:40pm: Wildpaws virtual volunteering
6pm: End
Find out more about Wildpaws:
https://wildpawsnft.com/
Find out more about Cat Beach Penang:
https://catbeachpenang.com/
To find out more about Digital Penang or the latest happenings, follow us:
Facebook - https://m.facebook.com/DigitalPenangMY
Instagram - https://www.instagram.com/DigitalPenangMY/
Twitter - https://twitter.com/DigitalPenangMY