Learn to Meditate: Thu Evening Meditation Classes (in-person & online)
In this 3-week series, learn the basics of meditation and how to practice at home.
About this Event
Thu Evenings, 7:30-8:30pm
3-week series: Mar 25 · Apr 1 · 8
These days many people are talking about meditation and mindfulness practices. Do you know what it's all about and how it can help you in your daily life?
In this 3 week evening series course, learn about the basics and benefits of meditation and the practices of mindfulness. This is a perfect introduction to the topic and provides you with practical techniques that you can practice at home to bring about a more peaceful, clear and relaxed mind. This course is perfectly suitable for beginners.
There are many documented benefits that come from engaging in meditation on a regular basis, including improved mental clarity, reduced stress & anxiety, increased inner peace & wellbeing, improved sleep, and generally having a more relaxed and positive outlook on life to name but a few.
On this course you will learn:
The basics of meditation - posture, motivation, and different types of meditation
Simple guided meditations that can be practiced daily to develop and maintain a special experience of inner peace
How to use mindfulness to carry the benefits of meditation into your day
The difference between meditation and mindfulness
BOOK THE 3-WEEK MEDITATION SERIES AT THE SPECIAL RATE OF $30, or attend a single class at the standard rate of $13 per person.
Other Information:
No previous experience required, everybody is welcome to join
Each class is self-contained, join anytime.
Both chairs & floor cushions are available at in-person classes
No dress code, wear something that's comfortable for you
For those joining us online the viewing link will remain available for 7 days after the live-stream.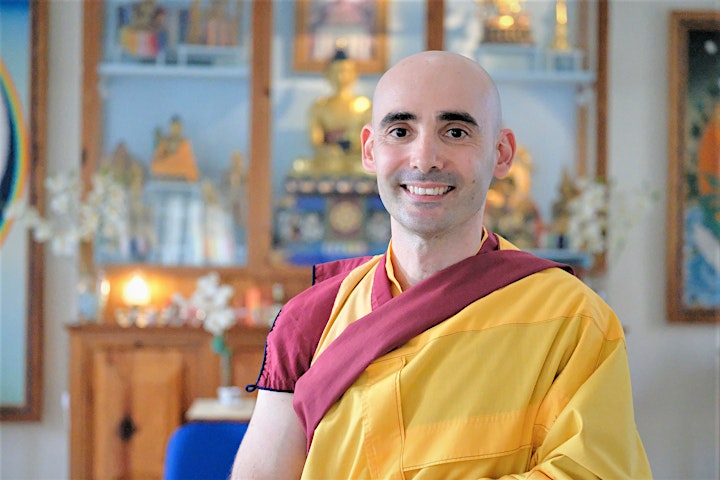 About the Teacher:
Kelsang Rabka was appointed as the Resident Teacher of KMC Singapore in mid 2020. He is an Australian Buddhist monk who has been studying and practicing Kadampa Buddhism with Venerable Geshe Kelsang Gyatso Rinpoche and his senior disciples for 13 years, and has taught both in Australia and the UK.
The clarity and warmth in his teachings has helped many students experience the practical benefits of modern Kadampa Buddhism in their daily lives.