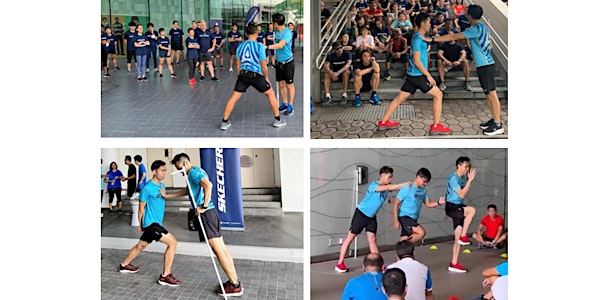 Multiple dates
Learn to run injury-free. Improve your running gait. Be an efficient runner
Learn how to reduce your risk of running injuries with a stronger core, correct posture and a biomechanically efficient running gait.
Date and time
November 9, 2022 · 6:45pm - July 5 · 7:45pm +08
Location
Caribbean Condo @ Keppel Bay Ground Floor, Lobby, Carribean Condo @ Keppel Bay 2 Keppel Bay Dr, Singapore Singapore, Singapore 098636 Singapore
About this event
Do you want to run faster, longer with the same effort by becoming a more efficient runner? Do you want to reduce your risk of running injuries and enjoy your running? Learn from Andrew Cheong and Diana Lee, coaches at SSTARfitness - how to strengthen your core, correct your posture, and practice running drills to achieve a biomechanically sound running gait
Andrew and Diana are Singapore's first and only couple to be awarded the Abbott World Marathon Major Six-Star. Andrew has completed more than 50 marathons, ultramarathons and Ironman races - injury free! He has qualified for the Boston Marathon every year since 2011. Besides coaching hundreds of runners, and conducting corporate workshops, he continues to train and compete in races around the world. His decades of experience is based on a sports science Post grad Diploma and international coaching certifications from the Road Runners Association of America (RRCA), World Athletics and FISAF.
Diana has conducted group exercise classes for more than 10 years, is an American Council of Exercise (ACE) certified group fitness instructor and is currently pursuing her ACE Function Training specialist certification. She has also completed more than 30 marathons - injury free.
They will be teaching you how to avoid injuries by strengthening your core muscles, what is the most efficient running gait, based on Sports science and the biomechanics of running.
The workshops are divided into three classes, one hour duration each. Start with the Basic class, and continue with Intermediate and Advanced classes.
What you will learn :
*Basic Class* (Every 1st and 3rd Wednesday of each month)
1. The biomechanics of an efficient running gait
2. The five step guide to analyze and correct your gait and running posture
3. How to strengthen your core, adopt a good posture for running and daily living
4. Basic running drills - forward lean, leg lift, foot strike
*Intermediate class* (you must attend the Basic class first) Every 2nd Wednesday
1. Quick review of Basic class running drills
2. Intermediate running drills - arm action, cadence, stride length, vertical oscillation
3. Core, Flexibility and Strength (CFS) exercises for runners
4. How to develop your V02Max, running economy and improve your Lactate Threshold pace
*Advanced class* (ideally you have already attended the Basic and Intermediate classes) Every 4th Wed
1. Running drill practice - revise your Basic and Intermediate drills
2. Advanced running techniques - up and downhill running, running on uneven, and slippery surfaces, manage obstacles, how to use running poles (on request)
3. Advanced CFS exercises for runners
4. Develop your ''Inner GPS'' and achieve a feel for even pacing.
Slots are limited to the first 20 pax. Please call or Whatsapp Andrew Cheong at mobile 9423-9403 to confirm you are coming by Tuesday to avoid disappointment.
About the organizer
SSTAR.fitness provides personalized, customized sports coaching for runners from beginners to Boston qualifiers. Every workout is different, we follow a global, proven training methodology from the Furman Institute of Running and Scientific Training (F.I.R.S.T.), For the time-crunched, busy executive, you can run less, yet run faster.
https://www.runnersworld.com/training/a20799296/run-your-best-marathon-with-less-training/
covering speed intervals, tempo, and long runs. You will learn how to do track workouts with the right combination of active and passive recovery; improve your VO2Max and Lactate Threshold with tempo runs and cruize intervals. Improve your aerobic fitness with long runs. Correct your running gait, strengthen your core and learn running drills that will make you a more efficient runner.