A 3-part series of community conversations to deepen our understanding of the trauma that exists all around us
About this event
Common Ground is excited for the founders of SOMAYOKE, Yoke Wen and Being Bridges, Basil Kannangara, to co-host this 3 part series based on the Wisdom of Trauma movie and Talks on Trauma series by Gabor Mate and respected practitioners, to discover with the community, ways in which trauma shows up at the various environments and settings we find ourselves in.
Each session includes selected screenings of the Talks on Trauma series held by Gabor Mate, and highlights that we may apply to our own lives and communities here in Singapore. The sessions will be supported by somatic grounding experiences along with invitations for personal reflections and group conversations.
Learn more about Wisdom of Trauma: wisdomoftrauma.com
Sessions:
21 Aug, Sat, 2PM—5PM: On Structural & Racialised Trauma
In this session, we will explore:
What is structural trauma and why should we care?
How does trauma intersect with race?
18 Sep, Sat, 2PM—5PM: On Intergenerational Trauma
In this session, we will explore:
How trauma gets passed from generation to generation?
What changes can we bring to our lives, when we are aware and sensitive to the trauma in our bodies?
16 Oct, Sat, 2PM—5PM: On Trauma in Relationships
In this session, we will explore:
What is attachment? Why is it important in the understanding of trauma?
How can our relationships provide a ground for our trauma healing?

This is a pay-as-you-wish event. Your monetary contributions will help our Resident Practitioners continue to offer their best efforts in supporting and capacity building our communities.
This series is part of an ongoing exploration at Common Ground, centering on mental well-being and trauma awareness. We believe that these conversations, knowledge and spaces to learn from one another, are especially needful, given the recent events.
For more information of related initiatives at Common Ground, you may explore: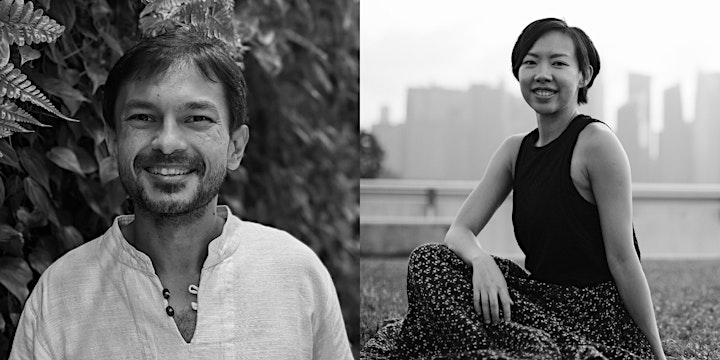 ABOUT THE FACILITATORS
Basil Kannangara (left) is an award-winning innovator and facilitator in the work of diversity, dialogue, and discrimination. Focused on interfaith and interracial issues, he is the founder of Being Bridges, a social enterprise developing creative tools and processes for community conversations around cultures, religions, and ethnicities. Also the co-editor of Being Beings, a community newsletter leveraging on shared stories to build a more versatile diversity, Basil is currently working on Being Community, a social media project facilitating powerful and timely conversations on racial and religious discrimination.
Learn more about Being Community: here.
Lee Yoke Wen (right) is grateful for the decade-long opportunities to journey with vulnerable children and families who entered the child protection system. Besides clinical practice with children and families, she contributed to the capability building of sector practitioners, led change management processes, and had the privilege to partner with important stakeholders across different systems to raise awareness on child abuse, family violence and childhood trauma in Singapore.
She founded SOMAYOKE in 2019 to facilitate safe spaces for trauma healing for children, teens, adults, and communities. SOMAYOKE offers therapeutic services, trauma training, and consultation using body-based perspectives and tools to explore safety and healing in mind, body, and breath.
Yoke Wen is the author of the photo journalbook, Lessons from the Himalayas.
Learn more about SOMAYOKE: here.

ABOUT COMMON GROUND
Common Ground seeks to bring communities together and develop the innovation that arises from these collaborations.
We hope to provide a platform for likeminded but diverse individuals to come together and share their perspectives on social issues, and leave with new ways of seeing and understanding.
Learn more about Common Ground: here.