Learning Series - Nutrition for Active Aging & SkillsFuture Advice
About this event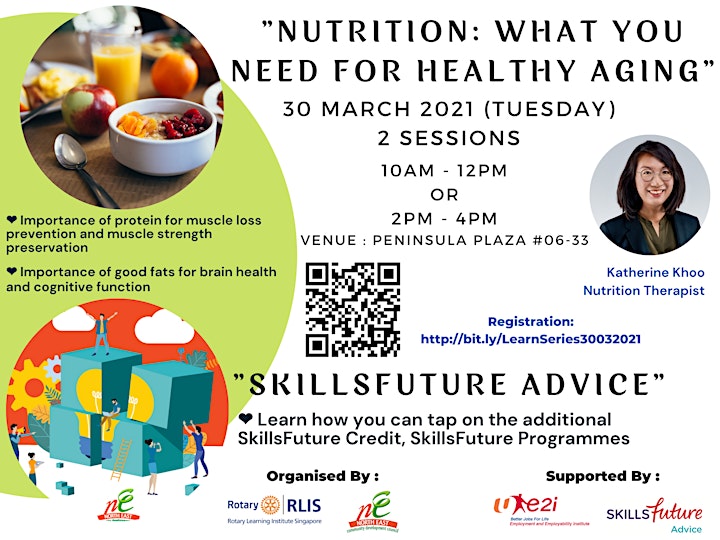 PART I : NUTRITION: WHAT YOU NEED FOR HEALTHY AGING
Regardless of one's age, we want mobility, to be able to move freely and healthy cognitive function. As we aged, risk of muscle loss can lead to less muscle strength and loss of mobility. Similarly, cognitive decline can affect everyday tasks.
In this session, we will share
Important nutrients needed to prevent muscle loss and maintain a healthy cognitive function in the elderly.
Importance of adequate protein and good fats
Recommended dietary sources for these nutrients.
and more...
About the Speaker
Katherine is a Nutritional Therapist with 8 years of clinical experience. She specializes in cancer, female hormone imbalances and weight management. Promoting accurate health literacy has always been a subject close to her heart. She actively runs educational workshops, give public and corporate health talks on various topics. Her frequently requested topics are on cancer nutrition, weight management and hormonal disorders.
PART II : SKILLSFUTURE ADVICE
In this session, you will learn:
Learn key trends in the Future of Work
Explore how to tap on SkillsFuture programmes, SG United Jobs and Skills and thrive in the skills-based future of work
Discover "4 Ways to Keep Your Skills Relevant for Career Development" and build your skills portfolio
Claim your SkillsFuture Credit to offset your course fees
Search for courses to bridge your skills gap through MySkillsFuture portal.