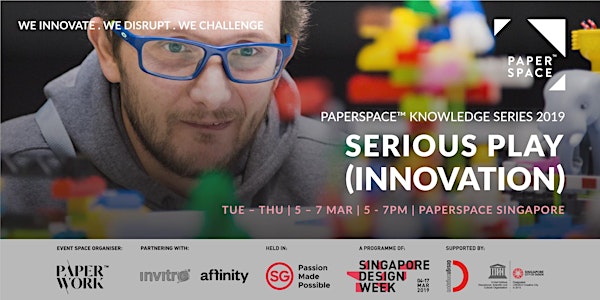 LEGO® SERIOUS PLAY® by Paperspace Singapore in collaboration with Invitro Innovation and Affinity Group
When and where
Location
Paperwork 111 Middle Rd, National Design Centre #03-01 Singapore, Singapore 188969 Singapore
Refund Policy
Refunds up to 7 days before event
Description
Play is the Future of Work! Play is no longer a distraction to work, but rather a necessary component at work that can provide surprising benefits to productivity and creativity.
Experience an unconventional, ground-breaking 'Play' methodology that can adopted and applied in your organisations. LEGO® SERIOUS PLAY® is proven to be an effective organisational group-based tool used for discovery, ideation and problem-solving. Leaders have seen positive and unexpected outcomes displaying depth of ideas, innovation and creativity from participants, resulting in increased engagement from employees in organisational initiatives.
LEGO® SERIOUS PLAY® is a methodology created by the LEGO® Group more than 20 years ago to fire up the imaginations of leaders and to improve group based creative thinking and problem solving. Organisations now have access to this ground-breaking methodology through a pool of Certified LEGO® SERIOUS PLAY® Facilitators who operate across the world.
Paperspace in collaboration with LEGO® SERIOUS PLAY® facilitators Angela Koch of Invitro Innovation and Seri Tasripin of Affinity Group bring you a hands-on LEGO® SERIOUS PLAY® workshop to explore the world of Serious Play within Work.
In this Serious Play mini-workshop, co-creation facilitators, Angela and Seri will share their passion for work in playmode and lead participants to explore the topic of Serious Play though building LEGO® models in response to a set of challenge questions and then sharing the stories behind their creations with the workshop group.
Get ready to discover how Serious Play can fire up your individual creativity and take your Innovation Contribution to the Next Level.
See www.invitroinnovation.com for more information.