Join us in our Virtual Community Run on 27 November 2022 to end violence on campus in Singapore. Together, let our voice run.
About this event
VIRTUAL COMMUNITY RUN TO END VIOLENCE ON CAMPUS
Violence is impacting our campus communities in Singapore.
We hope to change this.
Campus violence, especially sexual violence, are difficult issues to talk about and, because of this, people don't know how to get help and our communities are being impacted. We can change this but we need your support to do it. By joining the virtual run and campaign, you will directly help individuals and campus communities recover from violence and find ways to end it.
Let Our Voice Run is a 3-year campaign that focuses on raising awareness and addressing sexual harm and dating violence experienced by young adults in tertiary institutions. This is through having conversations on building respectful relationships and safe campus communities through collective efforts with concerned stakeholders.
In 2021, Let Our Voice Run began raising awareness on violence through a relational approach, with a special focus on sexual violence. A total of 168 participants joined us for the event!
We continue to raise awareness through facilitated conversations on campus and build connectedness through listening to voices affected by violence, especially sexual violence.
Join us on 27 November 2022 for this virtual community run in Singapore and help Lutheran Community Care Services raise funds to train passionate student leaders to facilitate restorative conversations on campus to strengthen communities.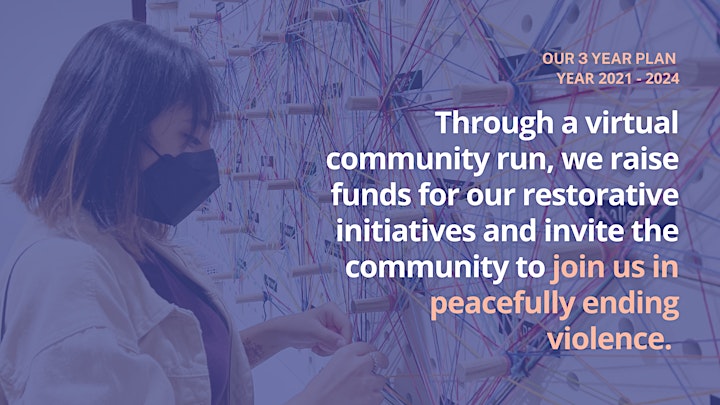 HOW IT WORKS
WHO: You! Everyone is invited to participate.
WHAT: Purchase a race entry for $35 ($25 for students). Pledge your # of kilometres between 5km and 16km, and then complete them on race day [27 November 2022]. Let Our Voice Run is inclusive; participate at your own pace and you can choose to run, walk, bike, swim, or any other sport that accumulates distance.
RACE PACK: Your race pack, along with your limited edition t-shirt, race badge, and other goodies, will be available for collection 2 weeks before our campaign starts.
REGISTRATION DEADLINE: Registration closes on 20 November.
WHERE: This is a virtual event. This means you complete your kilometres wherever you want. We will be sharing running routes with some possible activities and conversations that you can have with your friends/family on our IG @letourvoicerun.
WHEN: On Sunday, 27 November 2022. Kilometres can be recorded up until 6pm.
HOW: After you register for the virtual run, you can start training. Follow us on IG at @letourvoicerun to get ideas from our community routemappers about places to run/walk/cycle! On Race Day, post your photos and videos to social media using the hashtags: #LetOurVoiceRun and tag us (@letourvoicerun)
DONATE:
SHARE: Invite your friends & family to join you for the virtual run and share across your social media networks. Here's the link:

MAKE A DONATION
All funds raised from this campaign will go towards restorative programs on campus to helping survivors of violence and our campus communities.
If you would like to make a donation to support our series of activities and enjoy tax deductions, please use these donation methods:
DONATE VIA CHEQUE:
Issue cheque payable to: Lutheran Community Care Services Ltd
Mail to: Lutheran Community Care Services Ltd , 3779 Jln Bukit Merah, #02-01, Singapore 159462
* Please indicate full name, contact number, NRIC and reference code (LCCSVR) behind the cheque** e.g. Lucy Chan Chin Sim, 9936 8170, S9368107M, LCCSVR
DONATE VIA GIVING.SG:
You can go to LOVR giving.sg page to donate.
Tax deduction info: Donations (minimum of $10) are eligible for 2.5 times tax rebates. Details are required for tax rebates and will be given to IRAS directly. Please double check any of the information. Any mistake in providing the correct information for tax deductions will be difficult to trace. If you have further questions, please contact LCCS at 6441 3906 (Mondays to Fridays, 9am – 5.30pm)
Please note that purchase of race tickets and merchandise are not eligible for tax deductions. If you would like to donate, please use the above 2 donation methods.