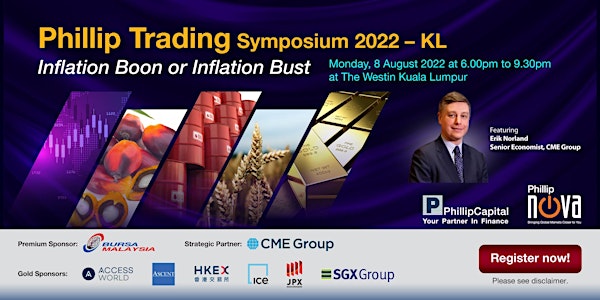 Let's Catch-Up At The Phillip Trading Symposium 2022 - KL
Phillip Trading Symposium 2022 - KL on 8 August 2022 at The Westin Kuala Lumpur
When and where
Location
The Westin Kuala Lumpur 199 JALAN BUKIT BINTANG KUALA LUMPUR, 55100 Malaysia
About this event
Let's catch-up on 8 August 2022 at the Phillip Trading Symposium 2022 - KL at 6.00pm. In the second edition of this event, we are bringing together key representatives from global exchanges and service providers like Access World, ASCENT Fund Services, Bursa Malaysia Derivatives, CME Group, HKEX, ICE Futures Singapore, JPX and SGX Group to tell us more about the market developments and what traders should look out for.
We would love for you to join us.
Programme
5.00pm - 6.00pm : Event registration
6.00pm - 6.10pm: Welcome speech by Andy Lim, Group Managing Director for PhillipCapital, Malaysia
6.10pm - 6.20pm: Keynote Speech by Mohd Saleem, Acting Director, Bursa Malaysia Derivatives
6.20pm - 6.30pm: Speech by Mr. Hitoshi Shimoyama, Executive Director, Head of Pi-X Projects, Phillip Securities
6.30pm - 7.15pm : 2022 Macroeconomic Overview by Erik Norland, Senior Economist, CME Group
7.15pm - 7.30pm: Q&A session following the 2022 Macroeconomic Overview
7.30pm - 8.15pm: Panel Discussion featuring Exchange Representatives
8.15pm - 8.25pm: Appreciation of our Sponsors and Partners
8.25pm - 9.30pm: Networking & Refreshments
About Andy Lim
Andy Lim Say Kiat is currently the Group Managing Director of PhillipCapital Malaysia. He was the Chief Executive Officer and Executive Director of Phillip Mutual Bhd (PMB) between 1 January 2016 until 5 July 2022 before moving to Phillip Capital Sdn Bhd (formerly known as Phillip Futures Sdn Bhd) as Group Managing Director. Prior to that, he was a Non-Independent Director of PMB since 5 June 2009, during which he held the position as Director of Phillip Wealth Planner Sdn Bhd, one of the leading financial planning companies in Malaysia and Phillip Research Sdn Bhd, a company licensed by the Securities Commission for investment advice.
About Mohd Saleem
Mohd Saleem currently serves as the Acting Director of Bursa Malaysia Derivatives Berhad, a subsidiary of Bursa Malaysia Berhad which provides, operates and maintains a futures and options exchange. Appointed in July 2022, Saleem is responsible for leading the Malaysian exchange-traded derivatives business to new heights.
Prior to his latest role, Saleem was double-hatting as the Head of Product & Market Development and Head of International Development since he joined Bursa Malaysia Derivatives in July 2019. In his capacity as the Head of Product & Market Development, he led the team in product launches and revamp projects to expand, diversify and improve the offerings of the Exchange to meet the ever-evolving needs of market participants. As Head of International Development, Saleem was responsible for ensuring that the products and services of the Exchange are accessible by traders worldwide. He played a pivotal role in engaging with industry stakeholders and establishing collaborations with foreign Exchanges to explore new business opportunities.
Saleem brings over 28 years of experience in the Futures industry and has held several key roles previously in HSBC Singapore, including the position of Director and Head of Futures.
About Hitoshi Shimoyama
Shimoyama is currently the Executive Director of Phillip Securities in Singapore, Head of Pi-X projects. Prior to this role, Shimoyama was the President and CEO for Phillip Securities (Japan). Before joining PhillipCapital, Shimoyama held the role of President and CEO with Mizuho Securities (Singapore).
About Erik Norland
Erik Norland is Executive Director and Senior Economist of CME Group. He is responsible for generating economic analysis on global financial markets by identifying emerging trends, evaluating economic factors and forecasting their impact upon those who trade in its various markets. He is also one of CME Group's spokespeople on global economic, financial and geopolitical conditions.
Prior to joining CME Group, Norland gained more than 15 years of experience in the financial services industry working for investment banks and hedge funds both in the United States and in France working for hedge funds and investment banks.