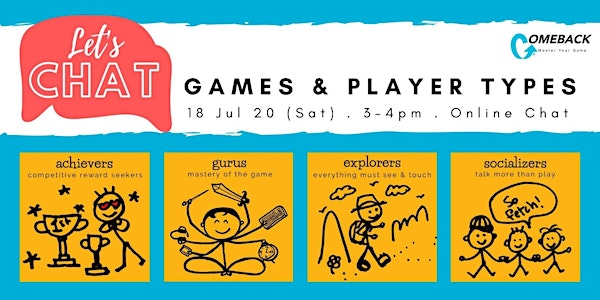 Let's Chat: Games and Player Types
Let's have a fun chat learning more about our Player Types as Gamers!
About this event
Imagine playing a farming simulator game (e.g. Animal Crossing, Stardew Valley, Harvest Moon). Do you prefer to:
Discover every character's backstory and explore the town?
Design your character and decorate your house?
Do everything you can to earn as much in-game gold?
Find out ways to cut waste and improve profits?
Do you know that your preference actually reveals your Gamer Player Type, which helps you to better understand your gaming behaviour, preferences and motivations? You can read more at https://comeback.world/2020/05/09/the-4-gamer-player-types/
To find out more, join Ruth and Xing Yong as they share about the Four Player Types through their personal gaming stories. Let's chat more about our own player types when we meet online!
EVENT DETAILS
Date: 18 July 2020 (Saturday)
Time: 3 – 4pm
Platform: Online Chat on Zoom
Cost: Free of Charge!
Specially designed for youth gamers. =)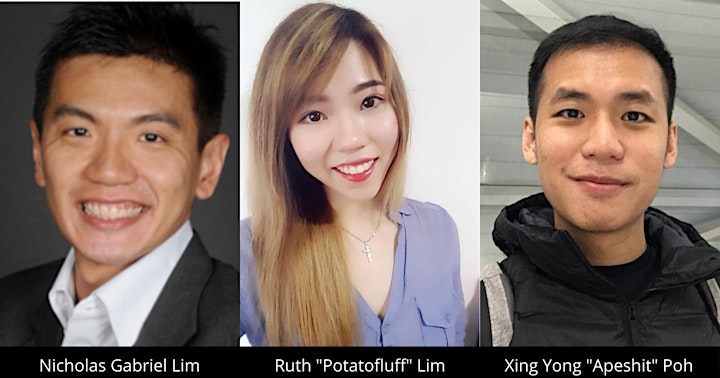 XING YONG "APESHIT" POH
Xing Yong is an Associate Psychologist with COMEBACK. He is an avid gamer who has previously struggled with game dependency since his Primary school years, and now aims to help others overcome their similar struggles in game dependency using his past experiences and background in Psychology.
Xing Yong has graduated from Ngee Ann Polytechnic with a Diploma in Psychology, and James Cook University with a Bachelor of Psychology (Honours). He has always been extremely passionate about helping others, and is now currently pursuing his postgraduate studies in Counselling Psychology.
Although Xing Yong does not pursue professional gaming, he is also extremely competitive in nature, and used to spend 10-12 hours a day gaming. He boasts multiple gaming achievements, such as winning a local DotA 2 competition and attaining high ranks in multiple game titles, including DotA 2 (Top 200 SEA), Mobile Legends (Mythical Glory), and Overwatch (Grandmaster).
RUTH "POTATOFLUFF" LIM
Ruth is on staff with SOOS OIO as an Esports Coach and co-developed TeleTrip, an offline gaming community event. She conducts DOTA 2 foundational classes and workshops for Esports Academy under SCOGA and also teaches the module "Team Management" in Informatics Diploma for Esports and Game Design.
Ruth Lim coached a competitive DOTA 2 team TenTwenty in 2017 that won CPL Championship DOTA 2 Edition 2017, came in 1st in Dew Challenge 2017 and represented Singapore in Asia Pacific Predator League in 2018. Ruth managed Team Impunity FIFA Online 3 who got 3rd in EA Champions Cup (EACC) Winter Cup 2016 representing Singapore. In 2017, she coached Team Impunity FIFA Online 3.
Ruth graduated from Temasek Polytechnic with Diploma in Games & Entertainment Technology and SIT-University of Glasgow in Bachelors of Science with Honours in Computing Science. She also holds a CoachSG coaching certificate.
Well recognized in the DOTA 2 community, Ruth attended numerous international gaming tournaments, got to know and learnt from many of the top players worldwide. Ruth hopes to share her knowledge and experience to gamers in Singapore and beyond.
NICHOLAS GABRIEL LIM
Nicholas Gabriel Lim is a registered psychologist, who has worked with youths for 2 decades. He is the co-founder of the Youth Work Association (Singapore), the author of the ebook Clash of the Mind and Heart: Understanding Adolescents, a clinical supervisor to young budding psychologist, and a youth mentor!
He has spent his career in the people, private and public sectors. All of which have been with youths, families, and advocates of youths. Given his depth and breadth of work with youths, he has been on various government advisory councils, like the Media Literacy Council and the National Council for Problem Gambling.
Nicholas not only has Degrees in Psychology from the University of Queensland and the Nanyang Technological University, but also various clincial and practice certificates like for Youth Work Coaching and Supervision, Choice Theory and Reality Therapy, Adventure Therapy, and Therapeutic Behavior Management, just to name a few. He is currently pursuing his law degree.
In his free time, Nicholas enjoys reading a good book and heading to the gym. Together with his beautiful wife, he has three children. He lives by his favorite mantra, a life well reflected would be life well live!