About this Event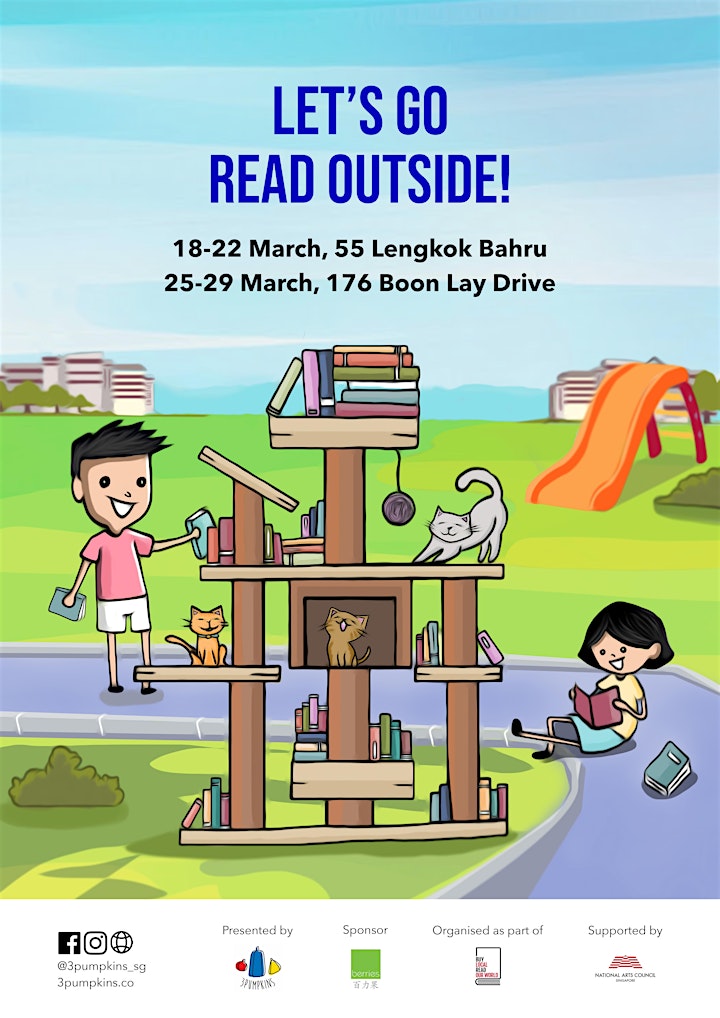 Let's Go Read OutSide!
By 3Pumpkins
Let's Go Read OutSide! brings Singapore children's literature right into void decks and playgrounds, transforming everyday spaces into imaginative places where books come alive! Suitable for children aged 10 and below, the programme includes pop-up libraries and experiential workshops.
Organised as part of #BuySingLit 2020 and supported by National Arts Council, this programme is conducted as part of Let's Go PLay OutSide!, a community outreach project that makes the arts accessible to all children.
Library Opening Hours:
Weekdays: 18th, 19th, 20th March (4pm - 9pm)
Weekend: 21st, 22nd March (11am - 4pm)
Experiential Workshops:
21st March Saturday & 22nd March Sunday
4.30pm - 5.30pm : A Stray by Michael Wang and illustrated by Neal Sharp
6.00pm - 7.00pm : Book Title: The Robot in My Playground by Pauline Loh and illustrated by Avina Tan
Come join us in an experiential workshop facilitated by Farez Najid where we delve into two locally written books. These books will be read out loud and accompanied by a creative activity after.
About the Facilitator
Farez Najid is a performer, facilitator and dungeon master. He was trained in acting in Lasalle College of the Arts, and has been actively performing since 2010. His works as a performer include Off Centre (The Necessary Stage 2019), Tiger of Malaya (Teater Ekamatra 2018) The Rubbish Prince (3Pumpkins 2018,2019), Prism (Toy Factory Productions 2017), Geylang (WILD RICE 2016)
As a lead-facilitator, he has run numerous over-night camps and youth workshops during a 3-year (2013-2016) tenure in research and development of social & environmental programme with Ground Up Initiative (GUI) and WOW Kampung. He has also honed his skills as a drama-in-education facilitator, engaging children through work with schools, social service providers and arts companies. He has worked with Jamiyah Children Home, Superhero Me, 3Pumpkins, Yuhua Secondary School and Sunflower Preschool.
For more information, visit 3pumpkin.co