Description
Let's talk about race.
The Cambridge Dictionary describes race as a social construct where a group of people with similar physical characteristics are considered as belonging to the same type or the fact of belonging to such a group. Home Affairs and Law Minister K Shanmugam suggests that racism exists in every multiracial society including Singapore and the situation has improved over the years.
How does racism transpire in heartland communities like Queenstown and Bukit Merah? What should we consider as racist in our neighbourhoods?
Hear sociologist Assoc Prof Daniel PS Goh from the National University of Singapore speak about the prevalence of racism in HDB communities in Singapore.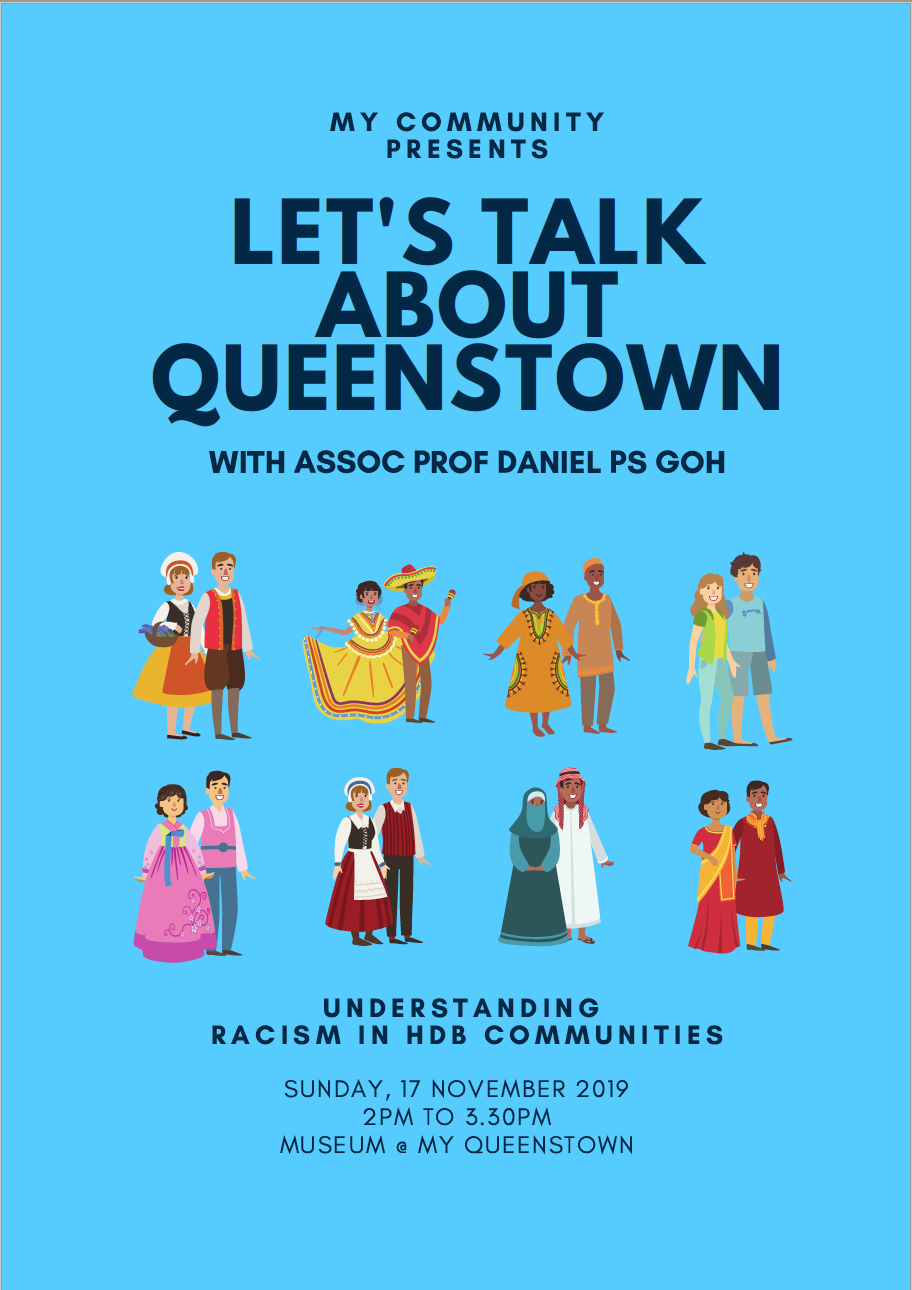 About the speaker(s)
Daniel P.S. Goh is Associate Professor of Sociology at the National University of Singapore. He studies state formation, postcolonialisms, race and multiculturalism, urbanisms, and religion. His recent co-edited books include Urban Asias: Essays on Futurity Past and Present (JOVIS Verlag 2018) and Regulating Religion in Asia: Norms, Modes and Challenges (Cambridge University Press 2019). His current work focuses on the cultural politics of history, heritage and global city making in Hong Kong, Penang and Singapore. He has published over 50 articles in journals and books; these can be found at www.danielpsgoh.com.
About Let's Talk About Queenstown
"Let's Talk About Queenstown" is a seminar series organised by My Community where residents and participants can get to know about the different aspects of Queenstown through professionals and experts. The series take place on every 3rd Sunday of the month.
Duration & Meeting Place
Approximate Duration: 1.5 hours (2pm to 3.30pm)
Sunday, 17 November 2019
Language: English
Venue: Museum @ My Queenstown (Block 46-3 Commonwealth Drive 01-388 Singapore 140463)