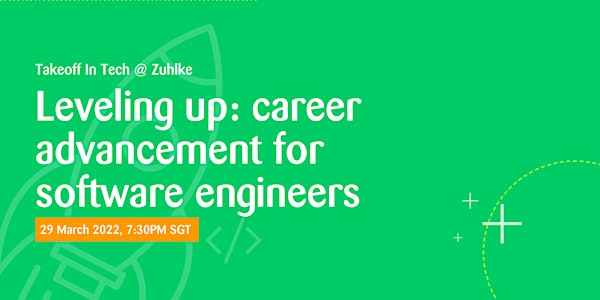 Leveling up: Career advancement for software engineers
Join us at our #TakeoffInTech event series hosted by engineers at Zuhlke for practical sharings and workshops on careers in tech.
About this event
If you're an aspiring software engineer, there is no lack of opportunities to progress your career. As you pick up new skills and gain experience, new doors will always open. The question is: how can you speed up your career development, advance your professional growth and make real impactful difference at work?
Join us with Kevin and Thomas as they reveal everything you need to know on practical, often unspoken, tips and advice on how to be a better software engineer.
Topic: How to navigate your software engineering career path?
Successful careers in software engineering seldom follow a linear path. Depending on your background, personality, skill set, and where you are in your career, you may be looking for different work experiences to advance your software engineering career goals.
Join Kevin Lin, Lead Software Architect, as he shares his experiences from over 15 years in the software field, and learn how you can seize growth opportunities to level up your career.
Hosted by Kevin Lin, Lead Software Architect at Zuhlke
Kevin has been in software engineering for 15 years, where he mainly worked on enterprise applications in the banking and finance industry. His experience lies in enterprise application development in the JVM ecosystem, front-end development with JavaScript, and DevOps for cloud-native architecture and public cloud service.
Topic: Go from code monkey to professional software engineer
Continuous development is crucial to avoiding stagnation and obsoletion in your career. But, what can you do to grow your skills and advance as a software engineer consistently?
Hear from Thomas Wilhelm, full-stack engineer with over 14 years of experience, as he shares practical tips and insights on how to hone your tech skills. Learn how to go from a code monkey to a professional software engineer!
Hosted by Thomas Wilhelm, Software Engineer at Zuhlke
Thomas is a Java full-stack engineer with over 14 years of experience across various international companies and industries. He has worn many hats in his career, including being a senior leading an agile scrum team and a product owner, working with his team to define and refine the product. Thomas also worked on customer projects with large international clients in the F&B industry and drove innovation projects on machine learning in the fashion industry.
About #TakeoffInTech
Asia's tech scene is booming, and Zuhlke is going behind the scenes with the region's tech and innovation talent.
Join us at our #TakeoffInTech event series hosted by technologists at Zuhlke as they share personal experiences on their tech career path, recent developments and trends in the tech world, and practical takeaways for graduating students and aspiring software engineers to stay on top of the fast-moving tech landscape.
We invite you to follow our official channels to stay updated on upcoming events. See you soon!