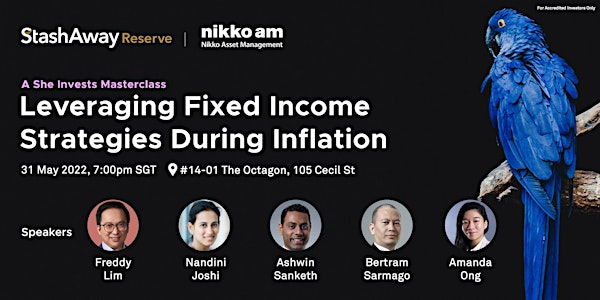 Leveraging Fixed Income Strategies During Inflation
With war and inflation driving volatility in the markets, capturing fixed income opportunities is now more important than ever for investors
When and where
Location
StashAway 105 Cecil Street ##14-01 Singapore, 069534 Singapore
About this event
Join us for a discussion on different types of income strategies, private market opportunities and more. Only for Accredited Investors in Singapore.
What we'll cover:
Diversifying investments through fixed income strategies capturing yield
Private Equity and Venture Capital investing with the best fund managers in the world
Investing in Southeast Asia's growing tech startups as an angel investor
Investing in institutional-grade Crypto ETFs with controlled crypto exposure
The Metaverse as an alternative investment
Finding unbiased and comprehensive wealth advisory services
Refreshments and Wine will be provided during the event.
Panellists
Freddy Lim, Co-founder and CIO, StashAway
He was the Managing Director and Global Head of Derivatives Strategy at Nomura and has built and spearheaded a global team that won the "Global Derivatives – Research and Strategy House of the Year" award by GlobalCapital (September 2015).
Freddy was regularly invited to speak in the field he was notably the keynote speaker at the prestigious "Global Derivatives USA" conference (Chicago, Nov-2014) and at the RISK's Quant Congress USA (New York, July 2015). Freddy is the architect behind StashAway's ERAA (Economic Regime-based Asset Allocation), which is a framework that identifies the right mix of asset classes for a given economic regime and makes forward-looking adjustments based on medium-term valuation gaps.
Nandini Joshi, COO, StashAway
Nandini is the COO at StashAway leading our international expansion, operations and Strategy. After graduating in Computer Science from Universite Libre de Bruxelles in Belgium, she worked for Cisco Systems for 3 years before shifting her career to Louis Vuitton & emerging markets.
In the last 17 years, she has worked across Europe, the Middle East, India, SEA and Australia in Retail & Private Equity before joining Luxola.com as Head of Strategy. Luxola was acquired by Sephora where Nandini then helped build the leading omnichannel player in beauty in SEA-Pacific.
Nandini is a Licensed Representative with the Monetary Authority of Singapore for Asia Wealth Platform, the legal entity of StashAway.
Ashwin Sanketh, Portfolio Manager Nikko AM Asia Limited
Ashwin is a portfolio manager at Nikko AM in Singapore and he covers telecommunications, utilities, and industrial sectors across all markets in Asia ex-Japan. He joined the firm from Treasury Asia Asset Management (TAAM) which was acquired by Nikko AM in 2013.
Ashwin has 15 years of experience in the financial industry. Prior to TAAM, he was with CLSA Asia-Pacific from 2009 to 2012. He joined CLSA to head their ASEAN telecommunications sector research and was subsequently promoted to Head of Research for the CLSA Singapore office in 2010.
Between 2006 and 2009, Ashwin was with Macquarie Securities in Singapore in a research role, covering the industrial sector. At the start of his career in the year 2000, Ashwin joined Goldman Sachs as an analyst, before moving into a business development role at the Global Refund Group after a stint at McKinsey & Company.
Ashwin holds a Bachelor of Engineering (Electrical Engineering) from the National University of Singapore. He has attained CFA® Level II.
Bertram Sarmago, Investment Director & Portfolio Manager Nikko AM Asia Limited
Bertram Sarmago has a dual role as investment director and portfolio manager for Asian fixed income strategies at Nikko Asset Management in Singapore. He manages the indexed Singapore fixed income portfolios and works closely with the rest of the investment team and
represents its capabilities, he is the conduit between the team and Business Development and Marketing. He provides advice and consultation to both internal and external parties based on the team's outlook and strategies and also reports on performance in support of existing businesses.
Bertram has 23 years of experience in the finance industry. Prior to Nikko AM, he was with State Street Global Advisors (Singapore) from 2006 to 2014 as a product engineer/portfolio strategist covering global and Asian fixed income and currency strategies. He was also involved
with portfolio management of indexed Asian and global fixed income strategies. From 2004 to 2006, he was a financial markets analyst with the Asian Development Bank (ADB) covering research on ASEAN+3 bond markets for the bank's AsianBondsOnline project. He was involved in investments/financial markets training for Present Value Interactive Training from 2003 to 2004. Prior to this, he held various roles in commercial banking at the Bank of the Philippine Islands.
Bertram holds a Master of Science in Financial Engineering from the Nanyang Technological University, an MBA from the Ateneo de Manila University and a Bachelor of Science in Agricultural Engineering from the University of the Philippines. He has earned the Financial Risk Manager designation and is a Chartered Financial Analyst® charterholder.
Moderator:
Amanda Ong, Singapore Country Manager, StashAway
Before joining StashAway, Amanda held various roles in the Financial Services industry, most recently handling investment advisory to Ultra High Net Worth (UHNW) clients in the Wealth Management and Family Office Team of Lighthouse Canton. Prior to that, she serviced portfolios of institutional clients in the Securities and Fund Services Team at Citibank.
Currently, Amanda is the Country Manager of StashAway in Singapore. She also heads Public Relations for StashAway regionally and is a Wealth Advisor to our High Net Worth and UHNW clients. Previously, she led StashAway's Client Experience team of more than 47 people in 5 countries (Singapore, UAE, Hong Kong, Malaysia and Thailand). Amanda is a Licensed Representative with the Monetary Authority of Singapore for Asia Wealth Platform, the legal entity of StashAway.
Amanda holds a Bachelor of Commerce (Distinction), with a double major in Accounting and Finance from the University of New South Wales in Sydney.
About StashAway
StashAway is a digital wealth manager that offers investment portfolios and wealth management solutions for both retail and accredited investors and operates in Singapore, Malaysia, the Middle East and North Africa, Hong Kong, and Thailand.
As of January 2021, the company surpassed $1 billion USD in assets under management. It achieved this milestone faster than it took the world's largest digital wealth managers, Betterment and Wealthfront, to reach the same milestone. In 2020, StashAway was recognised as a Technology Pioneer by The World Economic Forum and a Top 10 LinkedIn Startup. In 2021, StashAway was awarded a spot in the Fintech Global's 2021 Wealthtech 100 list and won "Bronze" for the SG Techblazer Award in the Most Promising Innovation Category. StashAway won "1st Place" as Singapore Financial Institution SFF Global FinTech Awards 2021 presented by the Monetary Authority of Singapore (MAS) and the Singapore FinTech Association (SFA).
By registering for this event, you are deemed to have understood and consented to StashAway collecting your personal data that you directly input into the registration forms and contacting you thereafter in relation to our products, services, and events. We promise to send only the good stuff. However, if you ever wish to opt-out, you can easily unsubscribe using the Unsubscribe feature included in the emails. If you wish to know more about our Privacy Policy, you can visit our Privacy Policy page where the policy will apply mutatis mutandis to the event that you have registered for.