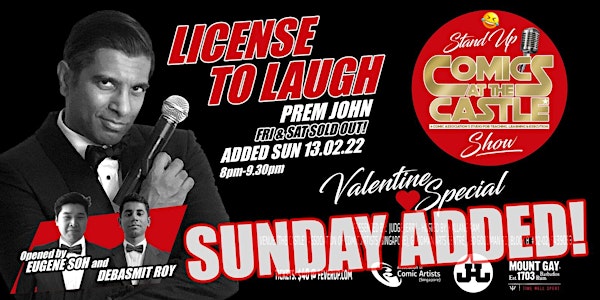 LICENSE TO LAUGH with PREM JOHN: Stand Up Comics At The CASTLE Show
Event Information
Location
Association of Comic Artists (Singapore) (ACAS) @ The CASTLE
Goodman Arts Centre, 90 Goodman Road
Block B, #02-02
Singapore, Singapore 439053
Singapore
From ComicBooks to Stand-Up Comics, the Association of Comic Artists (Singapore) (ACAS) is proud to present its Live Comedy Show this Feb!
About this event
Fri & Sat SOLD OUT! SUNDAY SHOW ADDED! Tickets moving fast, get yours now!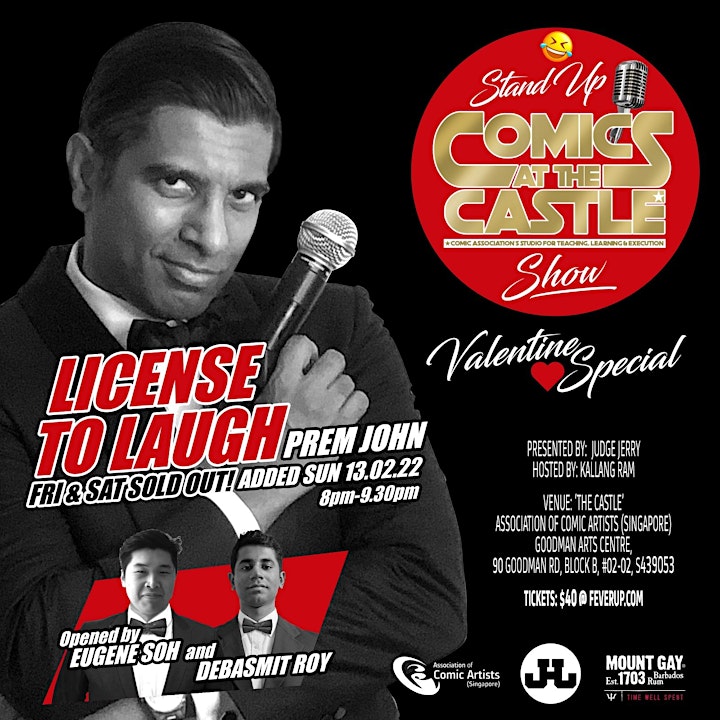 License to Laugh - CATC mid-month Valentine Special!
The Stand Up Comics at the CASTLE Show (CATC) Valentine Special, License to Laugh features Prem John - the sharp Singaporean TV talent and stand-up who energetically blends subjects - this time even more passionately...
"Charismatic... funny and moving" - Straits Times
"Confident and Brazen" - Bakchormeeboy.com
His razor-sharp and high-energy blend delves into the worlds of politics, race, relationships and life. This versatile screen talent will take you on an excursion of love, laughter and the lucritiously ludicrous.
And to bolster your spirits even higher, he'll be supported by the CATC founded talents of Debasmit Roy and Tirta Nahari!
Opened and co-hosted by DJ Judge Jerry & MC Kallang Ram, co-founders of CATC.
Sunday show added - limited slots, reserve your place ASAP!
Event Details
Date: Friday 11th February 2022 / Saturday 12th February 2022 / Sunday 13th February 2022
Time: 8.00pm-9.30pm
Location: 'The CASTLE', Association of Comic Artists (SG), Goodman Arts Centre, 90 Goodman Rd, Block B, #02-02, Singapore 439053
Admission: $40.00 per Individual (Audience M18++)
"Laugh Much You Will!" =)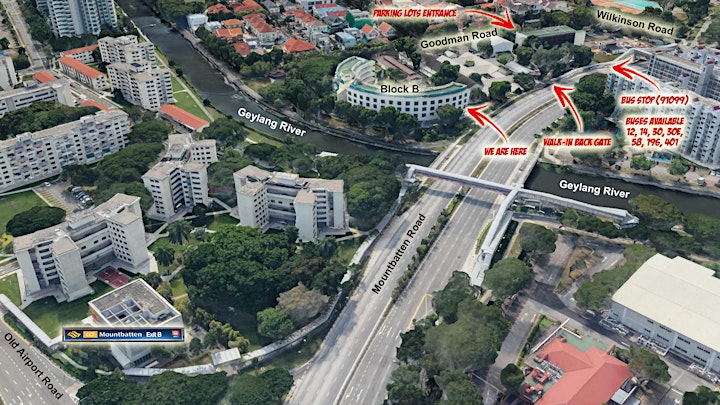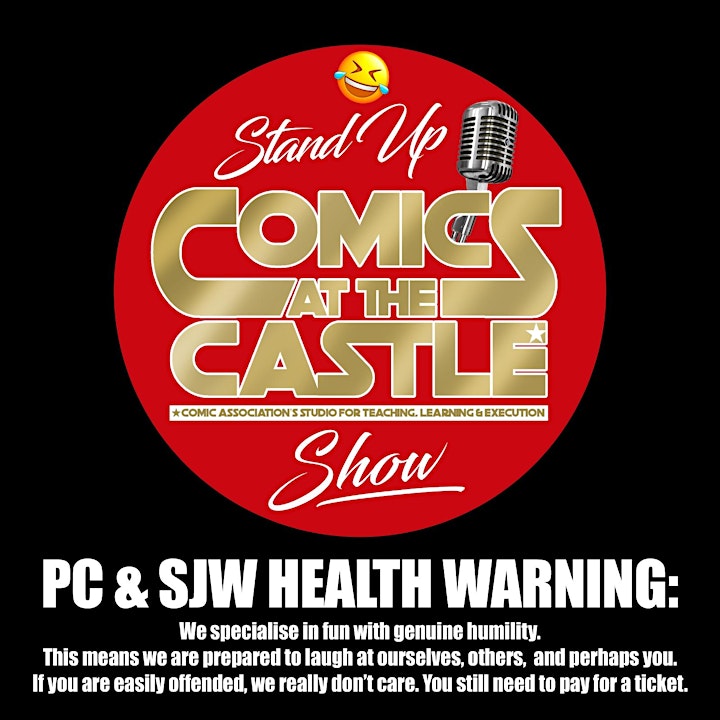 Location
Association of Comic Artists (Singapore) (ACAS) @ The CASTLE
Goodman Arts Centre, 90 Goodman Road
Block B, #02-02
Singapore, Singapore 439053
Singapore
Refund policy