Description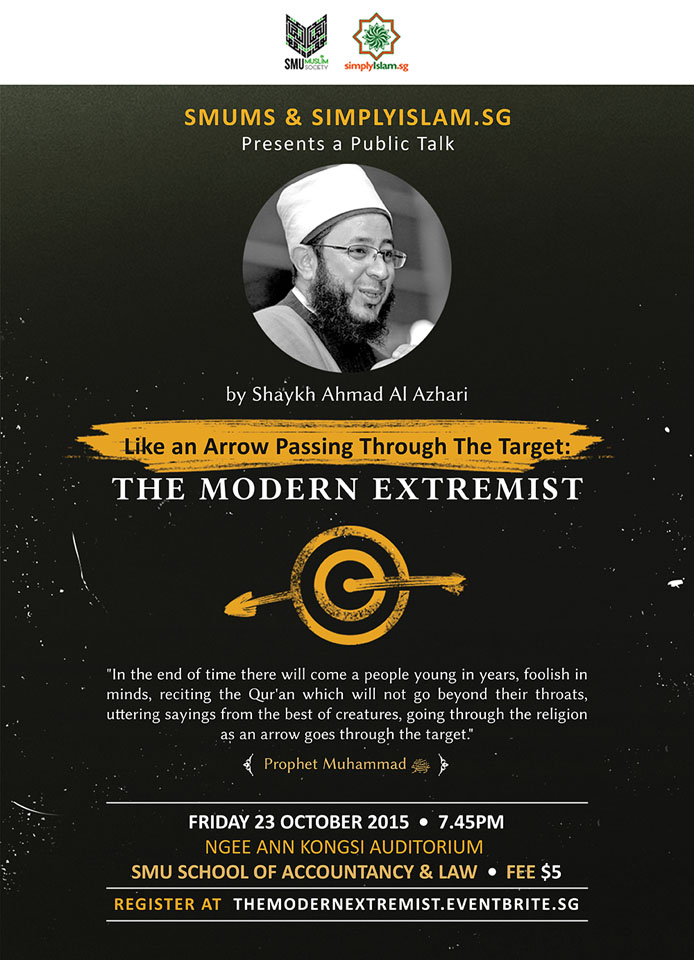 The Singapore Management University Muslim Society (SMUMS) in collaboration with SimplyIslam.sg presents a much anticipated and interesting lecture by the eminent and internationally renowned Islamic scholar, Shaykh Ahmad Saad Al-Azhari.
Event Details
Title: Like An Arrow Passing Through The Target: The Modern Extremist
Speaker: Shaykh Ahmad Saad Al-Azhari
Date: Friday 23 October 2015
Time: 7.45 pm
Fee: $5 each only
Venue: Ngee Ann Kongsi Auditorium, Singapore Management University, School of Accountancy
Synopsis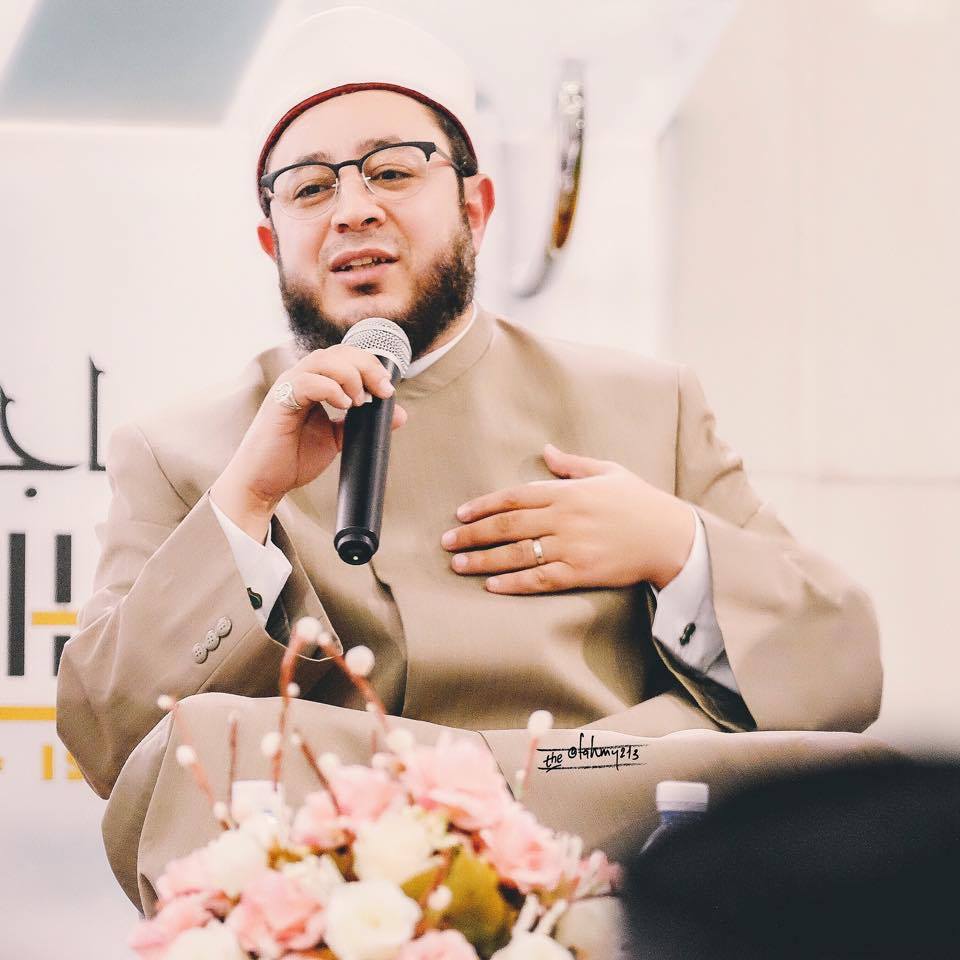 We live in a time when the enemies of Islam are attempting to destroy it from within, disguising themselves as purists and defenders of Islam, but rather they are destroying the reputation of Islam and Prophet Muhammad (ﷺ). The world is fooled by this image of so-called Islam, and the media is always eagerly picking up these negative images of Islam. "The Religion of Allah," al-Khatib said, "lies between the extremist and the laxist."
Some 1400 years ago, Prophet Muhammad (ﷺ) has prophesised about the advent of these extremists, and these prophesies have been narrated in hundreds of ahadith or Prophetic traditions, among them being:
'Abdullah bin Mas'ud narrated that the Messenger of Allah (ﷺ) said:
"In the end of time there will come a people young in years, foolish in minds, reciting the Qur'an which will not go beyond their throats, uttering sayings from the best of creatures, going through the religion as an arrow goes through the target."
Jami` at-Tirmidhi, 2188
I asked Sahl bin Hunaif, "Did you hear the Prophet (ﷺ) saying anything about Al-Khawarij?" He said, "I heard him saying while pointing his hand towards Iraq. "There will appear in it (i.e. Iraq) some people who will recite the Qur'an but it will not go beyond their throats, and they will go out from (leave) Islam as an arrow darts through the game's body.' "
Sahih al-Bukhari, 6934
The name Khawarij was applied to those who, in the time of the Successors of the Companions to the Prophet, parted ways with other Muslims and declared them disbelievers. The Khawarij or Kharijites were tens of thousands of Muslims mostly comprised of Qur'an memorizers and devoted worshippers who prayed and fasted above the norm. Yet, they declared the Companions and all who associated with them to be apostate disbelievers and took up arms against them.
The practices of declaring Muslims apostate (takfîr) and taking armed action against fellow Muslims became and continues to remain the hallmark of the Khawarij and modern extremists. In addition, these groups altered the interpretation of the Qur'an and Sunnah, and used them to declare it lawful to kill and take the property of Muslims.
Such attributes can be found in groups like the Islamic State of Iraq and Syria (ISIS). ISIS (or ISIL, IS or Daesh), is an extremist militant group and self-proclaimed Islamic state and caliphate, proclaiming itself to be a worldwide caliphate, with Abu Bakr al-Baghdadi named its caliph. As a caliphate, it claims religious, political and military authority over all Muslims worldwide.
Over a hundred internationally acclaimed Islamic scholars have released an open letter to ISIS and its leader Abu Bakr al-Baghdadi, accusing the self-proclaimed caliph and his army of heinous war crimes and violation of fundamental principles of Islam, illiterate use of Islamic scripture torn from the context and perversion of the rules of morality and Shari'ah law. ISIS has violated every known Islamic law with its killing of the innocent, wanton destruction of properties, killing of prisoners, emissaries and journalists, violating the rights of women and children, re-introduction of slavery, torture, destruction of graves and places of worship, harming believers of other religions, armed insurrection and even ignoring the reality of contemporary times.
The speaker, Shaykh Ahmad Saad Al-Azhari, will elucidate on the advent and concept of extremism in Islam. With guidance from the Holy Qur'an and the Prophetic traditions, the speaker will discuss on groups like ISIS and their extremities, and discuss their manifest misguidance. He will also share how modern Muslims can remain steadfast to the mainstream path of Islam, the path of Ahlus Sunnah Wal Jamaah, and he will share ideas on what Muslims can do today to reclaim the banner of Islam and truth from these usurpers, and discredit their heretical ideology.
Organiser of "Like An Arrow Passing Through The Target: The Modern Extremist" A Lecture by Shaykh Ahmad Saad Al-Azhari
Traditional. Progressive. Dynamic. Experience the Beauty. SimplyIslam.
The As-Siddiq Centre for Islamic Studies Pte Ltd, commonly called SimplyIslam, is a private organisation dedicated towards education, social & community development, literary services and humanitarian services to facilitate progression of society. SimplyIslam is committed to the retention of tradition, culture & esteemed values whilst integrating contemporary challenges facing humanity today.  SimplyIslam's mission reflects its fresh and innovative approaches to communicate the beauty of Islam, whilst being deeply rooted in Islamic Sunni traditions, with a progressive & dynamic approach to modern life.