Multiple Dates
LINKEDIN TO LINK-UP JOBS ® ⚡ Build Your LinkedIn Profile & Attract Jobs
This training is FOR YOU if: You're on LinkedIn but don't know what you're doing... You want to attract more jobs and career opportunities!
About this event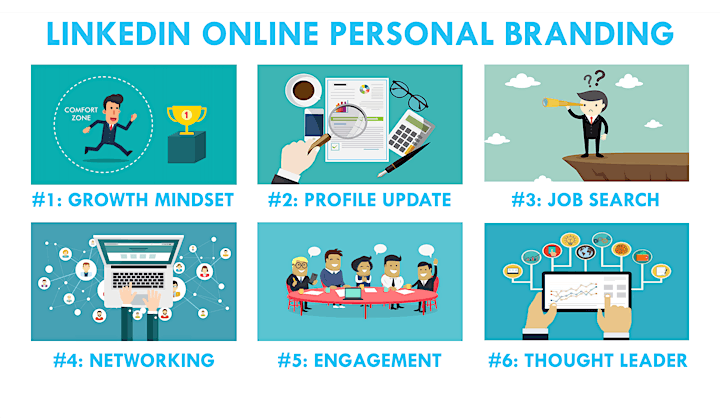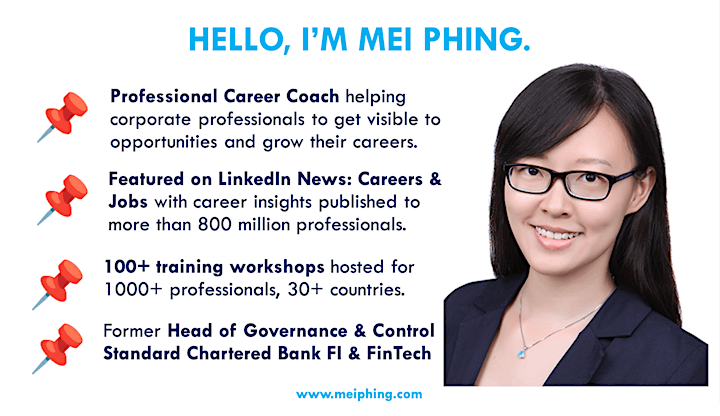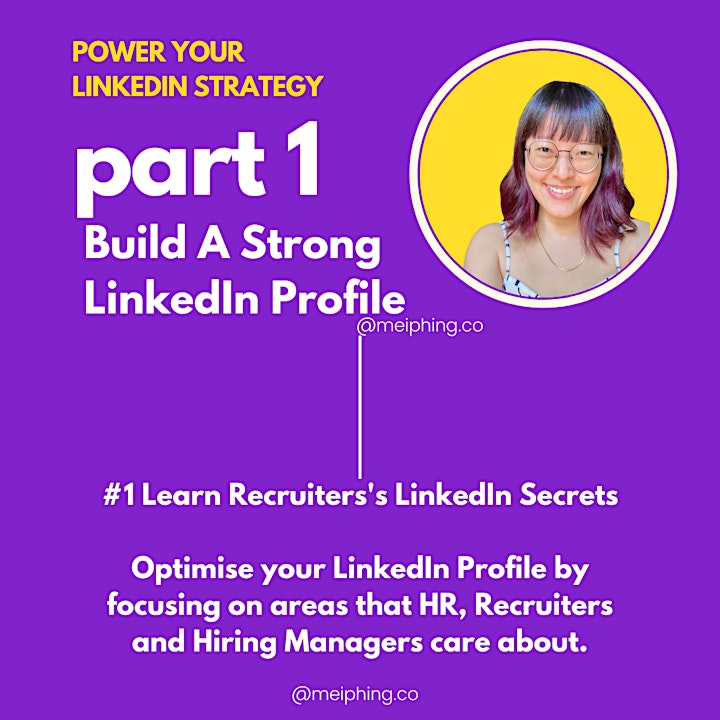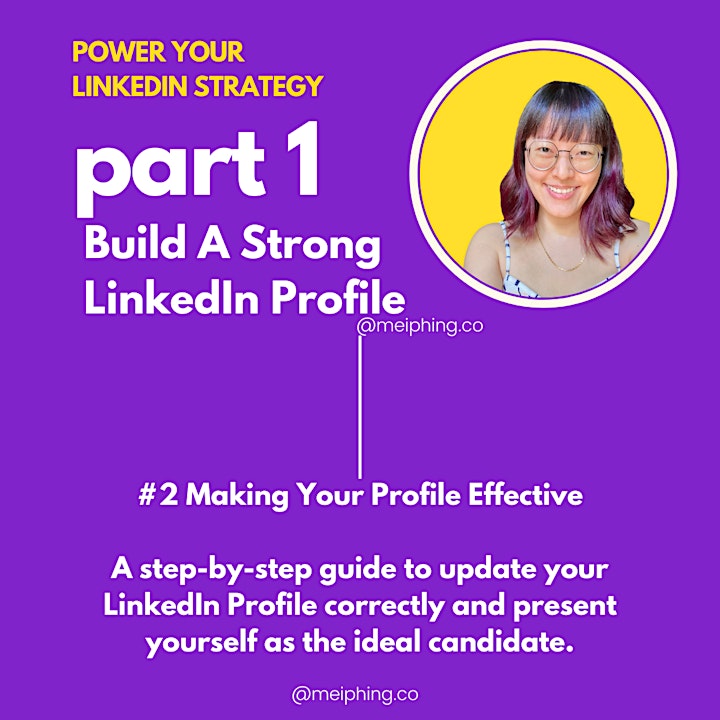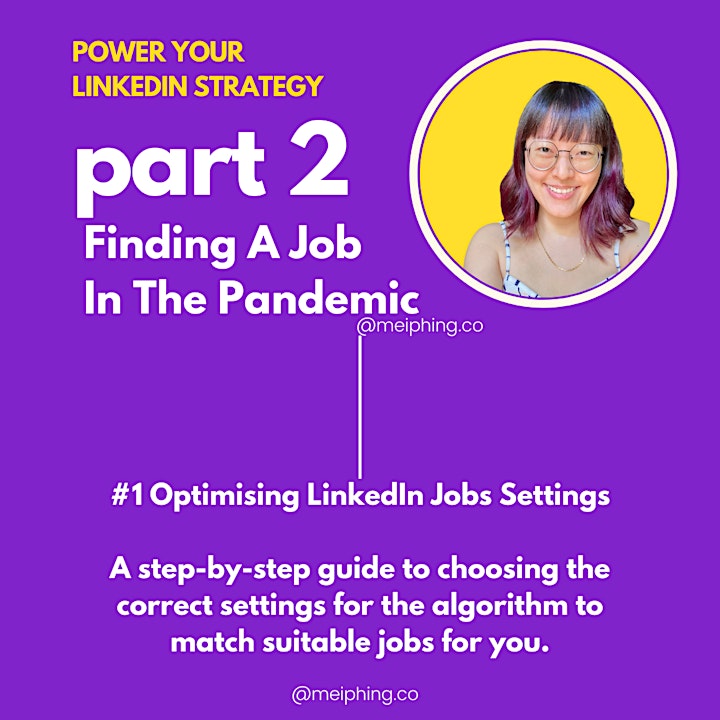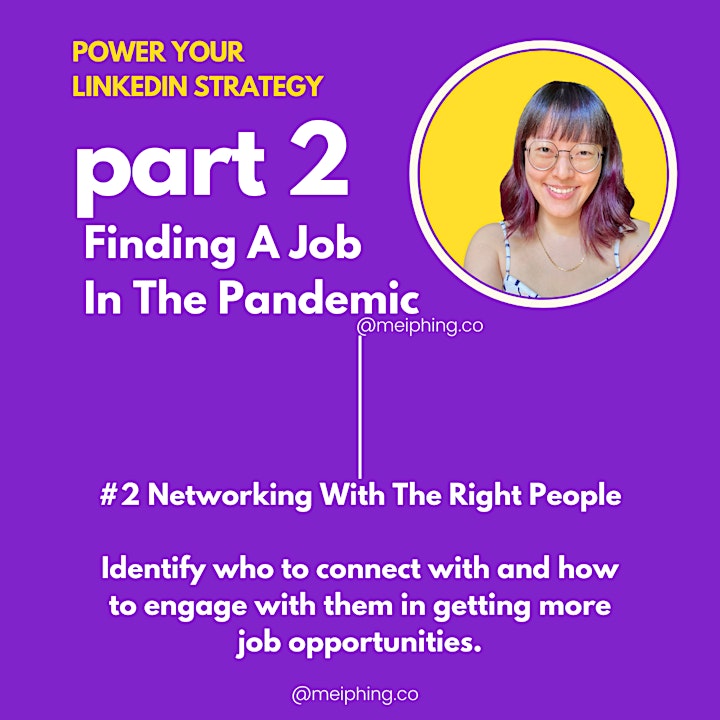 IN THIS 2-HOUR PROGRAMME, YOU WILL LEARN 👇
👉 PART 1 ~ BUILD A STRONG LINKEDIN PROFILE
✅ Sharing Recruiter Secrets ~ How to build your LinkedIn Profile correctly and get HR, Recruiters and Hiring Managers to send to you job opportunities via DM's.
✅ Updating Profile's Core Sections ~ How to build your LinkedIn Profile correctly and get HR, Recruiters and Hiring Managers to see you as an ideal candidate.
👉 PART 2 ~ FINDING A JOB IN THE PANDEMIC
✅ Optimising LinkedIn Settings for Jobs ~ How to choose the correct settings for additional visibility and for the LinkedIn algorithm to match suitable jobs for you.
✅ Networking With The Right Connections ~ How to identify who to connect with and how to engage with them in getting more job opportunities.
THIS PROGRAMME IS FOR YOU IF 👇
🚩 You are not getting interview calls after sending 100's of resumes and job applications online on LinkedIn. You're feeling frustrated, burned out and this resulting in you doubting your own abilities.
🚩 You are not getting headhunted with job offers even though you're spending hours and hours on LinkedIn networking and doing what you thought was "right". You're confused and unsure about what you're doing wrong and not getting results.
🚩 You want to attract more opportunities on LinkedIn but you don't know where to start. You're confused by "advice" from social media marketers or personal branding gurus that don't make sense for you. You want to know how to leverage LinkedIn to help you grow your corporate career.
I started using LinkedIn in 2012 and has gotten lots of career opportunities by being visible on LinkedIn. I have been headhunted to interview at big companies such as Google, PayPal, VISA, Standard Chartered, BNY Mellon, Alipay... and many more.
I'd recommend that you start by learning how to use LinkedIn correctly to attract ongoing job opportunities for career growth, instead of hunting for jobs as a frustrated jobseeker.
LinkedIn is a powerful platform to connect to opportunities!
Don't waste it.
If you're going to put in the effort… Do it right!
TRAINING DETAILS 👇
✅ This 2-Hour LinkedIn Training is part of my 2-Week Training - "JOB SEEKER TO WINNER: Power Your Job Search & LinkedIn Strategy"
🔴 CLICK here for the FULL 2-Week Training —> https://www.eventbrite.sg/e/166012095647
✅ If you are unable to attend the LIVE session, you will receive the Video Recording private link for unlimited replays
✅ Pricing for: (1) Students / Fresh Graduates, and (2) Working Professionals -- Click on "TICKETS" to JOIN NOW!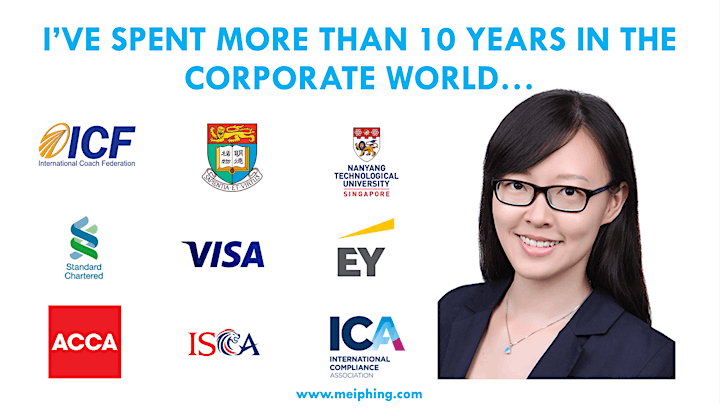 ABOUT ME:
Mei Phing Lim⚡Career Coach 🚀
Mei Phing Lim is a Professional Career Coach with more than a decade of leadership experience in the corporate world. Mei Phing's careers insights are featured on LinkedIn News to more than 800 million professionals. She has empowered 100's of professionals from over 30 countries to grow their careers in the corporate world. Mei Phing is regularly featured as a keynote speaker on career growth and personal branding at international events and conferences.
Prior to coaching, Mei Phing was the Head of Governance and Control at Standard Chartered Bank overseeing the USD1B Global Financial Institutions, Banks and Fintech portfolio across 43 markets. She has extensive experience in business advisory, risk management and compliance having worked at Standard Chartered, VISA and EY. She was consistently ranked top performer and fast-tracked to senior roles throughout her career. Mei Phing is a Fellow of the Chartered Certified Accountant (FCCA & ACCA, UK) and Associate Certified Coach (ICF, USA). Mei Phing is a culture enthusiast and has travelled to 37 countries and counting.
COACHING & TRAINING:
✅ Career Interest & Direction - Gain clarity on your career path (and not get stuck)
✅ CV & Resume Review - Position your background, skills and experiences for your dream job
✅ Job Search Strategy - Practical tips for job hunt and connect with the right people
✅ Interview Skills - Boost your interview techniques and increase chances to get hired
✅ LinkedIn Profile Branding - Build a strong LinkedIn profile to attract career opportunities
✅ Job Soft Skills Upgrade - Develop and improve on your soft skills to do well at work
✅ Leadership Confidence - New leader or manager? Learn how to effectively lead your team
WHO I WORK WITH:
✅ Jobseekers
✅ Working Professionals
✅ New Directors, Managers & Team Leaders
✅ Corporate Organisations, Global Education Institutions (ACCA, HKU, NTU) & Student Associations
WORK WITH ME:
📌 1-1 Coaching Session
📌 Group Workshops - private (DM to book) & public (eventbrite)
📌 Event Conference Speaker
LEARN MORE:
🚀 Website: https://www.meiphing.com
🚀 LinkedIn: https://www.linkedin.com/in/meiphing
🚀 Testimonials: https://www.meiphing.com/testimonials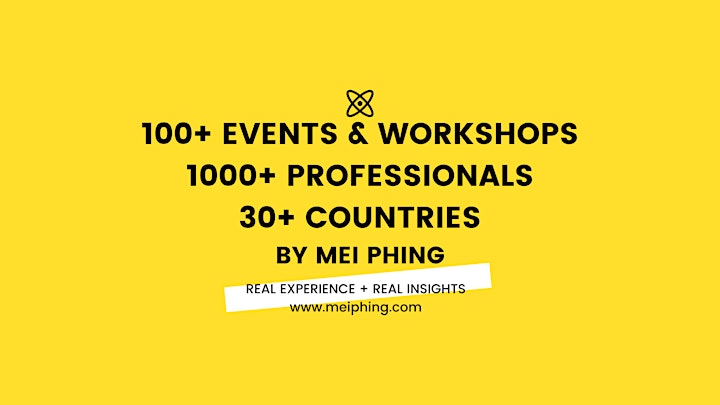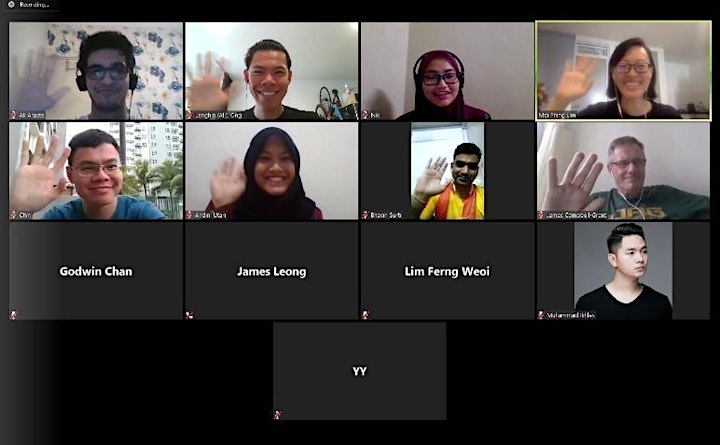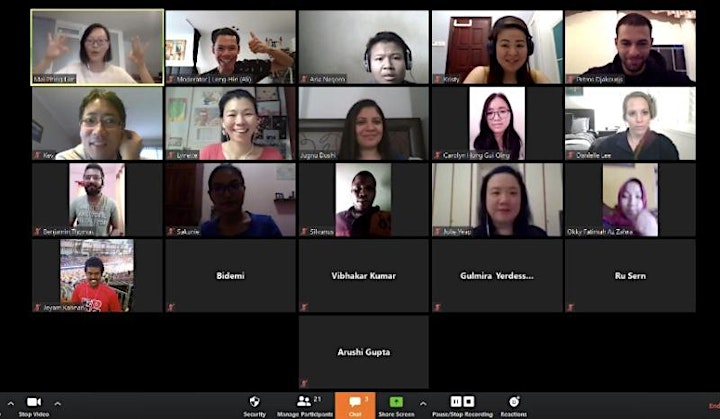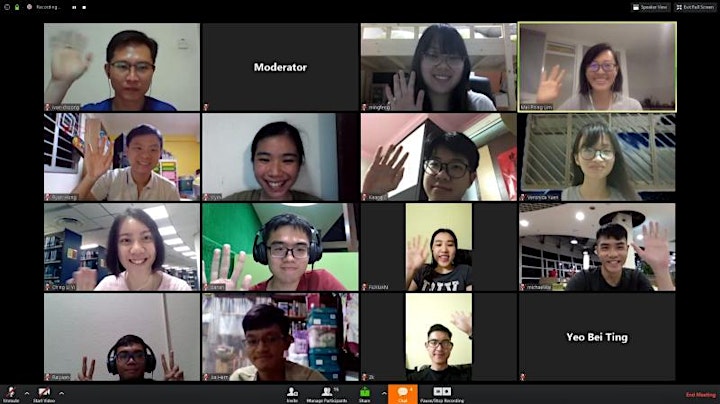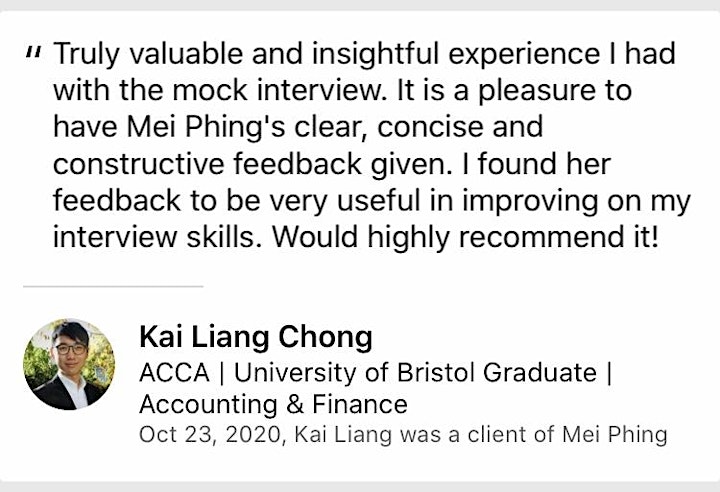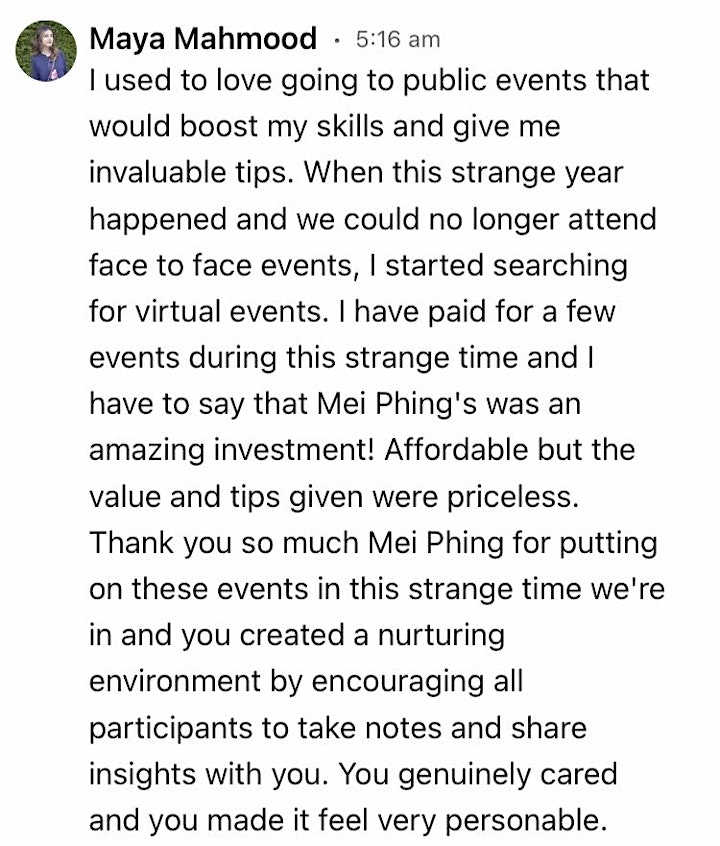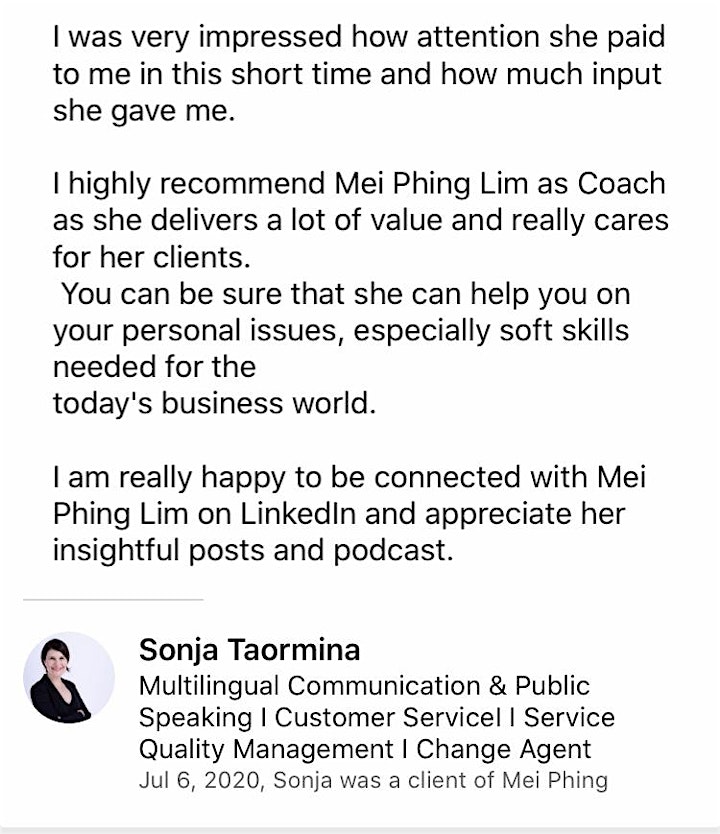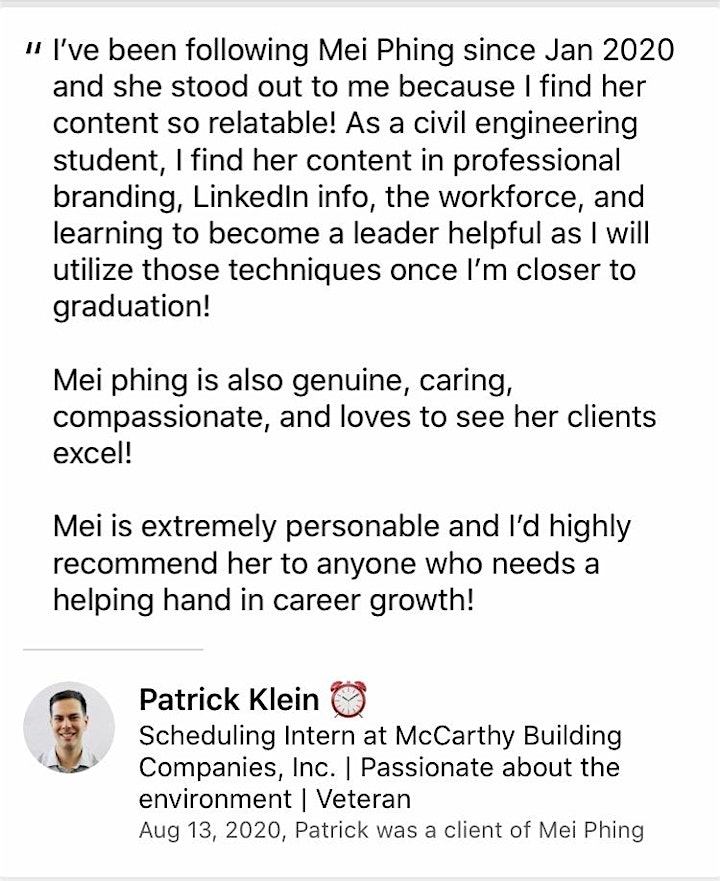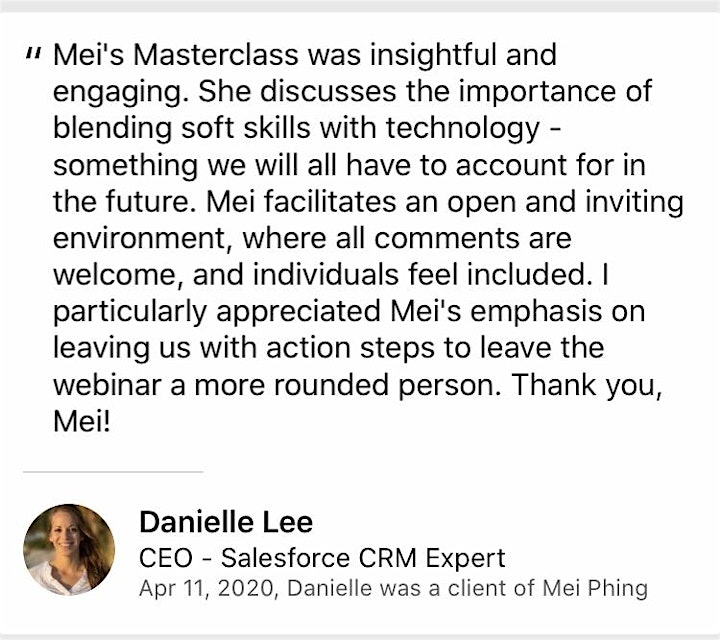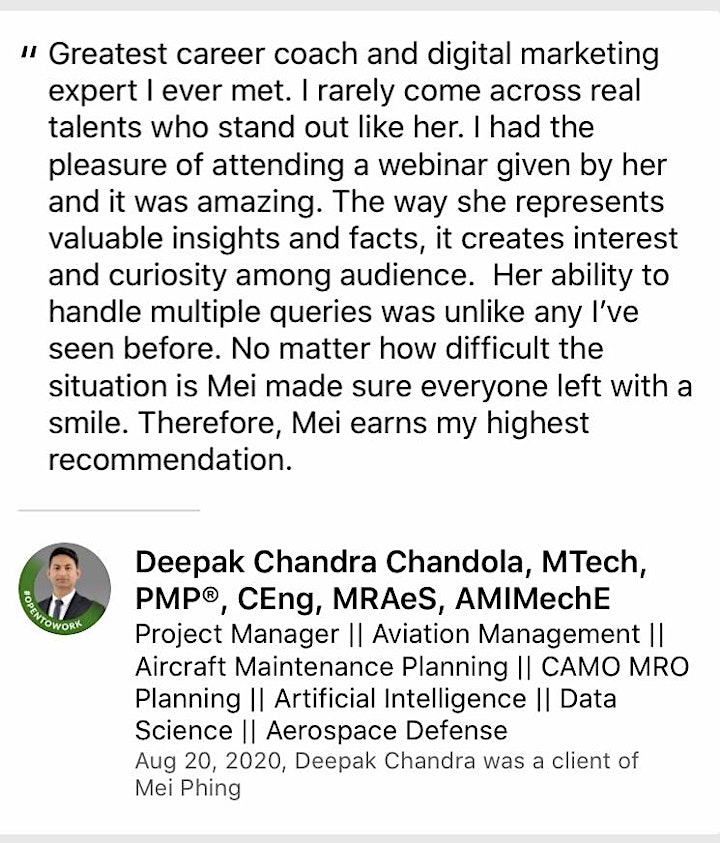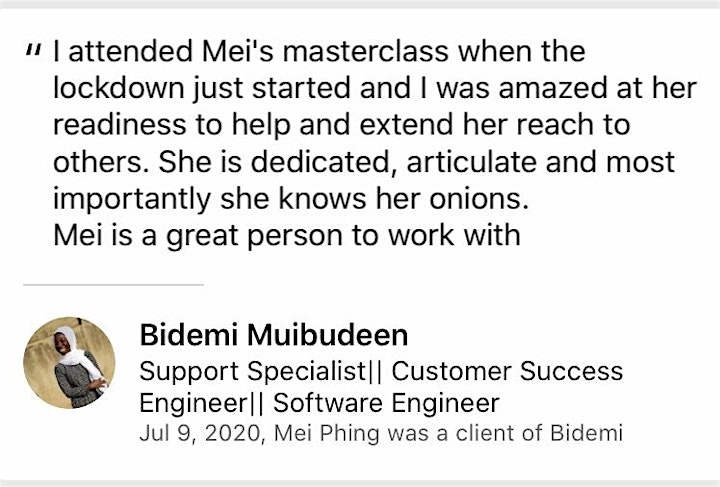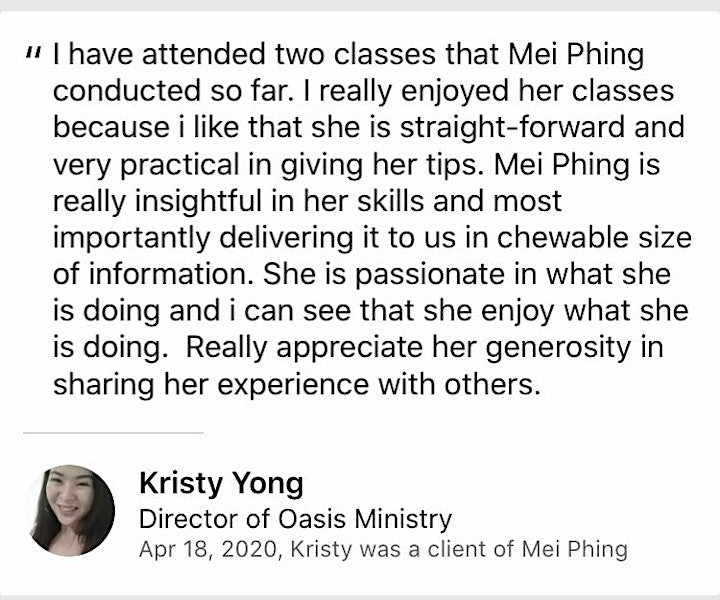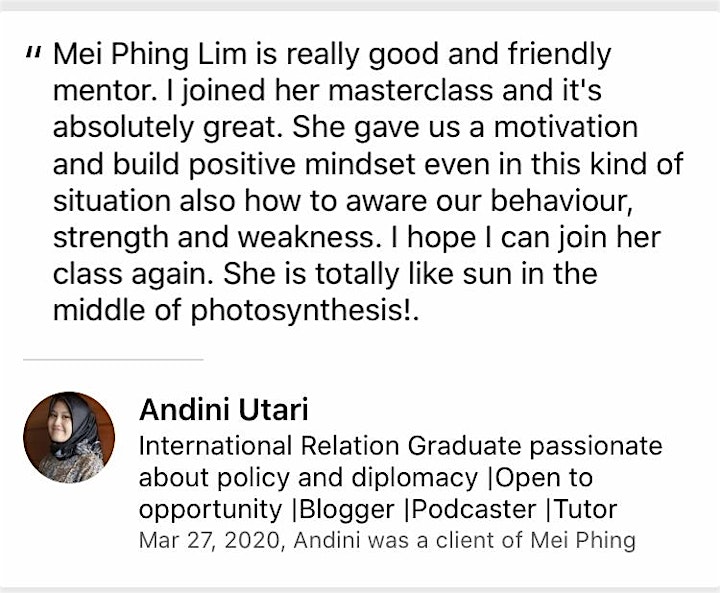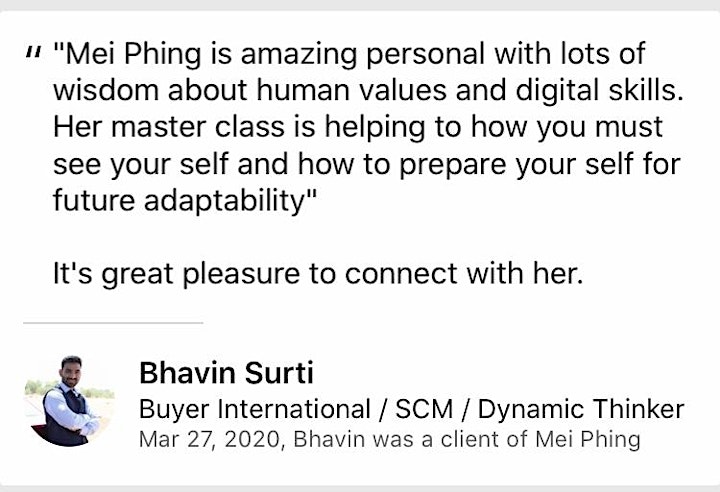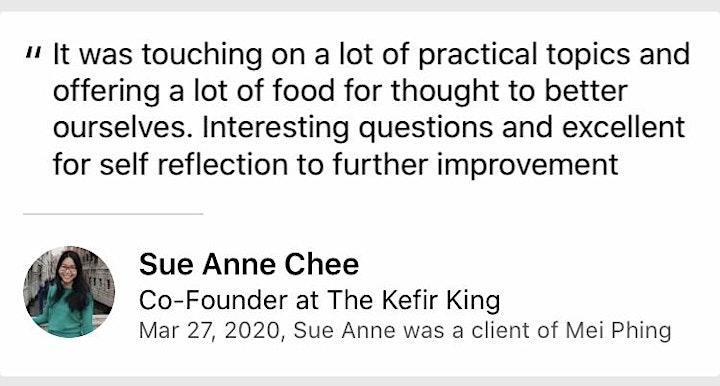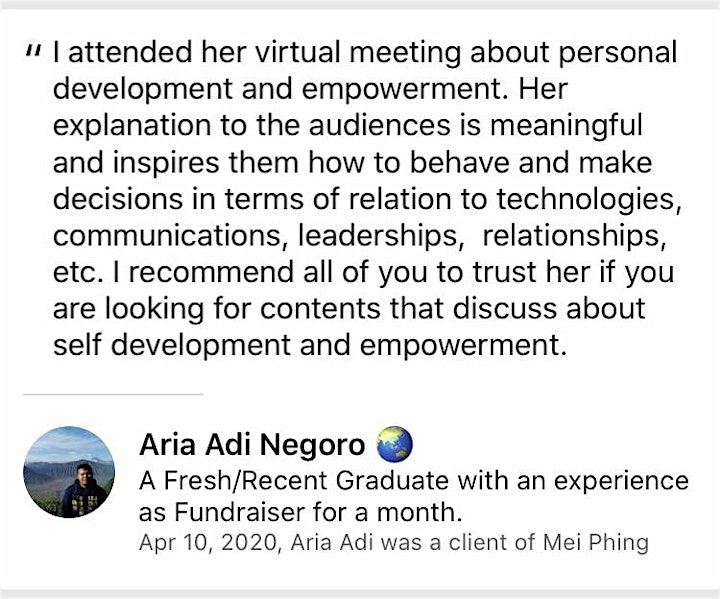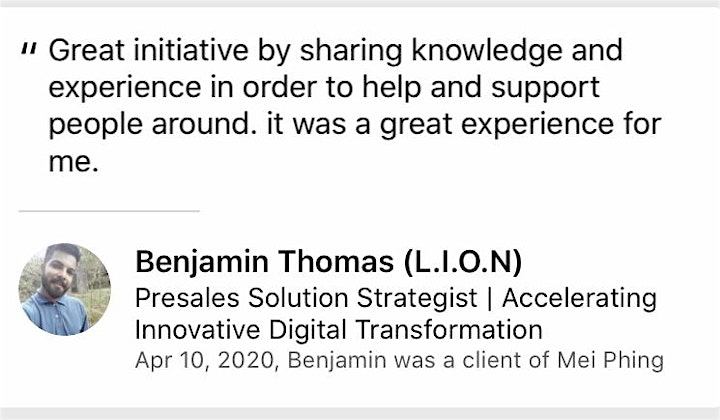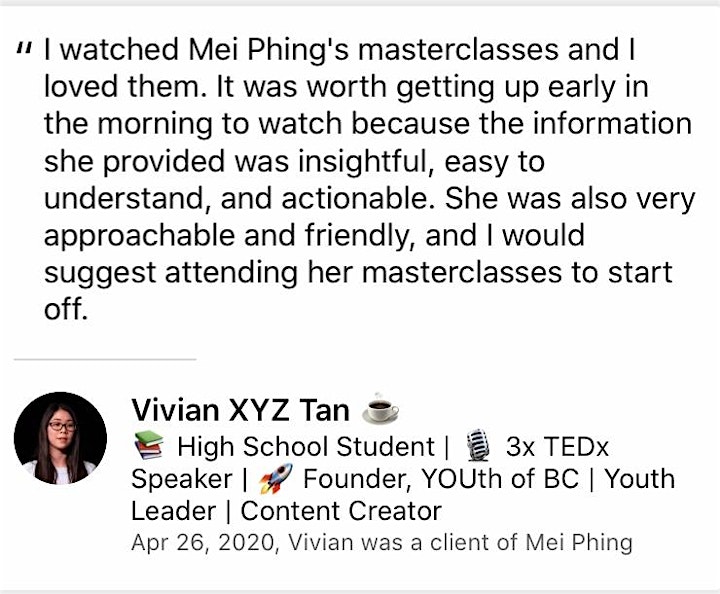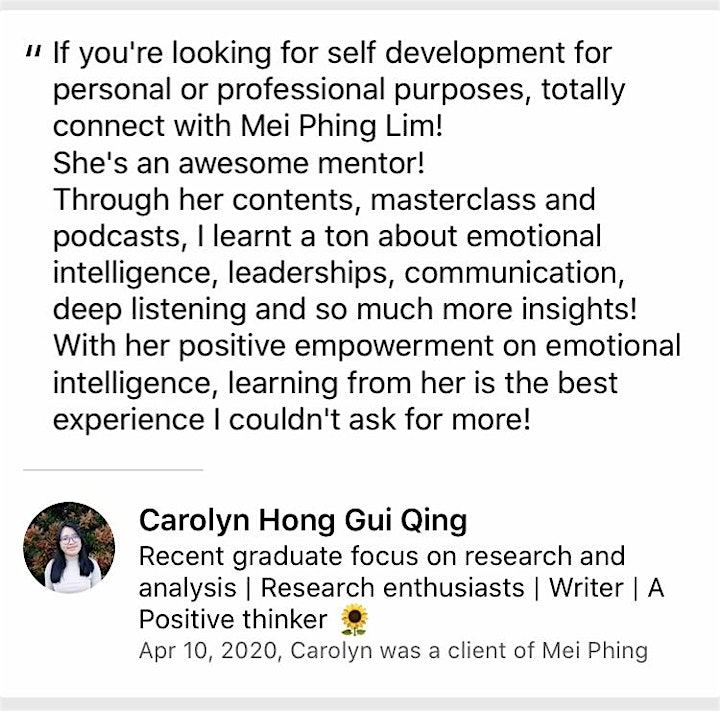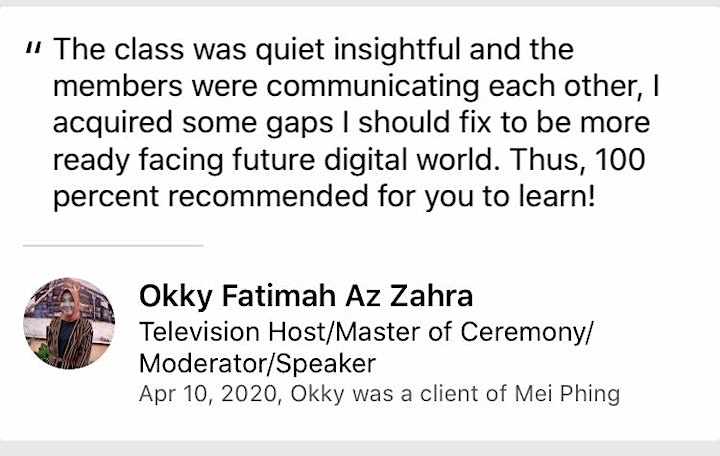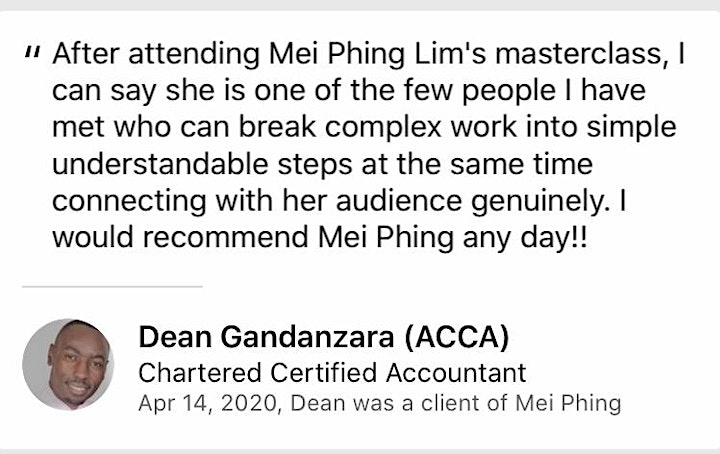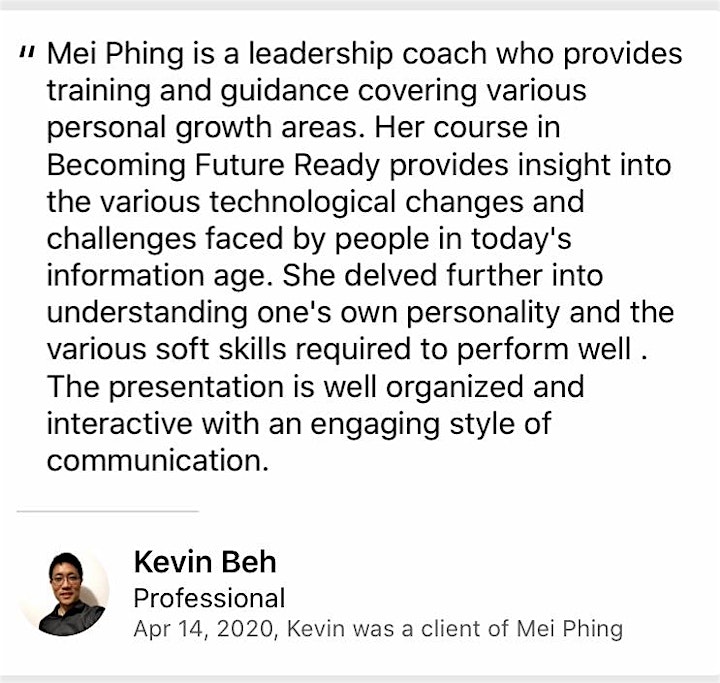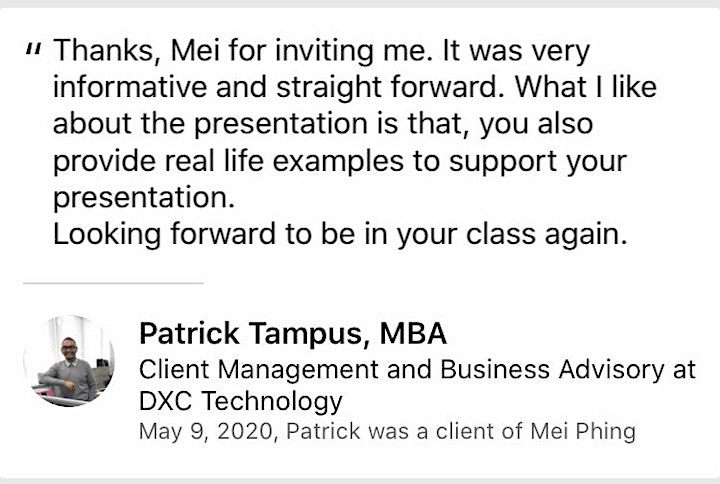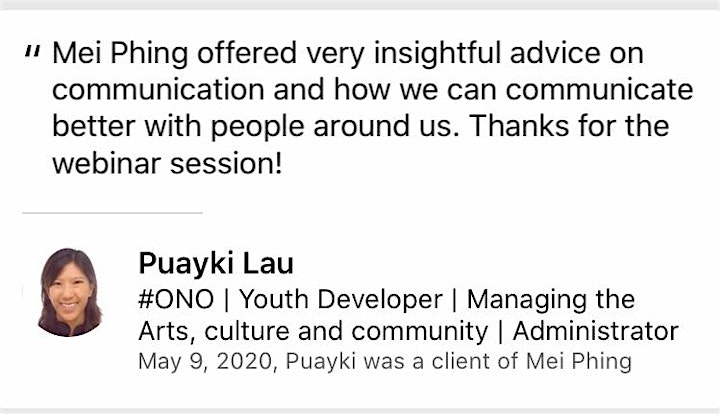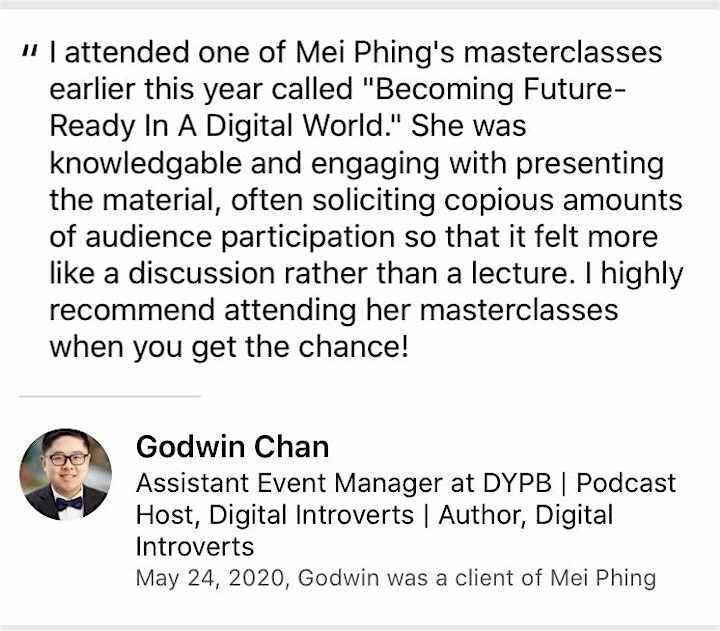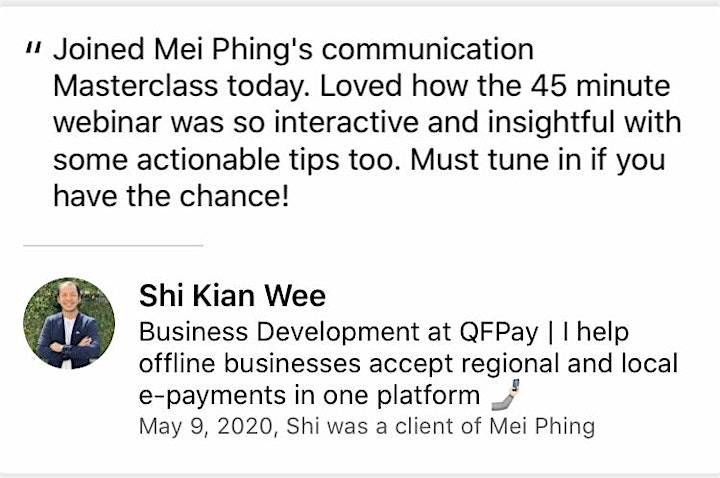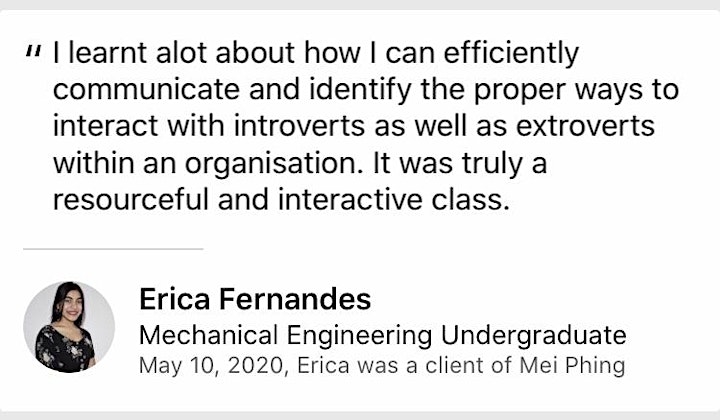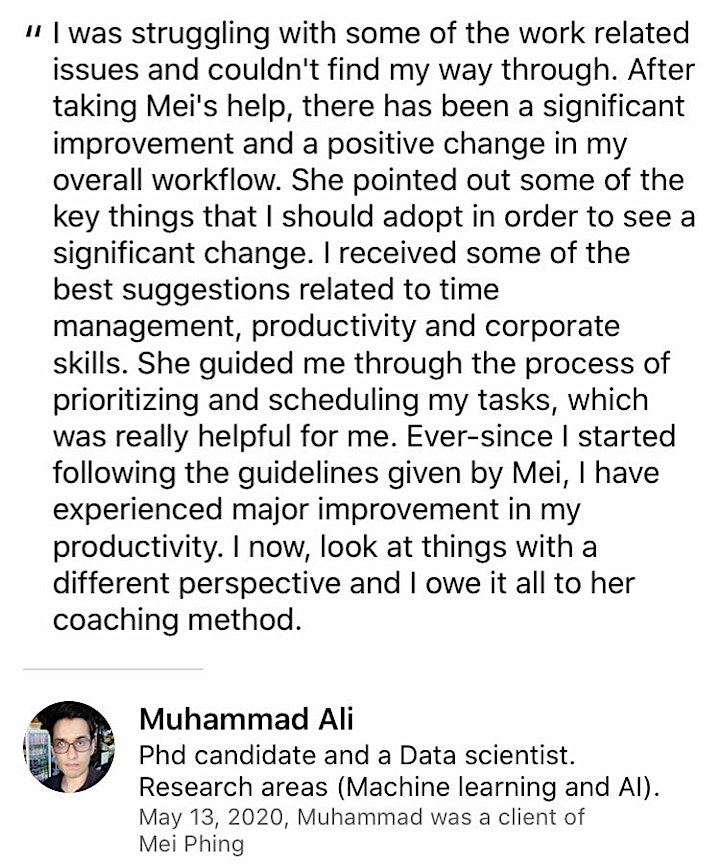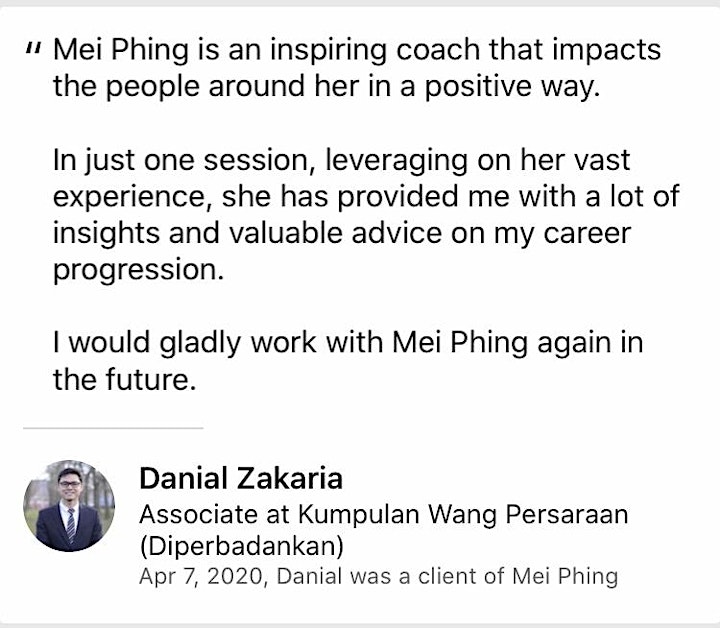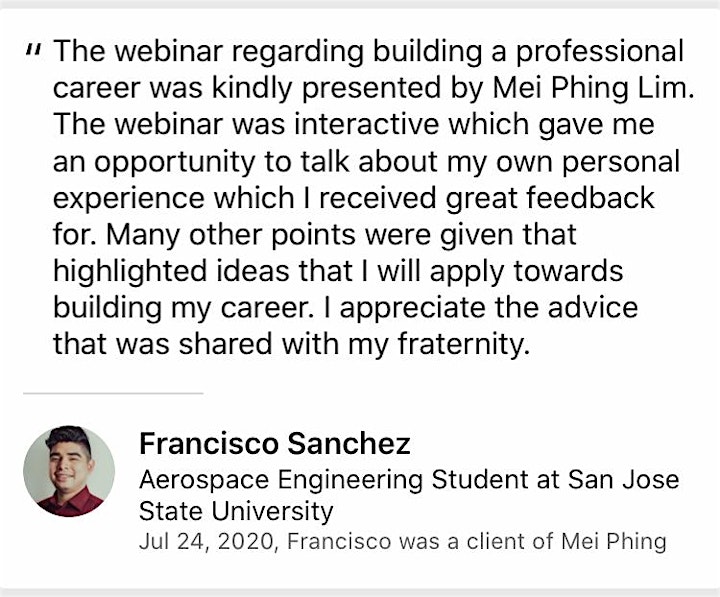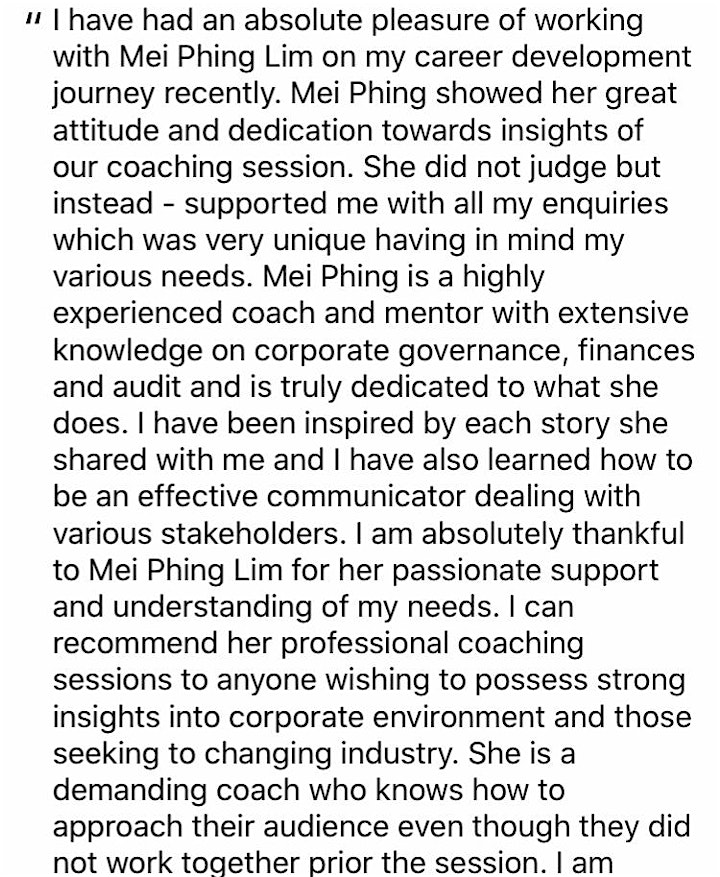 Organiser of LINKEDIN TO LINK-UP JOBS ® ⚡ Build Your LinkedIn Profile & Attract Jobs