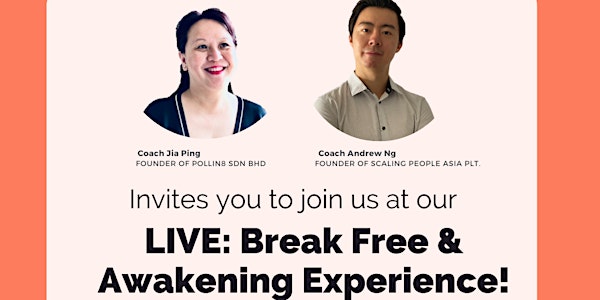 LIVE: Break Free & Awakening Experience
Coach Andrew and Jia Ping will be sharing tools and exercises that would identify our limiting beliefs - and learn how we can break free!
When and where
Location
Bangsar Jalan Medang Seri Kuala Lumpur, Kuala Lumpur 59000 Malaysia
Refund Policy
Refunds up to 7 days before event
About this event
This will be a live event held in Bangsar, Kuala Lumpur - feel free to contact us should you like more information on the location.
WHAT YOU WILL EXPERIENCE:
You will be immersed in a 4 hour self-reflection experience with 2 guides on the journey.
In that journey, you will learn about the levels of consciousness and we will identify where we are on that journey.
We will uncover some unconcious thought patterns & beliefs that might be running our lives - for both the "good" and "bad".
You will also experience our "Tulip Framework" and how it might reveal certain shadows in our lives.
We will then experience what we call a Shadow Integration experience where we might experience a shift in our lives (some might call breaking free or awakening experience).
POST SESSION:
You will also experience 1 virtual coaching session as a follow up from live session:
- Whether it is to create a new plan on how to move forward and create your new reality
- Whether it is to resolve additional traumas that might still be effective you from moving forwards
We look forward to seeing you there!
For more information, feel free to check out our website at www.scalingpeople.asia.