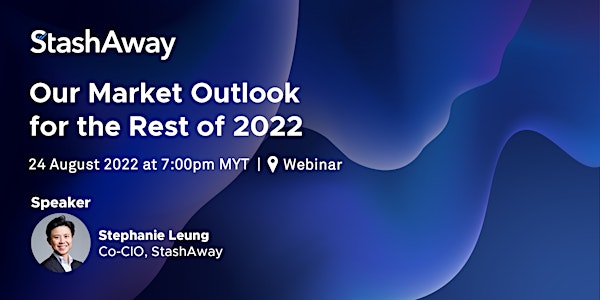 Live Webinar: StashAway's Market Outlook for the Rest of 2022
Find out how rising interest rates, inflation, and bearish markets could affect your investments, and what to expect for the rest of 2022.
About this event
Join Stephanie Leung, Co-CIO of StashAway, as she shares her insights on the year ahead in 2022.
Find out:
How recent macro factors, such as Russia's invasion of Ukraine, rising inflation, and US and global stocks falling into bear market territory, are driving concerns of an impending recession
Where the economy is heading, based on signals from StashAway's investment framework, ERAA®
How StashAway's portfolios have performed in the first half of 2022, and how they're prepared for the rest of the year
Once you register, we'll send you a link to the live webinar about an hour before an event. So keep an eye out for it, and we'll see you there!
About the speaker:
Stephanie Leung, Co-Chief Investment Officer of StashAway, a leading digital wealth management platform
Stephanie started her career in finance and investing in 2006 at Goldman Sachs. Since then, she's managed multi-asset investment portfolios for institutional clients, including hedge funds and family offices, such as The Caravel Group, Harmony Advisors, and Calabas Capital. Stephanie holds a Masters in Computer Science majoring in Artificial Intelligence from Stanford University and a Bachelor of Computer Engineering from the University of Michigan.
By registering for this event and providing your personal data in the registration forms, we acknowledge that you've understood the terms and conditions, and consented to us collecting your personal data and contacting you afterwards in relation to our products, services, and events. We promise to send only the good stuff. But if you ever wish to opt out, you can easily unsubscribe using the Unsubscribe feature included in the emails. If you wish to know more about our Privacy Policy, you can visit our Privacy Policy page. Our policy will apply with respect to any changes resulting from your registration to this event.