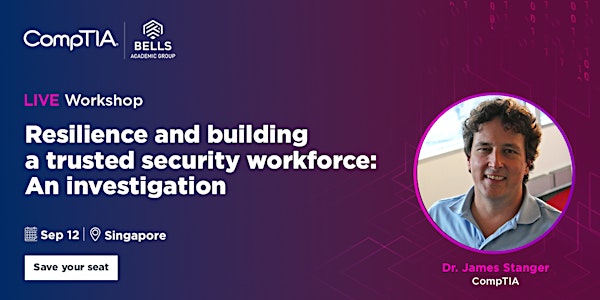 LIVE WORKSHOP: Resilience and building trusted security workforce
You Are Invited to BELLS x CompTIA Roundtable Sep. 12th | Dr. James Stanger Chief Technology Evangelist, CompTIA
When and where
Location
32 Carpenter Street, Singapore 059911 32 Carpenter Street Singapore, 059911 Singapore
About this event
You are invited to attend a special invitation-only event… Come listen to a roundtable discussion of senior key management executives from across cybersecurity sectors on September 12, 2022. Expected attendees include CxOs, senior management executives, government agencies, HR Partners, start-ups. 
Topics for discussion to be circulated shortly and could include topics such as:
Defining "resilience" in 2022 and beyond: Next-level security architectures and best practices
Skills that employees need to bring to the table
Ways to improve security without breaking the budget
Vital security skills and best practices organisations need to put in place today, from monitoring and analytics, to incident response procedures, automated responses, and threat intelligence sharing
Managing the workforce, including employee experience, retention concerns and building talent
Discussion to be followed by a networking session. Date: September 12, 2022 Agenda: 9:00am – 12:00pm Attendees arrive, get seated 8.45am.
Speaker profile:
Dr. James Stanger, Chief Technology Evangelist at CompTIA
As CompTIA's Chief Technology Evangelist, Dr. James Stanger has worked with IT subject matter experts, hiring managers, CIOs and CISOs worldwide. He has a rich 25-year history in the IT space, working in roles such as security consultant, network engineer, Linux administrator, web and database developer and certification program designer, He has consulted with organisations including Northrop Grumman, the U.S. Department of Defense, the University of Cambridge and Amazon AWS. James is a regular contributor to technical journals, including Admin Magazine, RSA and Linus Magazine, He lives and plays near the Puget Sound in Washington in the United States.
Organisers:
BELLS Academic Group
For more than a decade, BELLS has been transforming lives with in-demand skills. With more than 140,000 graduates, seasoned master trainers and 6 training centers islandwide, we have been equipping Singaporeans with essential skill required for 21st century.
Previously known as AGB Education, BELLS has become a renowned name for creating learning communities to improve employability. We have earned the partnership with e2i, an NTUC initiative to strengthen employment and employability for all our partners and alumni.
BELLS currently employs more than 170 employees, with the belief in t constant learning and self-improvement is a key aspect towards achieving personal and professional excellence. At BELLS Academic Group, we strive to be the catalyst for excellence, by offering training programmes and courses that elevate the knowledge and skills needed.
CompTIA
The Computing Technology Industry Association (CompTIA) is a leading voice and advocate for the $5 trillion global information technology ecosystem; and the estimated 75 million industry and tech professionals who design, implement, manage and safeguard the technology that powers the world's economy.
Through education, training, certifications, philanthropy and market research, CompTIA promotes industry growth; the development of a highly-skilled workforce and a commitment to creating an environment where innovation happens and the opportunities and benefits made possible through technology are available to all.
We are a vendor-neutral, independent source of information on a wide range of technology topics, including cybersecurity; education, training and certification of the global tech workforce; new and emerging technologies; legislation and policies affecting the industry and workforce data, development and trends.
Our membership and certification holders span the full range of technology companies from established Fortune 500 leaders to small and medium-sized tech businesses that help customers solve real business problems around the world; and emerging tech-service innovators that support the implementation and management of the latest technology solutions.
We routinely engage with individual technology professionals as the largest vendor-neutral credentialing program for technology workers. CompTIA has awarded more than 2.5 million certifications in areas such as cybersecurity, networking, cloud computing and technical support.
CompTIA also maintains a robust partner program around the world with thousands of academic institutions, not-for-profits, job corps centers and other organizations. Together we are educating, training and certifying new generations of technology workers.
In an era when every individual is tech engaged and every organization is tech enabled, CompTIA is the leading destination for both. As an association dedicated to innovation, CompTIA unifies learning and opportunity in a welcoming, forward-thinking place. We are the connected global community of informed advocates, championing modern technology (and the people who advance it) one day, one deployment, one discovery at a time. CompTIA is tech forward.