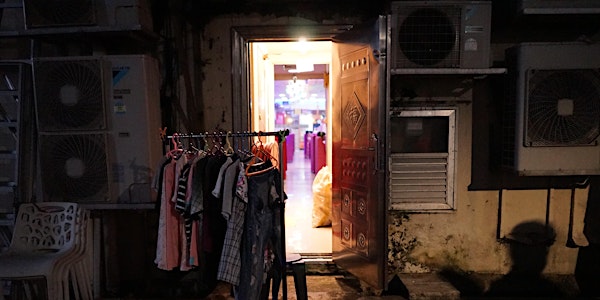 Multiple dates
Lorongs of Wisdom 2020
Date and time
Thu, 2 Jan 2020 19:00 - Sat, 21 Mar 2020 22:00 +08
Location
1 Lor 23 Geylang Road, Carpark Drop off 1 Lor 23 Geylang Road Singapore, Singapore 388352 Singapore
Description
Geylang Adventures: Lorongs of Wisdom
A Coordinates Project of Singapore Biennale 2019
Set against opulent skyscrapers and all that glitters in Singapore, this is a journey through its' contrasting underbelly. Google Geylang and you will find stereotypical adjectives giving clues to its reputation- from multiple mentions of crime to listicles of delicious late night offerings.
With the help of different stakeholders on the ground, Geylang Adventures presents a mixed medium interpretation of the neighbourhood and the changes over the years. From the cleaning up of the streets to overcrowded migrant worker dormitories, be captivated by the shared narratives that emerge through resident lenses. In line with the Singapore Biennale theme of "Every step in the right direction", may you find your own perspective emerge.
Program Details
A 3 hour walking performance to discover Geylang through different lens.
18:50 - Registration
19:00 - Geylang Starter Pack
19:20 - Nameless
19:40 - The Wishing Tree
20:00 - We Found Love in a Hopeless Place
20:30 - Prayer, Pottery. Plants
21:15 - Tea Break
21:30 - Snipping Social Barriers
22:00 - End of Performance
Disclamer:
- This experience contains mature contents advisable for participants above the age of 16 years old.
- Experiences have a minimum requirement of 5 pax to start.

Organisers will contact you directly if there is a postpone of event.
About Singapore Biennale
The Singapore Biennale was established in 2006 as the country's pre-eminent platform for international dialogue in contemporary art. It presents and reflects the vigour of artistic practices in Singapore and the region within a global context, and fosters productive collaborations and deep engagement with artists, arts organisations, and the international arts community.

The Singapore Biennale cultivates public engagement with contemporary art through a four- month exhibition, and its accompanying public engagement and education programmes that include artist and curator talks and tours, school visits and workshops, and community days. It complements achievements in other areas of arts and culture, collectively enhancing Singapore's international profile as a vibrant city in which to live, work and play.
The 2006 and 2008 editions of the Biennale were organised by the National Arts Council. The NAC commissioned the Singapore Art Museum (SAM) to organise the 2011, 2013, 2016 and 2019 editions.
For more information, please visit www.citizenadventures.com/singaporebiennale or contact us hello@geylangadventures.com
About the organiser
We design tours for citizens to understand neighbourhoods as social ecosystems and their interconnectedness as individuals relative to these systems, and the issues within.