Embark on an adventure at the first ever virtual escape game set in Fort Siloso. Meet your friends online and escape together!
About this event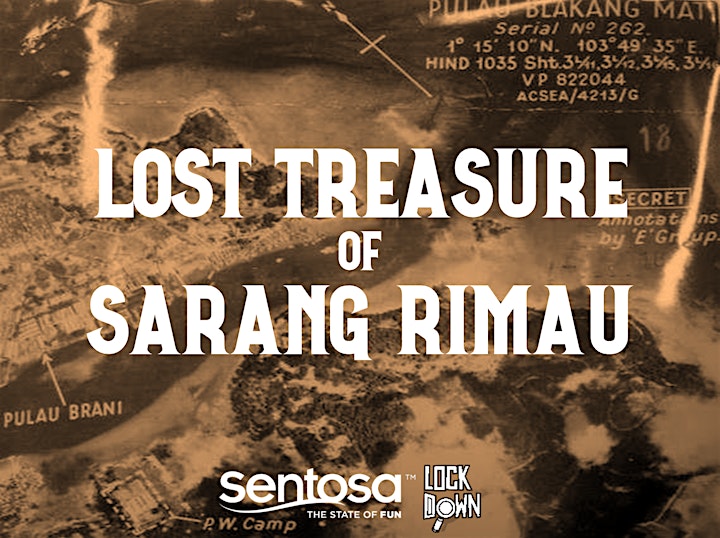 SYNOPSIS:
You have been ordered to evacuate with Arnold Watson and some fellow troops. As you were preparing to leave, you discovered an old package buried near a cannon. Written on it are clues to a pirates' treasure chest discovered by Private Joey when he first arrived in 1885. Can you find the treasure in time before the boat leaves you behind?  
Background:
Gather your friends now to search for lost treasures, solve puzzles, all while playing a fun virtual escape room game in the comfort of your home! This game is recommended for youths and adults age 13 and above.
Tickets:
$100 per team of up to 6 players. Limited slots available. Grab them fast!
Game Flow:
Each game will last approximately 60 minutes.The session is conducted over Zoom and facilitated by our game instructors. Each player will need access to Zoom on their computer, with a webcam function for video conferencing. Those without a webcam may also choose to use the Zoom mobile application. The latest version of Chrome browser and a stable internet access is also required for best gaming experience. After booking your session, an email will be sent 3 working days before your selected game date with the Zoom link. Names of your team members will also be requested.
Update:
Facebook:
http://www.facebook.com/lockdownsg
Website:
FAQ:
What is this escape game about?
Players will have to work as a team to decipher hidden clues, solve puzzles, and navigate through a 360-degree virtual recreation of Fort Siloso, to find the treasure before time runs out. Playable via Zoom, this game allows for up to 6 players. Suitable for youths and young adults.
What time should I join the session?
Please refer to your ticket description for the date and time of your session. Kindly join the online session 5 minutes early for registration and technical support. Lockdown Singapore reserve the right not to admit latecomers to avoid inconvenience to other players.
How many players are allowed to play in each session?
A minimum of 2 players and maximum of 6 players can play in each session
I still do not understand, or the link to the Zoom meeting does not work. What should I do?
For assistance or further enquiries, please email contactus@lockdown.sg.
TERMS AND CONDITIONS
Please logon 5 minutes before the session time stated for technical support, registration and team arrangement.
Lockdown Singapore reserve the right not to admit late comers to avoid inconvenience to other players.
The game is conducted in English.
A minimum of 2 players and maximum of 6 players can play at any one time.
You are required to download Zoom Video Conferencing software on your computer and a webcam function. No refunds will be given if you have any technical issues on your own devices.
Refunds, cancellations or rescheduling are not permitted once a booking is confirmed.
Lockdown Singapore reserves the right to change any of the terms and conditions without any prior notice.
By purchasing the tickets, you are deemed to have agreed to the terms stated herein.
Who are the organisers?
Lockdown Escape is the leading Singapore company specialising in real life escape games, in which players are trapped in the game and must exploit his or her surroundings in order to escape, emphasising greatly on observation and lateral thinking skills in order to solve the challenges and puzzles. ThinkOut Events is an event specialist company that designs offsite and large scale events which promotes team building and lateral thinking skills. Together with Lockdown Escape, over 300 MNCs have enjoyed a unique team building events.