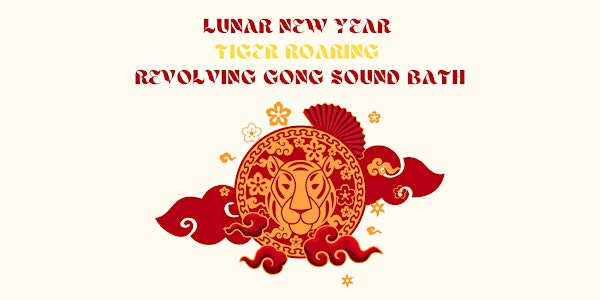 Lunar New Year - Tiger Roaring Revolving Gong Sound Bath
Usher in the year of Tiger with powerful & healing frequencies from a Gong that spin 360°, starting your year roaring refreshingly good!
When and where
Location
Crane 46 Kim Yam Road #01-06 / 07, Herencia Singapore, 239351 Singapore
Refund Policy
Contact the organiser to request a refund.
Eventbrite's fee is nonrefundable.
About this event
Lunar New Year - Tiger Roaring Revolving Gong Sound Bath
Date: 8 February 2022 (Tuesday)
Time: 7pm – 8pm
Venue: Crane (Robertson Quay)
Energy Exchange:
$40 - $42.97 per person for Non-Crane members
$35 - $37.74 per person for Crane members
(*Eventbrite fees apply )
Everything in the Universe vibrates.
Gong, Drums, Lion Dance. As we soak up the Chinese New Year festivities and welcome Lunar New Year 2022 – Water Tiger, take a moment for yourself amidst the visiting or holidays.
How has the start of 2022 been for you?
Are you still living the intentions and purpose you set out for yourself at the start of the year?
Are you looking to de-stress and retune your mind & body?
According to the ancient Chinese Zodiac, this is a time of renewed personal vigor, focus and physical activity so let's "zen out", roar and sound out your intentions in a totally refreshingly new way.
The Gong is arguably the ultimate sound healing tool, as it has the broadest range of tones and frequencies of any instrument. You will listen not just with the ears but this vast range of sound deeply bathes every cell of the body for a life recharge and via sonic entrainment brings it back into harmonic balance.
You will join the exclusive group in Singapore to enjoy a revolving Gong that swings 360 degrees in an orbit just like a planet when played. Waves of complex particles vibrate off the metallic surface, sending dancing harmonics into the space in a bidirectional and acoustically reflective manner. This creates a 360 degree gong consciousness and also beautiful and wondrous atmospherics like you've never felt before, giving the listener a much deeper transformational experience.
This is a whole body adventure, a deeply moving, relaxing and all-encompassing musical journey through sound for your mind, body and spirit, bringing pure joy, inner stillness, creativity and inspiration!
Benefits of Sound Healing:
• Deeply relaxing
• Reduced tension, stress, anxiety & depression
• Boosts your health
• Supports mental, emotional & spiritual well-being
• Helps clears energetic blockages
• Improves quality of sleep
• Deeper states of consciousness
• A chance to recharge
• Improved sense of Self-awareness• Lower blood pressure
• Improves mental clarity and brain functioning
• And many more…
Come join us with an open heart and mind! No meditation experience is required.
IMPORTANT COVID-19 SAFE MANAGEMENT REGULATIONS:
With the safe management measures in place, please read through the following guidelines carefully and you are required to observe them.
• Participants will be grouped into groups of 5 (5 people per group). Please remain strictly within your group area only and do not intermingle with the other group. Your facilitator will remain separate and distanced from all participants.
• PLEASE BRING YOUR OWN YOGA MAT OR TOWEL, AND ANYTHING YOU MIGHT NEED. We are not permitted to provide shared-use equipment at this time. (If you forget to bring one, you may purchase a one time, disposable sheet from us.)
You are welcome to bring your own eye pillow, blanket, jacket, pillow and or cushion to enjoy the session thoroughly in total comfort.
• Log in and out of Trace Together upon entry and exit of the venue.
• Wash or sanitise your hands before entry. (Hand sanitiser is provided at the reception.)
• Wear a mask properly at all times.
• Do not attend the session and stay at home if you are feeling unwell. If your temperature is 38 Degree Celsius and above or you display flu -like symptoms, you will be strictly denied entry into the space.
• Do arrive at least 15 mins earlier prior to the session to facilitate sufficient time for the check-in process and to settle in.
• Switch your mobile phone to airplane mode or switch it off completely during the session to avoid unnecessary interruptions.
• You are also welcome to bring your own water bottle or bottled water to hydrate yourself.
The space will be sanitised before and after the event and sanitising spray and hand gel will be available.
IMPORTANT NOTE:
All Wenyogaheal Sound Bath / Sound Healing sessions will be MASK ON.
There may also be constant changes to the Covid-19 safe management regulations depending on Government announcement and the Covid -19 situation then. We will adapt and change the safe management regulations accordingly and we seek your kind cooperation to adhere to them.
Minimum 5 to run.
By Sound Therapist Wendy Lum
(INSTAGRAM): www.instagram.com/wenyogaheal
(FACEBOOK): www.facebook.com/wenyogaheal
This event is held at Crane (Robertson Quay)
Address: The Herencia, 46 Kim Yam Road #01-06/07, Singapore 239351
Crane members enjoy a special discounted ticket at $35.
Non-members may join us at $40 per ticket.
Please note this is NOT a soundproof enclosed studio. Some inevitable background noise will occur. Just relax and flow with the journey as it occurs!
For more awesome Crane content check out wearecrane.com.