An hour filled with interactive fun games, know your MacPherson neighbours and attractive lucky draw prizes for all!
About this event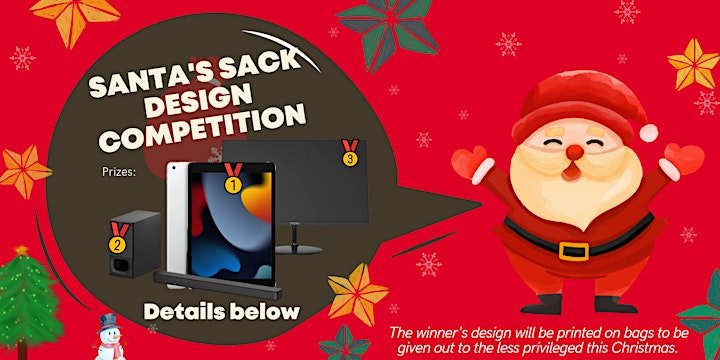 Date: 18 Dec 2021
Time: 1030 am - 1130 am (1 hour)
Event Platform: Facebook Live @ https://www.facebook.com/MacPhersonPAP/
Event Highlights:
- MACPHERSON'S SANTA'S SACK DESIGN COMPETITION
What do you think our MacPherson's Santa's sack should look like?
[Submit your entries now]
The winner's design will be printed on 150 bags to be given out to the less privileged this Christmas.
Top 1st Prize: 10.2 inch iPad
2nd Prize: Samsung Sound Bar
3rd Prize: Prism+ PRO 24" Monitor
- LUCKY DRAW PRIZES and more
[Stand a good chance to win by registering and attending]
____________________________________________________________
EVENT AGENDA: 1. MACPHERSON'S SANTA'S SACK DESIGN COMPETITION
Find out who is the winning designer for MacPherson's Santa's sack this Christmas 2021.
Submit your entry to stand a chance to win:
Top 1st Prize: 10.2 inch iPad
2nd Prize: Samsung Sound Bar
3rd Prize: Prism+ PRO 24" Monitor
HOW:
1. Design artwork in A4 Size, 210 x 297 mm
Artwork can be hand-drawn or in digital format. Photos can be incorporated too.
2. Submit entries
Physical submissions on 29 Nov 2021, 8-9pm dropoff @54 Pipit Rd, Blk #01-52, Singapore 370054
Digital submissions by 30 Nov 2021 to macphersonsgphoto@gmail.com
3. Get votes
Voting will start from 3 Dec 2021, 12 pm to 9 Dec 2021, 12pm [details to be shared]
Winners will be notified before the event date.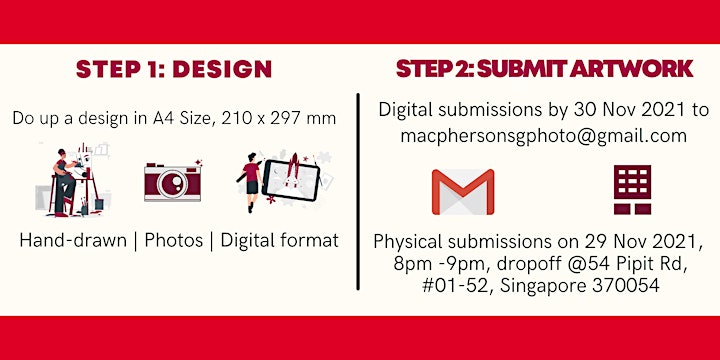 _______________________________________________________
EVENT AGENDA: 2. MACPHERSON FUN TRIVIA
Find out who is the know-it-all when it comes to our MacPherson neighbourhood
Simply sign up for the event!
and..stand a chance to win. Easy!
MORE WINNING CHANCES
All MacPherson residents who registered and attend the event (online) are entitled to 1 chance for the lucky draw.
Your order number in the ticket will be used as the lucky draw ticket. Winners must be present (online) during the lucky draw segment of the event to be eligible for the prize(s). All winners will be notified of the win and the collection method by 25 Dec 2021.
Event registration continues but entries to the lucky draw will close on 12 Dec 2021, 2359. We seek your kind understanding on this as the organising team will need time to process the entries.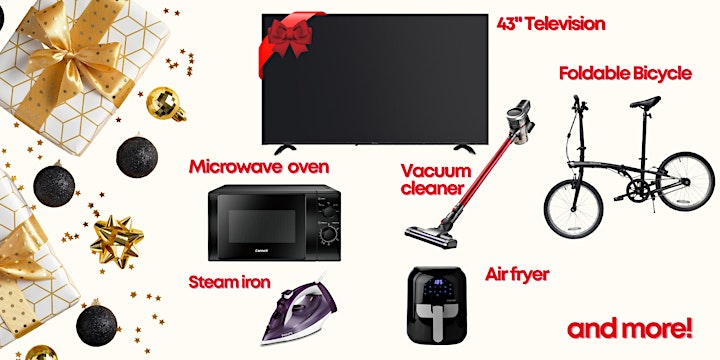 Let us bring the Christmas cheers to your household!
Sign up now to enjoy the event online. Let our MacPherson kampung spirit unite!
It would be a FUN and INTERACTIVE experience!
_________________________________________
DON'T MISS OUT. REGISTER NOW!
__________________________________________
GOODIE BAG
One goodie bag for each household unit who has family member(s) registered for the event. First come first serve.
The first 50 registrants will be notified via email by 25 Dec 2021. The collection method will be announced on the day of the event 18 Dec 2021.
Thank you.