Description
MacPherson:

What It Means to Love Myself

- July 13 (Sat)
How well we relate to our family members, loved ones, friends, relatives and colleagues, depends on how well we first relate to ourselves. If we are centred, enjoy a good sense of self-esteem and self-worth, and feel that we are satisfying our basic psychological needs, the probability is high that we can get on with others. The converse is also true - if we are our worst critic and are not happy with our lot, it's difficult to relate well with others and to be functional. So it's all about knowing ourselves, our strengths and weaknesses, our blind spots, and our capacity for self-compassion for our short-comings and mistakes that sets us up to be at peace with our world. So we need to start off by knowing and loving ourselves.
Come learn more in this talk by Brahm Centre Senior Counsellor Frank Singam.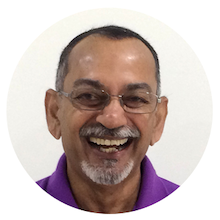 Speaker: Frank Singam, Senior Counsellor, Brahm Centre
Upon retirement in 2009, after a 32-year career in RSAF as a Pioneer Fighter Pilot, and a follow-on six year stint as General Manager of Bintan Resort Ferries, Frank did his Diploma in Social Work and Counselling with Edith Cowan University, Perth in 2010. He then followed this up with a Masters in 2014, in Social Science (Professional Counseling) from Executive Counseling Training Academy (Singapore) and Swinburne University of Technology (Australia).
Frank has accumulated more than 600 hours of counselling, covering marital, parenting, individual and addiction counselling.
Currently, Frank is employed at Brahm Centre as a counsellor. Besides offering counselling services at Brahm Centre, Frank also takes up the role of a trainer for both the Brahm staff and volunteers and gives lectures on mental health subjects, befriending skills and related topics like caregiving.