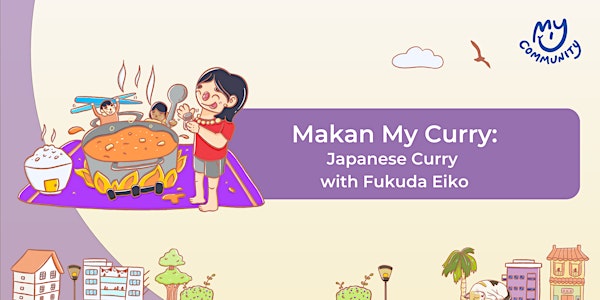 Makan My Curry: Japanese Curry with Fukuda Eiko
Missed our mouthwatering dinners and sweets from My Community Festival? Makan My Curry makes a comeback from MCF2020 this year!
When and where
Location
Lift Lobby of 530A Pasir Ris Drive 1 Singapore 511530 530A Pasir Ris Drive 1 Singapore, 511530 Singapore
Refund Policy
Contact the organiser to request a refund.
Eventbrite's fee is nonrefundable.
About this event
We Singaporeans love eating curry. Assam Fish Head, Eurasian's Devil's Curry, Aloo Gobi and Tikka Masala – the possibilities are endless. How many of these curries have you tried? Makan My Curry brings Singaporeans into the homes of over 10 different home cooks to hear more about the processes and stories behind their curries and culture.
What is Japanese Curry?
Curry and rice might be just as popular as ramen is in Japan. The dish, brought into the Asian nation by the British, is usually thick and sweet. There are many ways to serve it. A popular option is to scoop a generous helping of the non-spicy stewed goodness over a bed of rice along with a side of fried meat cutlets.
About the cook
Food and cooking have always been in Ms Fukuda's blood. Hailing from Sendai, Japan, her family runs a food business which connects restaurants with farmers and other agricultural players.
The first curry she ever made was for a home economics lesson during her primary school days. She only started cooking actively when she was an 18-year-old undergraduate living away from her family. Ms Fukuda moved to Singapore in 2007 and has since added fish head curry to her repertoire to cater to her Singaporean husband's tastebuds. Ms Fukuda, a founding member of several restaurant chains and cafes in Singapore, is also an avid Instagrammer and can be found @one_dining_eiko. She said that food brings her joy and that she "loves seeing people eating and enjoying their meals".
Details of the Programme
Meeting point: Lift lobby of 530A Pasir Ris Drive 1 Singapore 511530
Please arrive 15 minutes before the event for registration. Our facilitators will be wearing our event t-shirt.
Parking is available at 530A Pasir Ris Drive 1 Singapore 511530
Venue is not wheelchair accessible.
The event will proceed rain or shine.
Who should come?
Participants must be fully vaccinated.
This recipe is non-halal and is not suitable for vegetarians. Curry may contain traces of nuts, dairy and other allergens. Participants are reminded to declare their food allergies, if any, in the registration form.
What to bring?
Participants should be dressed respectfully in smart casual (i.e. collared shirt, long pants and covered shoes). Sleeveless attire, shorts/miniskirts or sandals are strictly not allowed.
Participants will be denied entry if they dress inappropriately.
Asthmatic individuals are encouraged to bring their inhaler.
Disclaimer
All ticket sales are final. There will be no refund if you wish to cancel your tickets.
By agreeing to participate in the event, participants are responsible for any injury, loss or damage due to the negligence on his/her part or of the children under his/her charge.
Participants must abide by the house rules set out by the host. Facilitators will brief participants at the start of the programme.
Videos and photographs may also be taken during the event. By registering for this event, you give My Community full rights to use the photos for marketing and publicity.
It is compulsory for a parent/guardian to accompany any child of or under the age of 12 children under his/her charge.
About Kitchen Movements
This programme is a collaboration with Kitchen Movements. Kitchen Movements, a series of events curated by The Party Elves, provides a platform for home chefs to shine and share their dishes. They focus on self taught passionate home cooks who cook with locally sourced, sustainable ingredients. Kitchen Movements hopes to cultivate a community that comes together over a shared love of home cooked food and the belief in a giving community.
For updates:
Follow us at @mycommunitysg on Instagram and @myqueenstown on Facebook.
Visit mycommunity.org.sg to learn more about My Community's initiatives.