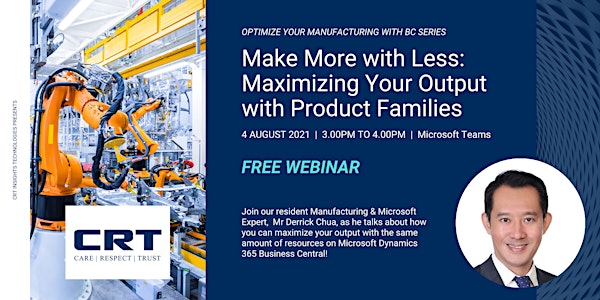 Make More with Less: Maximizing Your Output with Product Families
Wondering how you can increase your production without increasing your materials cost? Then sign up for this free webinar to find out how!
About this event
Make More with Less: Maximizing Your Output with Product Families
This webinar is part of CRT's "Optimizing Your Manufacturing with BC" series that showcases practical and applicable tips in the Microsoft Dynamics 365 Business Central system that helps manufacturers increase productivity and efficiency.
This webinar will cover:
Introduction to Product Families
Why use Product Families
When will Product Families be beneficial to deploy
How to use your existing business data to plan Product Families
Who should attend:
Manufacturing Business Leaders
Product Development Leaders
Production Leaders
Manufacturing Operations Leaders
Plant Operators
After attending this webinar, you will be able to:
Understand how to apply Product Families in your manufacturing or production environment
Identify different areas where you can apply a Product Family to increase your production output
Harness your manufacturing or production data in Microsoft Dynamics 365 Business Central to create Product Families
About The Speaker:
Mr Derrick Chua holds a Bachelor of Science in Engineering Business Management (Hons). Having spent close to two decades working up the ranks in the Manufacturing industry, Derrick brings with him a wealth of experience in running multi-national operations and production plants. With his passion for enterprise software and his deep background in manufacturing, Derrick has helped many customers harness technology to optimize and automate their businesses over the years.