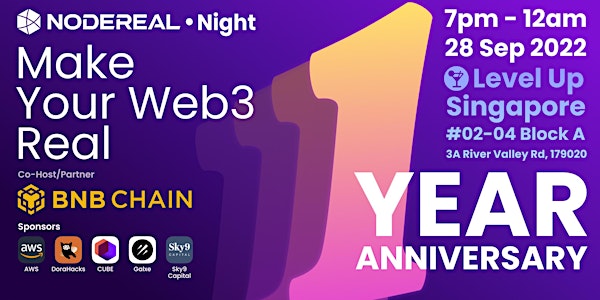 Make Your Web3 Real, NodeReal 1 Year Anniversary
The anchor event for the Web3 community and enthusiasts. Hosted by NodeReal and BNB Chain together with the top Web3 ecosystem leaders.
When and where
Location
Level Up 3A River Valley Road ##02-04 Singapore, 179020 Singapore
About this event
NodeReal Web 3 night is the most-anticipated Web3 get-together party in 2022.
This event is to celebrate NodeReal's ( the core contributor of BNB Chain) first year anniversary.
🎙️ NFT and AirPods will be rewarded during the event for our sponsors and attendees.
Agenda
19:00 - 20:00 Registration
First 200 attendees will receive NodeReal Swags🎁
20:30 - 21:00 Welcoming Speech
NodeReal Partners Open Mic
21:00 Lucky draw
Stay behind for some light refreshments and mingle!
Host
NodeReal is a one-stop blockchain infrastructure and service provider that embraces the high-speed blockchain era and empowers developers by "Make your Web3 Real". We provide scalable, reliable, and efficient blockchain solutions for everyone, aiming to support the adoption, growth, and long-term success of the Web3 ecosystem.
Co-Hosts
BNB Chain BNB Chain, one of the most popular blockchains in the world, dedicates to delivering its core infrastructure necessary for future public adoption, and always remains a community-first and open-source ecosystem built on a permissionless and decentralized environment.
Sponsor
AWS is a subsidiary of Amazon that provides on-demand cloud computing platforms and APIs to individuals, companies, and governments, on a metered pay-as-you-go basis.
DoraHacks is a global hackathon organizer and one of the world's most active Web3 developer communities of more than 100k devs and open-source venture builders. It provides Web3 native on-chain toolkits to help developers around the world raise funding for their startups. DoraHacks core features range from Quadratic Funding Grant, Bounty, Hackathon, BUIDL NFT, and Continuous Funding.
CUBE is an all-in-one entertainment platform powered by blockchain on the Metaverse. It's developed by Metaverse World, which is a subsidiary of Netmarble F&C, the largest mobile-gaming company in South Korea. CUBE provides optimized service for both gamers and game developers, content creators, and content consumers alike, aiming to create a single platform where virtual entertainment translates to true pleasure and value.
Project Galaxy is the largest Web3 credential data network in the world. Built on open and collaborative infrastructure, Project Galaxy helps Web3 developers and projects leverage credential data to build better products and communities. At the same time, data curators are rewarded when credentials are used in Galaxy's Application Modules, Credential Oracle Engine, and Credential API.
Sky9 Capital is a leading venture capital firm dedicated to supporting disruptive technologies and outstanding innovators to drive change and positively impact society. Since 2011, the team has been managing a number of funds with $2 billion of AUM and has a presence in Singapore, China, and the United States.