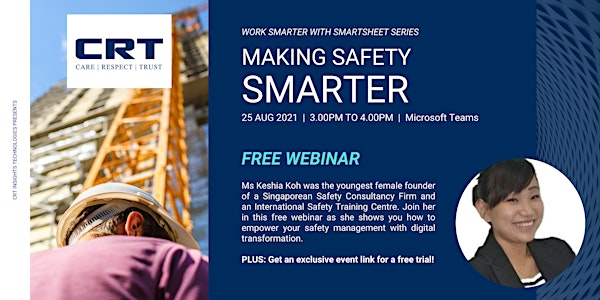 Making Safety Smarter with Smartsheet
Want to digitally transform your site safety management? Then don't miss this webinar!
About this event
Making Safety Smarter
This webinar is part of CRT's "Work Smarter with Smartsheet" series that showcases practical and applicable tips in the Smartsheet platform that helps users of various industries increase productivity and efficiency.
This webinar will cover:
Introduction to Smartsheet
Set Up Smarter - Getting started on Smartsheet
Work Smarter - On-site Application
Manage Data Smarter - Workflow & Approvals
Paperwork Smarter - Creating Documents from Data
Analyze Smarter - Reporting & Data Analysis
Who should attend:
After attending this webinar, you will be able to:
Understand Smartsheet's functions and uses
Apply Smartsheet to digitally transform your safety management on a cloud platform
Find, edit or create safety sheets, templates, forms and documents on Smartsheet
About The Speaker:
Ms Keshia Koh was the youngest female founder of a Safety Consultancy firm and an International Safety & Rescue Training Centre when she started her businesses at 25. Now, she has channelled her experience into technology as a Sales & Marketing Consultant for CRT Insights Technologies, a regional ERP specialist firm. With her passion for enterprise software and understanding of the challenges in traditional safety management, Keshia hopes to inspire more companies to embrace technology and push the boundaries of productivity in the new normal.