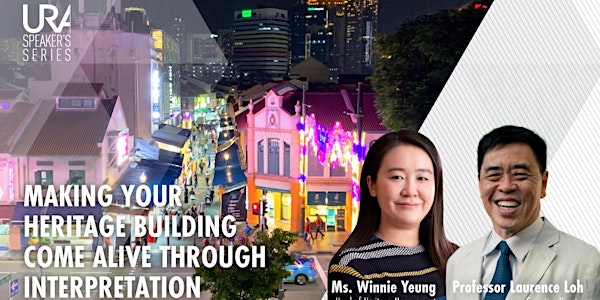 Making Your Heritage Building Come Alive Through Heritage Interpretation
Join our guests, Mr Laurence Loh and Ms Winnie Yeung, as they share perspectives on heritage interpretation in Penang and Hong Kong.
About this event
Every building has a story.
Singapore has over 7200 conserved heritage assets, each with stories waiting to be told.
When told well, the stories make the heritage assets come alive, enriching us in social, cultural and economic ways.
Therefore, the conservation journey is more than the physical or technical restoration work. To make built heritage more inclusive and relevant to the wider public, what are some ways to understand, use and present intangible aspects in the final outcome, to create long-term value for all parties?
Join our experts from Penang and Hong Kong, as they share holistic approaches on how the heritage of a conservation building can be used to generate holistic outcomes for owners, users and the community.
ZOOM details will be sent to all participants upon registration, and again closer to the webinar as an email reminder.
About the speakers
Laurence Loh, a graduate of the Architectural Association in London, advocates Designing with Culture to create sustainable urban solutions. He is the Executive Director of Arkitek LLA, a leading conservation and architectural practice in Malaysia. In 2019 the Malaysian Institute of Architects honored Laurence with the PAM Gold Medal Award for his life-long contribution to the advancement of architecture in Malaysia and internationally. His contributions have helped position Penang and Malaysia on the World Heritage map through his prominent Conservation Best Practice exemplars that have received numerous UNESCO Asia-Pacific Heritage Awards. These include the restoration of the world-renowned Cheong Fatt Tze Mansion in Penang and the Stadium of Independence in Kuala Lumpur. In 2018, the adaptive reuse of the UAB Building in Penang won the Malaysian Institute of Architects' PAM Award for Building of the Year.
He is a fellow of the Hong Kong Institute of Conservationists, a past President of Badan Warisan Malaysia and a Director of Think City, a social purpose organisation driven by impact to promote a culture-based economy through an iterative data-driven visioning approach to city-making.
Laurence shares his deep and practical knowledge in conservation as an Adjunct Professor at the University of Hong Kong and in workshops for the Getty Conservation Institute. He has carried out World Heritage Site Evaluation missions and Technical Assessments for ICOMOS in conjunction with the UNESCO World Heritage Centre. He is a Jury Member of the UNESCO Asia-Pacific Heritage Awards and a member of the URA Singapore Architectural Heritage Awards (2017-2019).
-
Winnie Yeung is a trained architectural conservationist with a Master's Degree from the Architectural Conservation Programme at The University of Hong Kong. From 2015 to 2020, she was the Head of Heritage of Tai Kwun: Centre for Heritage and Arts in Hong Kong, the Award of Excellence winner in the 2019 UNESCO Asia-Pacific Awards for Cultural Heritage Conservation.
Previously, Winnie was the heritage manager for the UNESCO-awarded Tai O Heritage Hotel in Hong Kong and has participated in other heritage projects in Hong Kong and Singapore. She specialises in heritage interpretation and exhibitions, education and community engagement, with the aim to celebrate the rich heritage significance of historic places, raise awareness on cultural heritage conservation and foster community attachment. Winnie is currently the Head of Heritage Management for New World Development Company Limited
楊頴賢在香港大學修獲建築文物保護碩士,為建築保育方面的專業人員。她於2015至2020年為香港大館文物事務主管,該項目為2019年聯合國教科文組織亞太區文化遺產保護獎卓越獎項得主。此前,楊女士曾參與香港和新加坡等地的各類文物保育項目,當中包括香港大澳文物酒店。楊女士專長於設計和策劃文物展示、教育活動及社區專題展覽,致力透過文物保育及活化工作,培養公眾對香港文物古蹟、文化資產、地方特色和社區歷史的認知。楊女士現為香港新世界發展有限公司文物項目主管。