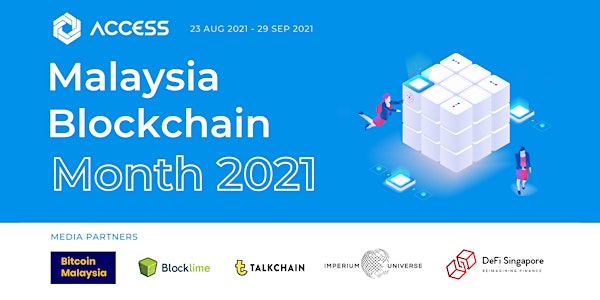 Malaysia Blockchain Month #MBM2021
Six weeks of decentralised web education.
About this event
This year we are bringing 6 continuous weeks of themed content.
Week 1 - Malaysia Blockchain Week (23 Aug ~ 27 Aug)
Week 2 - Southeast Asia DeFi Week (30 Aug ~ 03 Sep)
Week 3 - Southeast Asia NFT Week (06 Sep ~ 10 Sep)
Week 4 - Enterprise Blockchain Week (13 Sep ~ 17 Sep)
Week 5 - Blockchain Developer Week (20 Sep ~ 24 Sep)
Week 6 - IGNITE (28 Sep ~ 29 Sep)
Why?
To continue DeFOMO, educate and develop talent in the decentralised web.
How to Attend
One hour session every weekday from 5pm - 6pm MYT.
Each session will be livestreamed on AccessMY Facebook Group and Partner Channels (e.g. BitcoinMalaysia FB).
Attendees are welcome to ask questions throughout the session and there will be dedicated 10 ~ 15 min window for our guest speaker / panelists to answer questions.
... sometimes best question win a prize. 😉
Remember, only those who register will be eligible to get ALL the good stuff e.g. airdrops, giveaways (if any). So register now and be quick too!
Psst! Don't forget to join the Discord Group : https://discord.gg/GgWFfj4Mcb