MANAGING CHANGE for sustainable growth
Event Information
Refund Policy
Refunds up to 1 day before event
Description
MANAGING CHANGE with sustainable performance
How do we manage a corporation that is sustainable in term of performance.
Obejective of the course
Why change management?
How to find critical areas to change
What are the strategies needed for growth.
Distinguish between transformation and normal change
Syncronisation of strategy, business models and organisation
How to manage sustainable business


TWO DAY INTENSIVE WORKSHOP
Day 1 : Performance problems and issues
Day 2 : Designing new business model and strategies.
Companies fail because of cultural lockin and need to re-design the corporation.




COURSE CONTENTS
True performance gaps
Performance measures
Root Cause Analysis
Problem Solving Change
Best Practices
Training Solutions
The right business model
Innovation
Performance gains and recognition
Simulation to estimate performance




Scenario Planning
Intro to scanario planning
circumstances that favour its use
Illustrative case
an issue of major importance
How do we add value
What are the trends and what factor drive these trends
Define the importance of these trends and the uncertaintie
A framework for planned strategic change
Doing vs being
Managing the present from the future
Managing the process of change
Understand strategic performance
develop outcome measures for change
Link outcome to choice of specific strategies
Examine market value and economic value added strategies
Looking at strategic performance in your organisation
Value based management
Stakeholders perspectives
Managing value creation
Linking the scoreccard to EVA
MANAGING CHANGE
What are the purposes and objective of change
How are strategy decisions made and impelemented within an organisation.
Do changing industry and competitive contexts infuence what strategies are chosen
What is the nature and content of strategy


STRATEGY PROCESSES

Identify strategic issues and how current strategy addresses these.
Describe the strategy processes and how strategy is developed.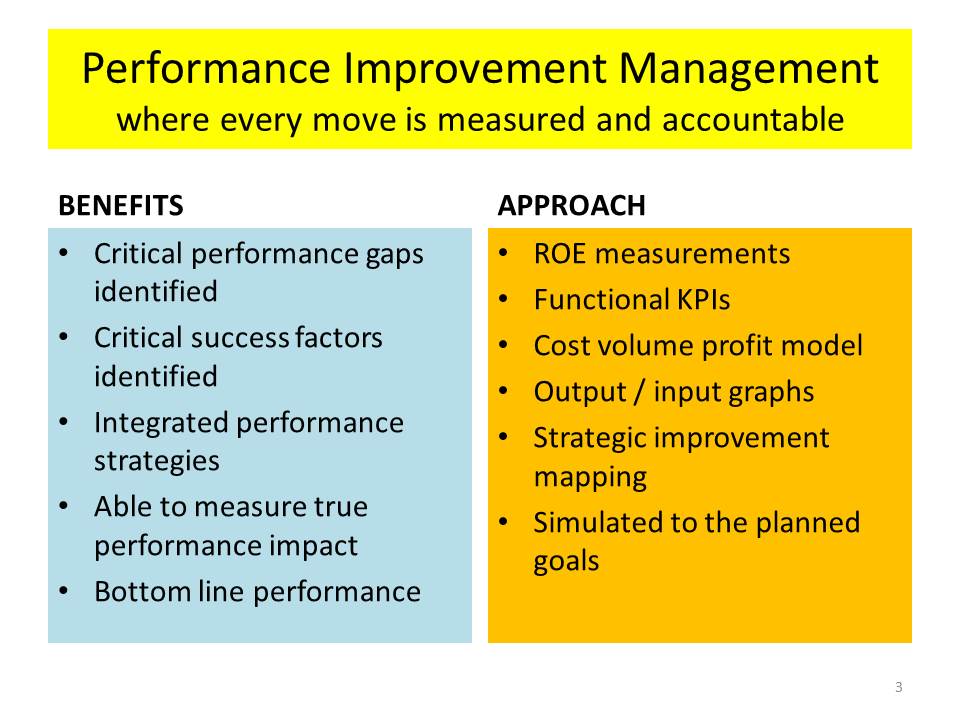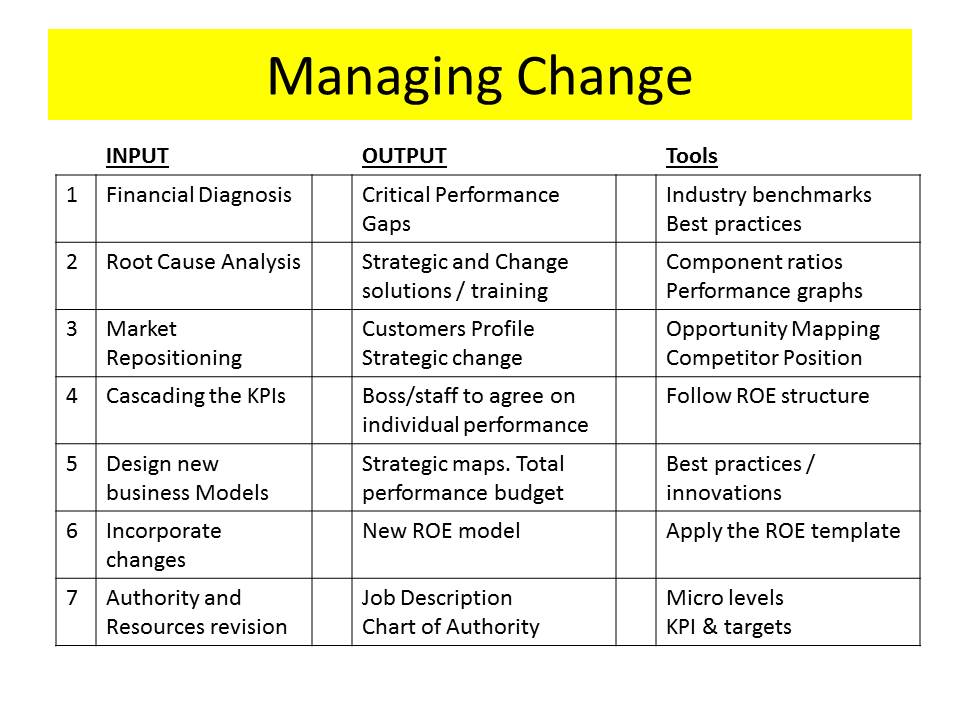 MANAGING CHANGE IN 5 STEPS
1. Show the return on equity as the bottom line and goal of a firm.
2. Identify value added operating decisions within the business.
3. Show true performance calculation and graph
4. Analyse performance problems and issues based on financial statements
5. Implement a pay for performance plan with rewards and measures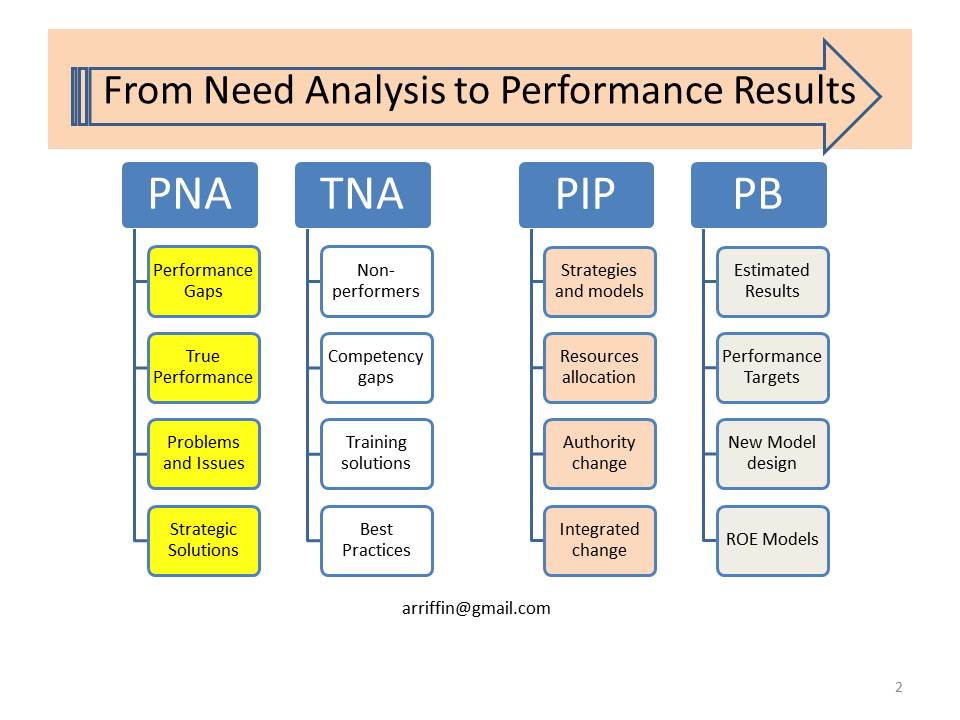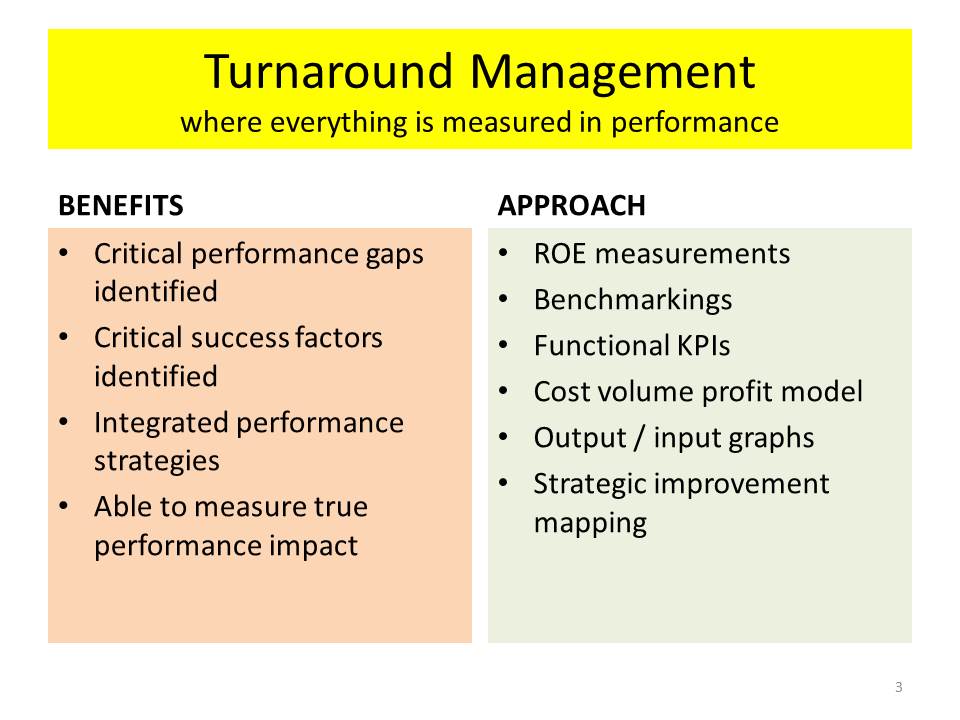 Date and Time
Location
Excel College
No. 98 Jalan 14/1
Millenneum Square
Petaling Jaya, Selangor 46100
Malaysia
Refund Policy
Refunds up to 1 day before event