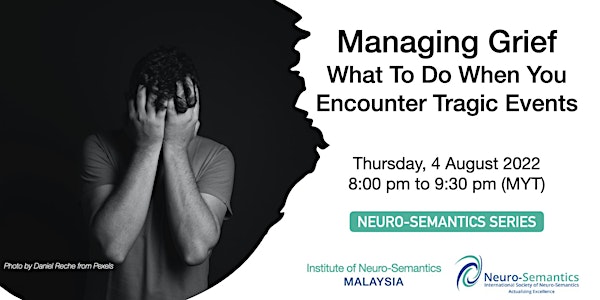 Managing Grief - What To Do When You Encounter Tragic Events
Tragic events, such as loss or death, happen. Are you equipped to manage them in ways that bring good to you and the people around you?
About this event
Our lives are a collection of events. We experience events that range from delightful, mundane, or tragic. Tragic events relate to loss.
Loss of life, such as the death of a loved one or a miscarriage.
Loss of faculty, such as being incapacitated or maimed.
Loss of belonging, such as being robbed or a home gutted by fire.
Such events cause sadness and may lead to grief that causes sorrow or pain, which afflicts or distresses. What are some of the tragic events that you have experienced?
Join us in this [NEURO-SEMANTIC SERIES] where we discuss:
What is Emotion?
How to handle troubling emotions?
What to do when your emotions run riot?
Helping others with their emotions
Attending functions of tragic events
How to reduce shock when you are the bearer of bad news