Managing Intangible Asset And Employment Risks During Covid-19
About this Event
Managing intangible asset and employment risks have always been challenging areas for business owners, especially during Covid-19 which has been bringing dramatic changes to almost every aspect of business.
Join our webinar to know how to cope with these pain points. Mr. Jevon Louis and Ms. Teo Mae Shaan, partners of Shook Lin & Bok LLP, will share their advice on commercial IP matters and employment-related issues.
Get ahead with this practical and insightful webinar.
From this webinar, you will:
1. Gain an awareness of your organisation's intangible assets
2. Learn how intangible asset can improve productivity
3. Appreciate how the analysis of intangible asset data aids allocation of capital
4. Learn about implementing safe management measures at the work place
5. Understand the eligible claims for compensation and medical benefits during COVID-19
6. Discover cost-saving measures that can be implemented during COVID-19
Date: Monday, 3rd August 2020
Time: 11.00AM-12.30PM
Programme:
11.00-11.10: Intro to IES-INCA
Andy Wee - General Manager of IES-INCA
11.10-11.30: Intro to Shooklin & Bok LLP + IP
Jevon Louis - Partner of Shook Lin & Bok LLP
11.30-11.50: Corporate Legal
Teo Mae Shan - Partner of Shook Lin & Bok LLP
11.50-12.10: Q&A
12.10-12.30: Networking
Registered participants will receive the online meeting details via email closer to the date.
Registration closes 31st July at 5.00PM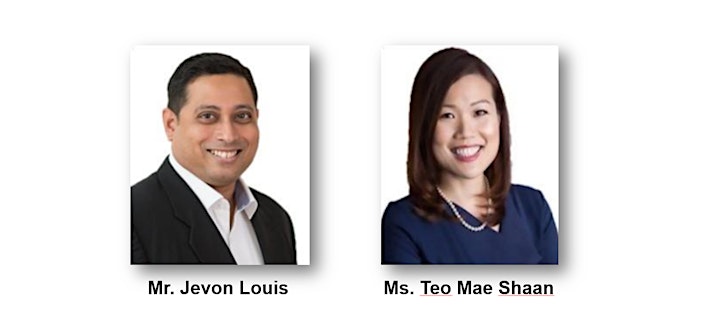 Speakers Profiles:
1. Mr. Jevon Louis
Jevon Louis specialises in intellectual property (IP) law and technology law. He is well-suited for this area of practice as he is technically qualified with a degree in mechanical engineering and is also a registered Singapore patent attorney, qualified by examination under the Intellectual Property Office in Singapore (IPOS).
Jevon's experience extends to both contentious and non-contentious matters across multiple industries including, but not limited to, pharmaceuticals, renewable energy, manufacturing, construction, logistics and semiconductors.
On the contentious side, Jevon represents clients in court proceedings as well as in alternative dispute resolution proceedings. Jevon specialises in patent litigation and has extensive experience in such disputes as conducted before the IPOS Registry, High Court, and Court of Appeal of Singapore. In addition, Jevon also handles other IP disputes involving breach of copyright, trade mark infringement, passing off and breach of confidence matters.
Jevon also advises on IP strategy and provides IP-related business intelligence and advisory services. Apart from that, Jevon oversees the filing and registration of patent, trade mark and design registrations, preparation of IP registrability, infringement and invalidity opinions, performing of patent prior art and freedom to operate searches, and drafting of licensing, distributorship or franchising agreements, as well as various technology services agreements that are intrinsic to today's digital economy.
Previously, Jevon hailed from a leading local IP-specialist law firm and prior to that from the IP department of the largest law firm in Southeast Asia. His portfolio of clients includes both local and foreign small and medium enterprises, and multinational corporations in the pharmaceutical, semiconductor, marine, manufacturing and personal computing industry.
Jevon is a member of the Association of Singapore Patent Attorneys (ASPA), Asian Patent Attorney Association (APAA), the Institution of Engineers Singapore (IES), and is an accredited Intellectual Property Technology Consultant (IPTC). He also speaks at seminars, particularly relating to intellectual property matters.
2. Ms. Teo Mae Shaan
Teo Mae Shaan's area of practice comprises a broad range of corporate matters, with a particular focus on mergers and acquisitions, corporate, employment and regulatory compliance.
She advises multi-national corporations and private companies on their mergers and acquisitions and investments as well as on their general corporate matters such as advising on their commercial and operations related agreements, licence applications. Her particular focus is in the healthcare sector where she has assisted clients in the due diligence, negotiations and acquisitions of healthcare institutions and advising on various regulatory and compliance matters.
Mae Shaan's expertise in employment includes drafting and advising clients on employment contracts, employee share and incentive schemes, employment handbooks, organisational restructuring issues, redundancy exercises and termination of employees, as well as advising on restrictive covenants and fiduciary duties.
Mae Shaan also acts for companies and financial institutions on initial public offerings, secondary offerings and debt issuances. Her expertise includes advising companies listed on the SGX-ST on compliance with post-listing requirements of the SGX-ST and her experience includes having advised on performance share plans/share option schemes, dividend reinvestment schemes, share buyback mandates, share issue mandates and other corporate transactions.
Prior to joining the Firm as a Partner, Mae Shaan previously worked in a leading local law firm in Singapore and a leading international law firm in both Singapore and in London where she has advised on a number of equity capital markets, debt capital markets, mergers and acquisitions and other corporate and commercial transactions.

This event is organised by IES-INCA (Institution of Engineers, Singapore Incubator and Accelerator) &
Shook Lin & Bok LLP
For any enquiries, contact us @ incubate@ies-inca.com
Shook Lin & Bok LLP is a leading full service commercial law firm in Singapore with a strong Asian presence and global reach. The Firm has more than a century of rich legal heritage with a number of partners who are eminent lawyers in their respective areas of expertise. It is also recognised by reputable legal directories for its expertise across its major areas of practice.
With lawyers who are specialised in various areas of the law, the Firm is able to come together as a team to provide a comprehensive range of legal solutions that are structured to meet the needs of clients.
Over the years, Shook Lin & Bok LLP has also established itself as the law firm of choice for inbound and outbound investments within Asia, with a particularly strong and successful focus on China and India.
IES-Incubator and Accelerator (IES-INCA) is a strategic initiative by The Instituition of Engineers, Singapore (IES) to support engineers in technopreneurship.
IES-INCA is a platform "by engineers for engineers". It is part of the Instituition of Engineers, Singapore (IES), and promotes and supports entrepreneurial engineers. We support engineers with deep tech innovations, in successfully commercialising their products and services. We are also an Accredited Mentor Partner supporting the Enterprise Singapore SgFounder Program.