Description
Contact Jiahui (Zoe) at 64171165/ 83281135 or email to jiahui@avanta.com.sg to register and more information!
---
Overview of Course
Managing Work-At-Height course integrates the existing WAH courses into a holistic programme to provide a broad overview of working at heights. The courses for supervisors, assessors and managers are integrated to provide trainees a better understanding and appreciation of each role's system. The provision under the WAH Regulations, with regards to the roles of the various personnel under the Permit-to-Work System, still applies.
Who Should Attend?
Persons involved in supervision, the planning / assessment and / or management of "Work-at-Height" activities.
Course Content
Identify, explain and apply the relevant Workplace Safety and Health (WSH) Legislations / Approved Code of Practice / Singapore Standards applicable to Work-at-Heights (WAH)
Identify and explain the Roles & Responsibilities of stakeholders, competent and responsible persons
Identify hazards, evaluate the risk and implement control measures for WAH activities
Review the necessary fall prevention / protection control measures for safe execution of WAH activities
Establish, evaluate, review and implement a Fall Prevention Plan
Establish and implement a system for an effective monitoring and control of WAH risks
Demonstrate competency in donning, checking and correcting of Individual Fall Protection Equipment and First-line Response in an emergency
Duration: 3days
DAY 1 : 09:00 AM - 06:00 PM
DAY 2 : 09:00 AM - 05:30 PM
DAY 3 : (Exam) : 09:00 AM - 03:00 PM
Course Fees: S$299.60 per pax (Inclusive GST)
Singaporean and PR are applicable for SDF funding between 50%-95% depends on participant's age, income and qualification.
Course Dates (English)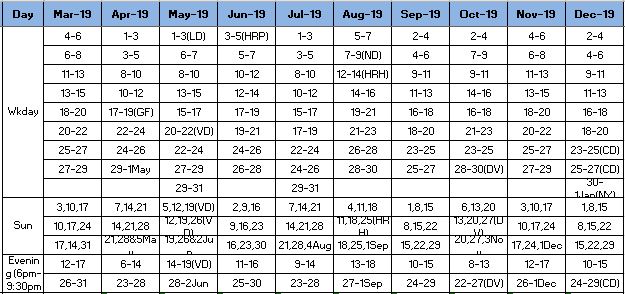 For registration, email Jiahui (Zoe) at jiahui@avanta.com.sg or 64171165/ 83281135.
FAQs
How to I pay for the course?
Upon registration, an invoice will be sent to your email address. Payment can be done by Cheque, Cash, NETS, Bank Transfer. If bank transfer payment is preferred, do inform the Zoe at jiahui@avanta.com.sg details will be send to you.
Is this course subsidized?
Singaporean and PR register this course under company can claim for SDF funding between 50%- 95% and absentees payroll.
What are my transport/parking options for getting to and from the event?
The directional details will be sent to participants upon registration of this training.