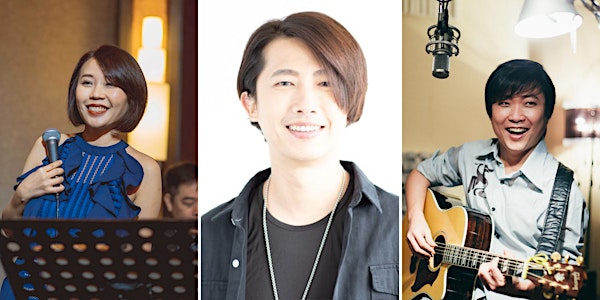 MandoPop Singing Workshop
We love seeing our students grow, whether they win awards or simply fulfill their inner need to express themselves in music.
When and where
Location
9 Ah Hood Rd 9 Ah Hood Road Singapore Singapore
About this event
What will you learn?
The proper singing and breathing technique and practice them on vocal exercises and songs.
The student is an individual with personal musical needs and goals. So it is a priority we tailor those needs and goals.
Together, the student and the teacher will develop a plan to achieve those goals!
The important fundamentals:
Breath support
Increasing range and resonance
Chest and head voice, belting and mixed voice
Strengthening, vocal health
Song interpretation, storytelling
How long does it take to sing?
There is no set answer of how long it takes to learn to sing. With regular practice a basic level of can be accomplished.
Coaches: Ashton Koh & Regine Han
Guest Producer: Jim Lim
Capital College is the only appointed partner for Voices of China in SouthEast Asia.
Mr Ashton Koh attained vocal certification from London Trinity College of Music in Performing Concert (Distinction). Ashton became a full time vocal instructor after years of training in 2008, he is also actively involved in music arranging, production and song writing. Ashton has done backup vocal for JJ Lin and A-Do in their albums and his past experiences came from singing demos, jingles, commercial ads and film songs. In performing, Ashton has over 15 years of singing experience (local and overseas) and had won many award from singing competitions. Since 2009, Ashton has conducted seminars and workshops for China TV station, local schools and Singapore Media Academy etc. Ashton was also the judge for various competitions, namely, Impresario, a nation wide talent search competition organized by NTU.
Ms Regine Han voices for various TV productions and commercial jingles, and is also involved in music composition and production. She has worked with big names in the industry like Sky Wu (伍思凯), Eric Ng (黄韵仁), Jim Lim (林棋⽟玉), Xiaohan (小寒), Alex Ni (倪子冈) and Swedish Songwriter/ Producer Niclas Lundin. She is a member of the Composers and Authors Society of Singapore (COMPASS) and is currently signed as an exclusive songwriter with Funkie Monkies Publishing in association with Warner Chappell. Her band's single "这样的我" is recorded in the compilation album "PlaySpeak" featuring artistes from all around Asia and she has also written music for Hong Kong drama series "LUMINA". Her band's EP "M.E.S.S.U.U.P"'s music video has also been nominated for various overseas awards. Regine has more than 20 years of performing experience and 10 years of teaching experience under her belt. She has taught in various government schools, as well as pop music schools like School of Music and Arts (SoMA) and FM Pop Music School. She is highly sought after for her ability to bond well with students, as well as her fun teaching methods in classes. Regine is the performing artist of the prestigious brand, Audio-Technica (S.E.A), and has been bringing countless fun and knowledge to students since 2008."
Mr Jim Lim "Jim Lim is a well-respected Producer/Songwriter/ Music Arranger/Singer in the Mandarin Pop music industry. He also heads the Vocal Recording department of FM Pop Music School. His career began in 1992 as a studio engineer. Equipped with multi-instrumental skills, he progressed into a self-sufficient musician who wrote, arranged, mixed and producing his own songs. Year 1999 he formed the band梦飞船, Dreamz FM. Using his extensive experience, he produced and co-wrote all 3 albums of Dreamz FM. The band attained recognition not just in Singapore and Malaysia, but Taiwan and China. In year 1999, he co-produced the National Day theme song "Together" sung by 梦飞船 and 陈毓芸. The following year, he was commissioned to write the National Day theme song, 'Shine on me' (星月), performed by Jai and 许美静. In 2004, he joined Funkie Monkies Productions. He has since written and produced for many A-list artistes including 孙燕姿,梁静茹,张惠妹,张栋梁,张学友,罗志祥,房租名,南拳妈妈 Lara,范文芳,周华健 etc. Highly respected for his vocal ability, Jim has toured with big names such as 王力宏,林俊杰,阿杜,张惠妹 as a backup vocalist. He supports local independent artistes/bands, producing albums for 龚芝怡,石康钧,插班生,陈美心,黑森林,芮恩 etc. He was nominated and won many awards both local and overseas including 台湾金曲奖,新加坡红星大奖,and 新加坡金曲奖. Jim has tutored many local artistes in singing and songwriting. He is always more than willing to share his experience and expertise in music making with all."
June 13, 16, 20, 23, 27
From 7.30pm to 9.30pm
Total 5 sessions coaching from professional for only $350! Limited to 20 pax only!