About this Event
Are you ready for 2020?
to let go of the old and give space for the new?
to take your career to the next level?
to achieve all your big goals?
to tap into infinite possibilities?
to live with ease and flow?
2020 is a powerful year of infinite possibilities. It is a new decade filled with new beginnings and new opportunities. We are excited for what 2020 bring us yet we wonder how we can be a part of this expansive energy and take our career to the next level and achieve all your goals.
Some people live life in the flow and manifest their goals with ease, yet some live with challenges and struggle to achieve their goals no matter how hard they try. You wonder why is that. The secret is the law of manifestation. When you understand and are in alignment with the law, regardless of who you are, you can create and achieve anything you want in your life.
In this special session we will demystify and learn how to leverage on the energy of manifestation and turn all of you Big career goals with ease in no time.
Manifest Your 2020 BIG CAREER GOALS
With Cindy Gozali
Sat 18 January 2020
1.00pm- 4.00pm @SGD138
Early Bird Offer: SGD110 (pay by 4 January 2019)
+Energy @Work Journey: SGD96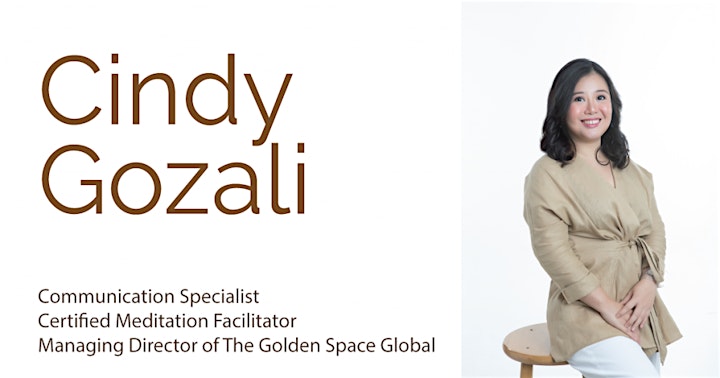 Cindy is the Managing Director, Publisher of The Golden Space Global, Communication Specialist and Certified Meditation Facilitator. Cindy is a member of the Entrepreneurs' Organization (EO). From 2014- 2015 she was the past president of EO Indonesia chapter. During her tenure, she had the opportunity to kick-start the MyEO Awaken Retreat. Cindy took this opportunity to drive a new mission to awaken entrepreneurs to live a more purposeful, balanced and conscious life.
Combining her life, leadership, entrepreneurial and self- transformation journey, Cindy is now joyfully living her life purpose and specializes in empowering individuals to express and communicate who they are to create harmony, success and purpose in their lives.
Find out more about Cindy here.