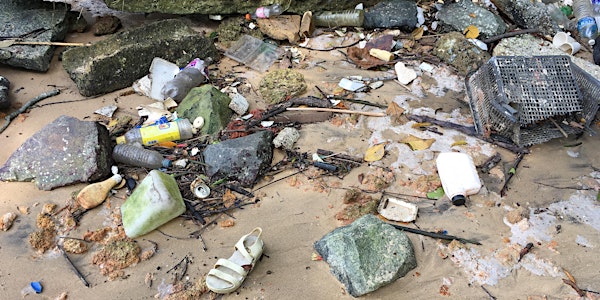 Marine trash sampling at Pulau Ubin on 20 Jan 2018
When and where
Location
Changi Point Ferry Terminal 51 Lorong Bekukong (NOT Changi Ferry Terminal) 499172 Singapore
Description
Join us in a sampling of marine trash at Noordin Beach on Pulau Ubin! Data on both macro-debris (>5 mm) and microplastics (1 – 5 mm) would be collected from 20 quadrats (2.5 m by 2.5 m) in a systematic manner and supplies such as trash bags, sieves and gloves would be provided. Your participation would contribute valuable data to the NUS-NParks Marine Debris Monitoring Programme and would be used to establish the baseline data of marine trash in Singapore. Interested to find out more? Please refer to the webpage here: https://coastalcleanup.wordpress.com/nus‒nparks-marine-debris-monitoring-programme/
The sampling would be done at at Noordin Beach on Pulau Ubin on 20 Jan 2018, Saturday, 2:00pm - 5:30pm. Participants would meet at Changi Point Ferry Terminal and take the boat to Pulau Ubin as a group.

About the site: Noordin Beach is a non-recreational beach that is located at the northern coast of Pulau Ubin.

Itinerary:
2:00pm (30 min) – Boat ride to Pulau Ubin and van transport to Noordin Beach.

2:30pm (20 min) – Safety and procedure briefing. Apply insect repellent, and distribution of gloves and trash bags.

3:00pm (20 min) – Set up of quadrats and allocate participants to quadrats

3:20pm (60 – 90 min) – Begin macro-debris and microplastics sampling; Categorisation, counting and data recording of macro-debris.

4:50pm (10 min) – End of sampling and data recording; Transport of trash bags to Trash Disposal Point; Debrief

5:00pm – End of event; Van transport to Pulau Ubin Jetty.
Things to note:

Cleanup supplies such as gloves, trash bags, and weighing scales will be provided.
You must wear hard-soled covered shoes or booties to protect your feet from hazards, else you won't be able to participate in the sampling. Slippers and sandals are not allowed.
A change of clothes is recommended after a sweaty workout.
Long pants are recommended to protect your legs from insect bites.
We will continue the sampling in rain (bring rain gear) but cease if there is threat of lightning.
Things to bring:

Water bottle (with at least one litre of water)
Hat, sun block and/or insect repellent
Reusable raincoat/poncho (we will work in light rain)
Change of clothes for public transport
Be prepared:

Sleep early the night before
Have a decent lunch– It's hard work!
Be punctual as the tide waits for no one!
Please read our advice to participants to prepare yourself for the sampling exercise!
Thank you for your interest and see you on the beach!