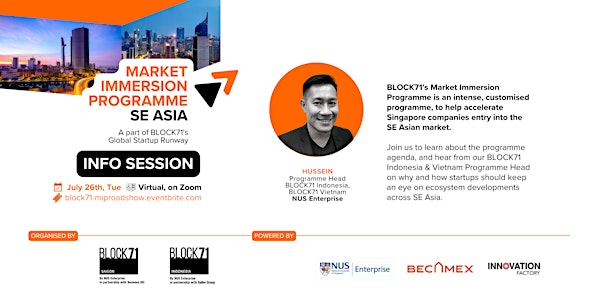 Market Immersion Programme: SE Asia - Info Session
Accelerate your entry into key SE Asian markets
About this event
Venturing into a new, foreign market is often daunting. Without sufficient research, knowledge and networks, the path to success will be long and arduous, and not to mention, costly.
BLOCK71's Market Immersion Programme is an intense, customised programme to help accelerate Singapore companies entry into the SE Asian market.
Join us to learn about the programme agenda, and hear from our BLOCK71 Indonesia & Vietnam Programme Head on why and how startups should keep an eye on ecosystem developments across SE Asia.
Info Session Run-Down
[ in Singapore Time ]
4.00PM: Welcome & Introduction to BLOCK71 in SE Asia
4.15PM: Market Immersion Programme: Agenda
What deep tech startups need to know about Indonesia and Vietnam's tech ecosystem and corporate innovation ecosystem
4.45PM: Q&A/ Networking
Hear from
Hussein Sulaiman
Hussein is the current Programme Head of BLOCK71 Indonesia & Vietnam, leading key startup programmes and initiatives to enable startups to scale across borders. He has been entrenched in the startup ecosystem for the past 10 years, working closely with and within startups in the areas such as business model development, expansion, and operations management. As a pioneer member of notable startups in the region such as BeMyGuest, Lazada, and Zilingo, Hussein led in the operations development and management as well as business expansion efforts of these companies since inception. He enjoys exploring and formulating innovative solutions, and has been active in contributing his expertise and experience across startup ecosystems globally.
About BLOCK71's 2022 Market Immersion Programme in SE Asia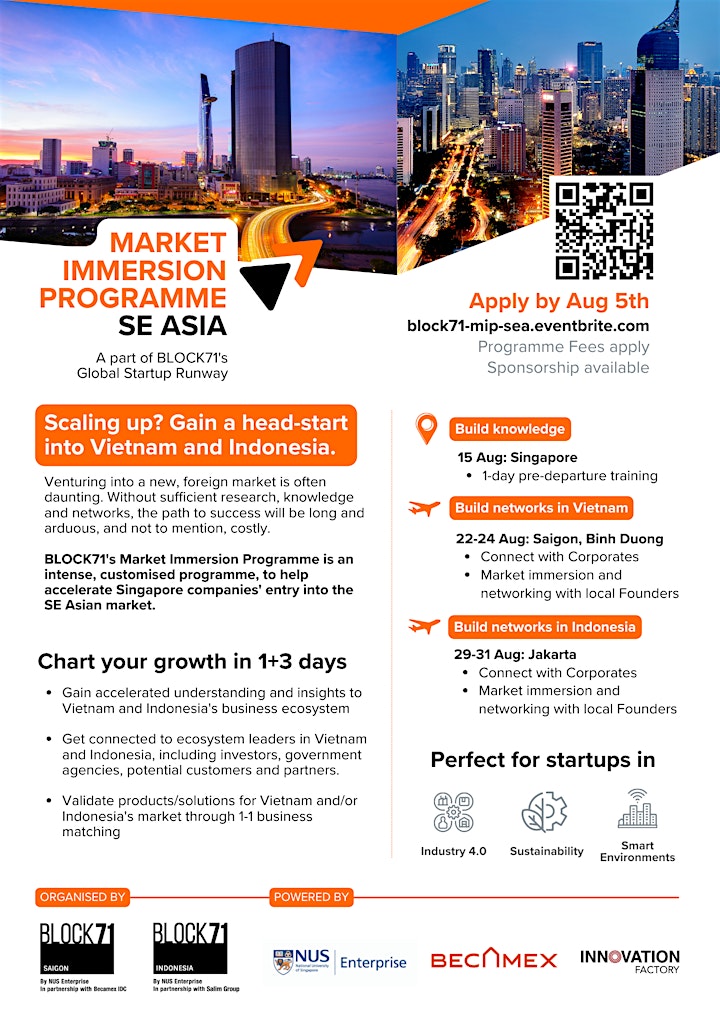 Learn more
Apply for the Programme at https://block71-mip-sea.eventbrite.com
Applications for SE Asia close on July 31st, 2022.
Interested in the China market? Stay tuned for BLOCK71 Suzhou's Sep 2022 Programme Launch.
About BLOCK71
BLOCK71 (block71.co) is an initiative by NUS Enterprise in collaborative and strategic partnerships with established corporates and government agencies.
It forms a global network of innovation and entrepreneurial gateways to and from NUS, through providing programmes and events as a technology ecosystem builder and global business connector with an objective to catalyse, aggregate and develop competencies of the start-up community.
In and across every location, BLOCK71 provides access to technology, talent, new markets, grants and funding, collaborative spaces and a global community.
BLOCK71 in Saigon is established in partnership with Becamex IDC, Vietnam's leading Industrial Park & Township Developer, with 25 subsidiaries in real estate, urban area development, infrastructure, healthcare, education, transportation and communications.
BLOCK71 in Jakarta, Bandung and Yogyakarta is established in partnership with Salim Group's Innovation Factory, one of Indonesia's largest conglomerates with assets and investments in food, retail, banking, telecom and energy sectors.
---
[ Our Mission ] BLOCK71 aims to create value for society and industry through enterprise. W e support the scaling of start-ups addressing Asia and the world's most critical social, environmental problems with accessible solutions centered in Science and Technology.