Description
The IMF's World Economic Outlook says global economic growth is projected to reach 3.9% in 2019. The US continues to grow supported by fiscal expansion and while other advanced economies such as China are gradually slowing down. Many investors are worried about the impact of rising US interest rates and US-China trade confrontation.
How do you prepare for such challenges ahead?
How should you restructure your portfolio?
What are some opportunities in the Singapore market?
Why is it important to understand how corporate actions affect stock prices?
What each corporate action means and how to react in the right way?
How to use COUNTERPARTY CODES to your advantage?
We know the current environment is challenging, that's why we are priviledge to invite our All Time Most Followed Person – Li Guang Sheng on Investing Note to share his thoughts and views of the markets.
We're holding this gathering exclusively for our community. You will not only get to hear from Guang Sheng personally, but you will also get to engage in an open dialogue and discussion session with him (right after his seminar).
Be sure to sign up fast so that you do not miss the chance to interact with him!
Who should attend this workshop?
Those who are looking to get a sense of what will happen in the market

Those who are looking to improve their investing strategies
Why should you attend?
To get insights of how a professional investor sees the market

Networking
Mark your calendars for 5th November, Monday. Registration starts at 6.30pm. Mingle and network with Guang Sheng and other fellow community members after the seminar.
No refreshments provided. Limited to 50 seats only.
---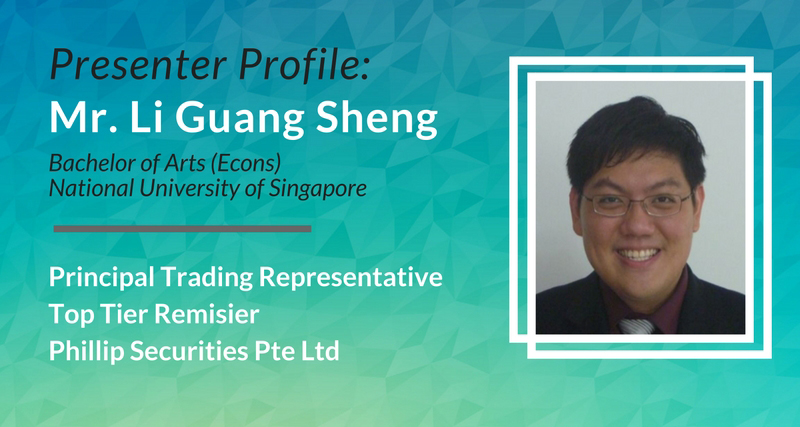 Li Guang Sheng is a familiar face in our community, who has contributed to increasing investors' knowledge with his insightful posts with over 4,000 followers!
Guang Sheng has won many awards such as ranking 2nd in Yahoo Singapore Gazillionaire trading competition in 2010. He has won the Best Mentor for Phillip Securities in 2014 for guiding new trading represenatives and dealers, Phillip Securities Top CFD Specialist 2015 and many other awards over the years. He also conducts free investment seminars through Rotary clubs and career guidance seminars to youths wanting to know more about the Finance industry. He was featured on television and The Edge magazine. A former Director of Foundation of Rotary Clubs Singapore, Guang Sheng currently serves as the Vice Chairman of the Rotary Family Service Centre in Clementi, and is the current District 3310 Rotaract Chairperson and is very active working with youths. He completed his tertiary education at Temasek Junior College and pursued his Bachelors degree in Economics at National University of Singapore.
Guang Sheng's forte is in value investing and fundamental analysis and spends a considerable amount of time looking for opportunities in SGX companies through their corporate actions. His client base includes high net worth individuals, hedge funds, listed companies, clan associations and retail investors.
Check out his InvestingNote profile here.