Description
With the recent run-up of the STI index and the US market hitting all-time highs, do you as an investor feel a little disoriented on what to do next for your investments? Are you also asking if it is a good time to entire the market, if you have yet to do so? Where is the market is likely to head towards in the next few months?
This is the first time we are gathering 3 veteran financial bloggers from our community, each very well versed in their own investing approaches to address these questions and share their insights on the market.
Hear it from them as they will be presenting their individual insights for 30 minutes each, followed by a 20 minutes panel discussion to address questions from the audiences.
The 3 financial bloggers each with a unique forte, Mr. Brennen Pak (value investing), Terence (aka T.U.B Investing, contrarian investing) and Kenny Loh (aka Marubozu, REITs investing) will be presenting individually on their:
Market Insights

Key opportunities

Key areas to avoid

Case studies as examples
Ask questions and engage with Brennen, Terence and Kenny in an open panel discussion after their individual presentations afterwards, on any questions you have as a investor.
Getting new ideas, fresh and diverse market insights is the key agenda in this seminar.
Who should attend this seminar?
Those who want to get an idea about where the market will be heading in the near term

Those who are open to get insights from different perspectives
Why should you attend?
To get a better understanding of the market through questions & answers

Networking
Mark your calendars for 23rd August, Wednesday. Registration starts at 6.30pm. Mingle and network with other fellow users after the seminar. There will be a short 15 mins presentation by CIMB Securities.
No refreshments provided. Limited seats only.
---
Speakers' profiles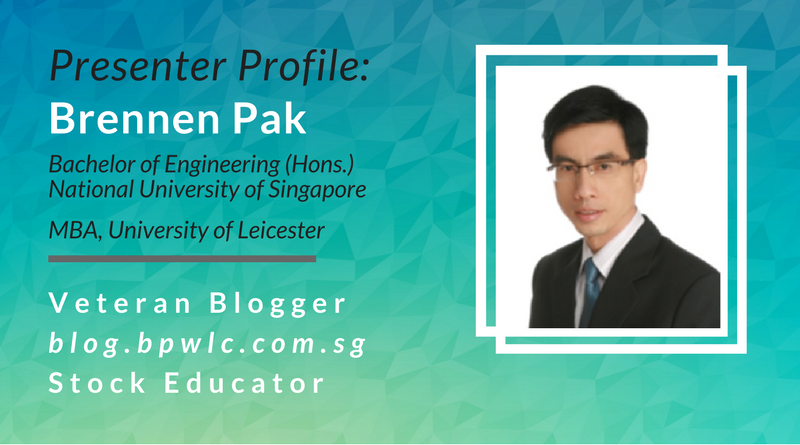 Brennen is a blogger, stock educator and an avid member of the InvestingNote community.
Brennen Pak graduated as an engineer in 1988, and had been in corporate life for about 21 years until 2009. Since his graduate, he started investing in shares. In those days, there was no proper channel for the public to learn investment knowledge. For the first 10 years, Brennen's investment activities was ruled more by emotions than objectivity. His share performance had been mediocre to average. He often sell off the fundamentally good shares for a few hundred dollars of profit out of fear that the share prices would fall and live in hope that prices would rise for those losing trades in his portfolio.
His worst experience was during the Asian Financial Crisis (1997 to 1998) where he suffered a total loss amounting to six-digit figures mainly due to panic selling of fundamentally strong shares at a huge loss. Subsequently, a question from his brother on whether he knew the companies he invested in set him thinking about his past strategies and prompted him to do extensive research on the various investing techniques. Over the years, he has tested, retested and refined his investment approach through value investing techniques. For the next 10 years, he turned his portfolio from a loss of $100k to more that $1m despite experiencing several crises such as the Dot-Com bubble burst (2000-2001), September 11 terrorist attacks on World Trade Centre in New York (2001), SARS (2003), the Global Financial Crisis (2008) and the recent European Financial Crisis (2011-2013). He was featured on the Sunday Times on 21 November 2010. Today, he continues to build on his portfolio to new heights despite leaving the corporate life.
He runs his blog here http://blog.bpwlc.com.sg/ and also contributes actively to our community as @BrennenPak.
---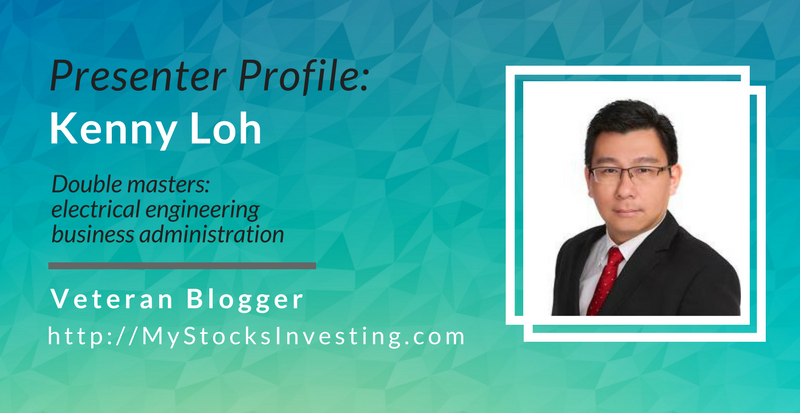 Kenny Loh, one of the pioneer financial blogger in Singapore since 2009. His blog http://MyStocksInvesting.com attracts over 19000 blog readers from over 110 countries.
Kenny is especially passionate about REITs and has been conducting the longest running REITs investing course in Singapore where he teaches his simple yet effective method of REITs investing.
Featured by media such as AsiaOne, The New Paper and SharesInv for his opinions about REITs, Kenny is also a much sought after speaker at events by organisations such as SGX, SIAS, CIMB securities, RHB securities, InvestingNote, City Index, OnlineTradersClub (Singapore) and Adam Khoo's Wealth Academy Investors Inner Circle.
Now, Kenny helps private clients in estate planning, and he is also licensed to advise and manage investment portfolio for private individuals, currently managing millions.
He is also an avid community member in InvestingNote, under the moniker @marubozu.
---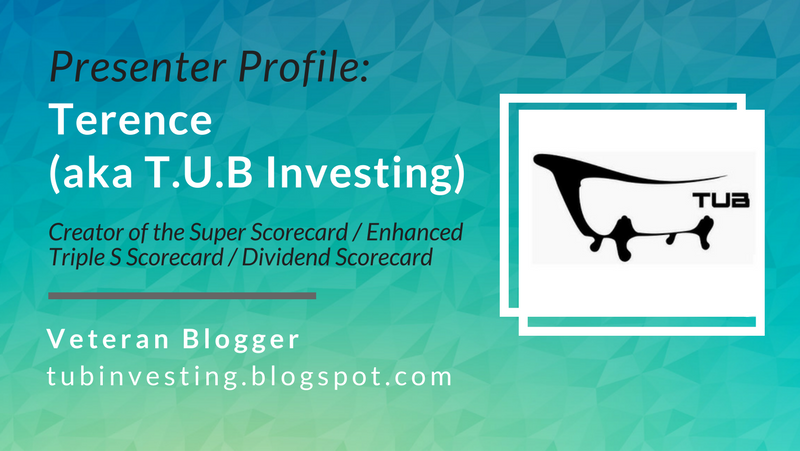 T.U.B is a full-timer in the finance industry who started investing in 2009/10. Like many of us, he has his fair share of mistakes at the start of his investing journey. The worst was when he used up all his saving to bet on warrants, losing half of the saving.
It was only after reading the book, Value Investing: Tools and Technique for Intelligent Investment by James Moniter, in 2011 that he realise the need for a more consistent value-focus strategy. He tried reading more books, but it became apparent that the more information he gather, the more he got confused. Thus, he stopped and came up with his own way of analyzing companies' financial statements by gathering the key concepts from each book he read.
Subsequent investments resulted in more hits than misses, giving him the confidence to declare that he has found his own unique way of investing.
Currently, his investment methods has evolved significantly. He uses a few different methods to invest. However, all these methods are always centered around value-investing concepts and fundamental analysis.
He is the veteran blogger behind the popular blog, tubinvesting.blogspot.com and is also an active InvestingNote community member, @TUBInvesting.
---
CIMB Securities Speaker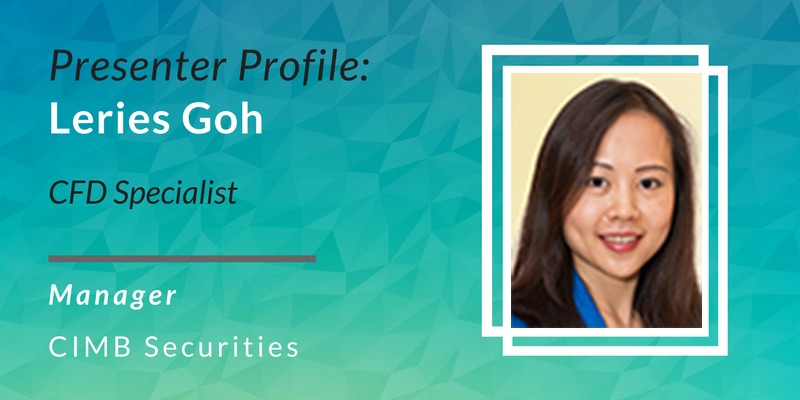 Leries Goh has more than 8 years of extensive experience in various financial products inclusive of equities, CFDs, futures and forex. She has also obtained a Chinese Language and Literature Degree from Beijing Normal University (北京师范大学) and trained in Marketing & Business Management.
She is now a CFD specialist and manager in CIMB Securities Singapore. Effectively bilingual, Leries speaks in various seminars regularly in regional countries and conducts training for internal sales force, clients and savvy investors.