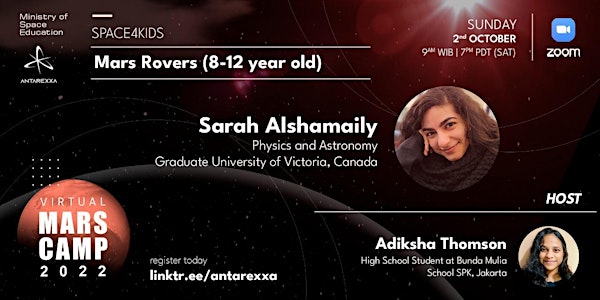 Mars Camp 2022: Space4Kids Mars Rovers (8 - 12 years old)
Mars Camp is a series of webinars on a variety of topics related to Mars Exploration for the purpose of public outreach and awareness.
About this event
SPACE4KIDS: MARS ROVER
Space Educator: Sarah Alshamaily
Physics and Astronomy Graduate University of Victoria, Canada
How much do you know about Mars? Take the quiz to test your knowledge, participate in fun activities, and learn about the planet and history of the Mars rover missions with Sarah!
ABOUT SARAH ALSHAMAILY
Sarah Alshamaily has completed Bachelor of Science (B.Sc) in Physics and Astronomy at the University of Victoria, now she is a research student with ATLAS Group at the University of Victoria. She is interested in all things space and physics, especially black holes, dark energy, dark matter, and new physics in the Standard Model. Sarah love educating people on all things STEM and also loves to encourage more youth, especially in the Middle East to venture STEM field, she tries to raise awareness about how science is so important. Sarah is a science communicator, from 2016 until present she is a volunteer staff at The Royal Astronomical Society of Canada (RASC) to help the community know about astronomy phenomena and she also took part in volunteering at Dominion Astrophysical Observatory as a tour guide to explain the wonder of space.
Host
ADIKSHA THOMSON
High school student from Bunda Mulia School SPK, Jakarta
Currenty in 11th Grade, Adiksha finds Space as an amusing subject because of its limitless and infinity. "I and every human being on earth, are the tiniest element in this infinite universe yet inherit the ability and intelligence to explore and know more about the universe while using that for the benefit of ourselves."
UPDATES & ANNOUNCEMENTS
Please join our Whatsapp or Telegram Group t.me/antarexxa for updates and reminders regarding the session. Follow our social media accounts for updates as well. All links are here linktr.ee/antarexxa
*** If you have any questions regarding Mars Camp, please email us at info@antarexxa.com or DM us at our social media accounts.
We look forward to welcoming you back to our program (for returning students) and welcome new faces - your attendance and participation at our sessions are much appreciated! Never stop learning.
Ad Astra,
Ministry of Space Education by Antarexxa Space Global
Instagram: @Antarexxa, @ministryofspace_edu