Master of Science in Technopreneurship & Innovation (Virtual TIP Talk)
Virtual TIP Talk: Technology Commercialisation - How to Avoid the Pitfalls (11 Dec 20, Fri 5pm - 6.30pm SGT)
About this Event
Virtual TIP Talk - 11 December 2020 Fri Agenda
5:00pm: Talk: Technology Commercialisation - How to Avoid the Pitfalls by Dr David Butler, MSc TIP Instructor, Nanyang Technological University (NTU)
5:45pm: Introduction to MSc TIP by Programme Director, Dr Xia Zhiqiang and sharing by alumnus, Mr. Farhan Firdaus, MSc TIP Class of 2020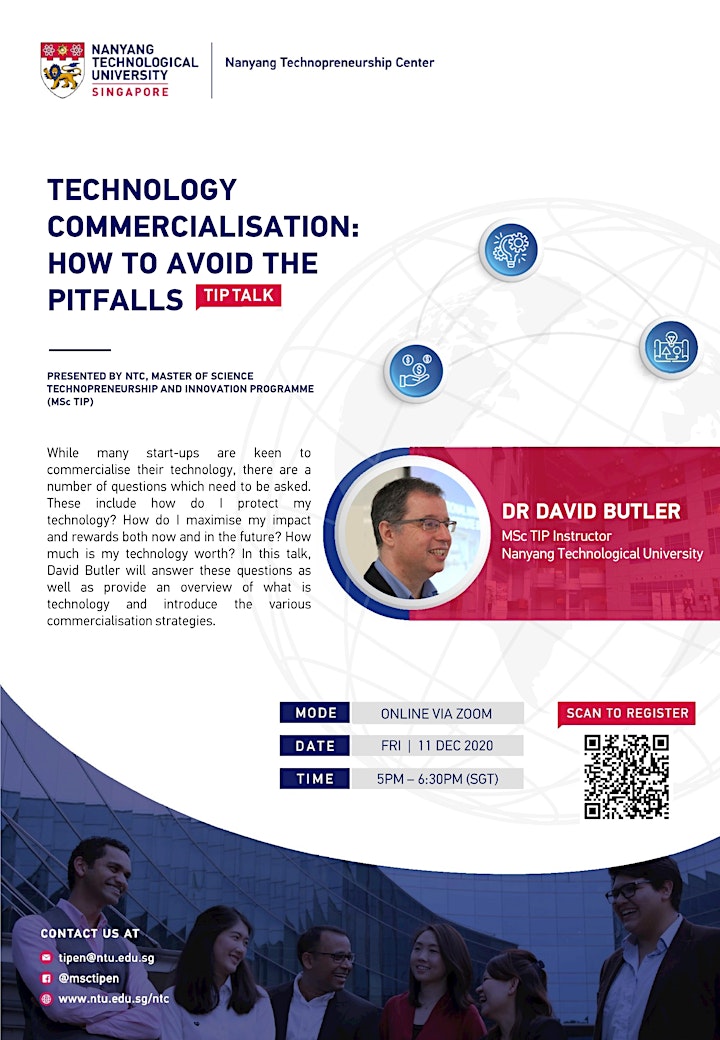 Synopsis
While many start-ups are keen to commercialise their technology, there are a number of questions which need to be asked. These include how do I protect my technology? How do I maximise my impact and rewards both now and in the future? How much is my technology worth? In this talk, David Butler will answer these questions as well as provide an overview of what is technology and introduce the various commercialisation strategies.
About Guest Speaker
Dr David Butler is a Reader in the Department of Design, Manufacture and Engineering Management at the University of Strathclyde, UK. He holds a joint appointment with the National Physical Laboratory in London where he heads the Additive & Digital Manufacturing groups.
Prior to joining Strathclyde, Dr Butler spent the past 18 years at the School of Mechanical & Aerospace Engineering (MAE) of NTU where he specialised in the area of innovation, novel manufacturing processes and product design.
He was the founding director of the Advanced Remanufacturing & Technology Centre where he held a number of different appointments including Business Development Director, Strategic Development Director and Collaboration Director. Starting with 2 others in 2011 the centre has now grown to over 250 staff with 70 corporate members. Apart from recruiting new companies to the centre, he also conducted technology road mapping workshops with each member organisation to fully understand their requirements.
In the school of MAE he taught a course in Technopreneurship for 16 years to second year undergraduates as well as postgraduate courses in lean manufacturing and measurement.
In Strathclyde he teaches a variety of topics including Systems Engineering, Engineering Risk Management, Project Management, Financial Management as well as Lean Manufacturing.
Beyond teaching and research, Dr Butler was also advisor to the TEDxNTU and World of Wisdom committees who have organised five events which have attracted over 2000 participants to such diverse topics as the Science of Luck, Happiness and What is Wrong with Science?
Dr Butler appeared regularly in the media answering science queries for The Straits Times and TODAY newspaper. From 2003 to 2018 he could be found on Mediacorp's Channel 5 National Science Challenge where he served as the chief judge for 10 years.
About NTC
Nanyang Technopreneurship Center (NTC) offers the Master of Science Technopreneurship and Innovation Programme (MSc TIP) since 2002. The MSc TIP focuses on educating and nurturing leaders for the entrepreneurship ecosystem, through academic knowledge acquisition, entrepreneurial mindset cultivation, and business skillset development. It empowers participants to be competent in leveraging technology advancements to create social and economic value for the society. 
The MSc TIP is a one-year full-time programme (English / Chinese). Please visit our official website for more details.
The part-time study mode is available through the MiniMasters™ in Technopreneurship & Innovation. For more information, please click here.