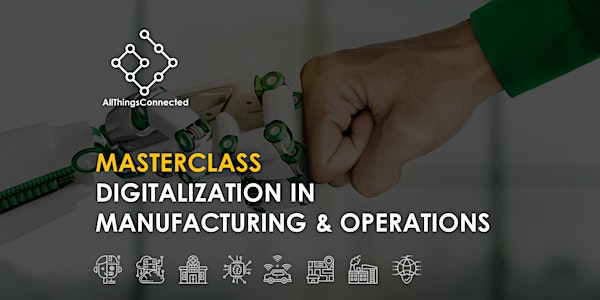 Masterclass: Digitalization in Manufacturing & Operations
Empower your team with the best practices, frameworks and tools for a secured convergence of sustainability and digitalization.
Refund Policy
Contact the organizer to request a refund.
About this event
Enable and empower your team to champion digitalization initiatives.
Our Live Instructor-Led Virtual Masterclass is designed and delivered to empower executive, mid-management, and functional leaders with the necessary know-how, insights, and tools to achieve the overall digitalization vision by making insightful decisions and actionable plans.
Key Highlights:
✔ Based on extensive industry experience, and discussions with senior leaders.
✔ Understanding and aligning organizational strategy.
✔ Based on best practices, a framework crafted for your organization.
✔ A set of tools, templates, models, and frameworks to take away.
✔ Small group to ensure ample time for interaction and discussion on digitalization use cases.
Learning Outcomes:
✔ Why Digitalization. How to align the digitalization definition, & communication across the organization. Current State to Future State of your digitalization journey.
✔ What Digitalization. How to identify the operational gaps, evaluate, analyze, and prioritize use cases to craft a short, mid, and long-term digitalization roadmap.
✔ How Digitalization. How to demystify the complexity of various technology layers, system integration, data strategy, to address use cases at a scale beyond a pilot.
✔ Who Digitalization. How to build a collaborative digitalization team structure, and partner ecosystem.
WHEN (VIRTUAL): Friday 6 Jan 2023
Time: 9:00 am - 4:00 pm CET
AGENDA:
Sustainable Industry X.0, and its importance for your organization.
Four dimensions and ecosystems of digitalization.
Organization Ecosystem (Why):
Current state to future state roadmap
Organizational structure.
Digital, corporate, and functional layer alignment.
Use-case Ecosystem (What)
Process gap analysis.
Use case evaluation, mapping, and prioritization.
Digitalization roadmap.
Solution Ecosystem (How)
Vertical & Horizontal Integration.
Data strategy canvas 
Data strategy canvas to address functional requirements
Collaboration between functional & digitalization team
IoT/OT Security 
Cybersecurity gaps, threats
End-to-end cybersecurity framework
Skills Ecosystem (Who?)
Skills assessment, Building sustainable solutions ecosystem
Business Model Transformation
Return on Investment on sustainability.
Sustainable future agenda.
FEE:
This exclusive masterclass is open to a very limited number of participants on a first-come, first-served basis.
150 SGD Year End #UpskillNow Deal (For first 10 participants)
490 SGD (Register by 31 Dec 2022)
790 SGD (Standard fee)
PROFILE OF PARTICIPANTS:
Business, Strategy, Digitalization, Functional leaders. Solutions sales professionals implementing and managing IndustryX.0 and Digitalization initiatives.
EXPERT TRAINER:
C K Vishwakarma, Founder/CEO- AllThingsConnected
CK is a senior Business Strategy, and Digital Transformation leader with extensive international experience in solutions architecture, program management, business and operations process transformation.
As a CEO of AllThingsConnected, founder of IoTSG, CK works with organizations crafting their transformation and complex digital solutions strategy, implementation and ecosystem approach, organisational behaviour, and excellence frameworks to accelerate their current state to future state journey.
CK conducts business & technology research and has shared insights at 130+ leadership forums, and prestigious international conferences. He advises senior leaders on how advanced technologies can prime enterprises for the future. He has created practical strategies, and frameworks on how the traditional operational processes can be integrated with emerging technologies for the successful acceleration for the organisations to remain relevant, scale and sustain in the future. CK has successfully led and managed multimillion USD complex system and solutions projects in various industries.
CK earned his Bachelor of Technology degree in Electrical Engineering from Indian Institute of Technology Roorkee, and a Master of Technological Design, Mechatronics from National University of Singapore. He lives with his family in Singapore since 2003, and travels extensively in Asia, managing different cultures & dynamics.
PARTNER WITH US:
Write to: connect@athingsc.com to receive information about future sessions.